Medical Education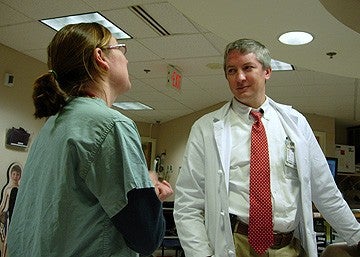 Fourth year medical students may do a 4 week rotation in the UVA Emergency Department through our MS4 EM Elective. Students work directly with an ED attending physician or a PGY3 Emergency Medicine resident (typically both during the course of the rotation). In this role, the student is often the first to see and assess the patient and is actively involved in their workup, treatment, and disposition planning.
The rotation includes a structured didactic program, directed reading, and attendance at all resident conferences.
UVA Third Year medical students have a required rotation within the Emergency Department, where they spend three weeks in various EM clinical sites and attend dedicated group didactic lectures, workshops, and simulation sessions instructed by Emergency Medicine faculty.
The Life-Saving Techniques Workshop, also a required third year activity, is a day-long session focusing on procedural practice of various life saving skills, including chest tube insertion, airway maneuvers, simple and complex venous access and DPL, among others. Students then apply learned skills during a major trauma resuscitation simulation case.
Medical student clerkships and externships in the Department of Emergency Medicine are coordinated through the University of Virginia Office of Student Affairs. Please see The Student Source for details. Pending availability, students may register for electives in adult or pediatric emergency medicine (or both) and medical toxicology. Applications may be downloaded on (Applications).
Read more about our Emergency Medicine Electives.
Explore the Charlottesville area.