Educational Facilities
University of Virginia Health — Charlottesville, Virginia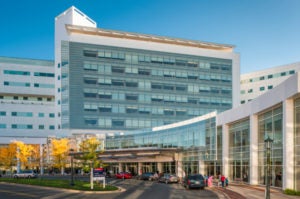 The primary clinical training site for the residency program is the University of Virginia (UVA) Medical Center, a Level I Trauma Center which opened in March, 1989. UVA serves as a regional acute care referral center as well with a large central Virginia cachment area. The Emergency Department is located on the first floor of the hospital expansion and has 70 patient beds.
The ED now includes:
Adult emergency department with bedside registration, four operating rooms, and a 10-bed clinical decision-making unit
Children's emergency department, an 11-bed area with a separate children's lobby and emergency specialists for patients under 20 years of age
Rapid Medical Evaluation area, a 12-bed section designed to address minor emergencies like sore throats, fevers, sprains and lacerations
Dedicated 8-bed section for behavioral and mental health emergencies
Interventional cardiology and radiology suites
The annual department census is over 60,000, 20% of those are pediatric patients, and 15% are over 65 years old. Of the total patient census, 27% are admitted with 12% to an intensive care unit and 0.5% directly to the OR. There are 2,200 yearly trauma admissions (1834 in 1997 vs. a mean for US Level I trauma centers of 1830) through the ED (81% blunt, 19% penetrating). The UVa ED patient mix crosses all socioeconomic borders with a remarkably diverse patient population.
Culpeper Regional Hospital — Culpeper, Virginia
During the second clinical year, residents perform a 1 month rotation in the Emergency Department at Culpeper Regional Hospital (CRH) in Culpeper, Va.  CRH is located about 45 minutes North of Charlottesville.
Visit the CRH website for more information.
Additional Rotations
Other operations of Emergency Medicine to which the residents will be exposed include:
Optional international electives 
Pegasus Critical Care Transport Aeromedical Program (residents are not required to fly)
Lifeguard Aeromedical Transport
Prehospital EMS Program
Blue Ridge Poison Control Center, and Medical Command and Communications
Ultrasound Program

The department of emergency medicine considers training in ultrasound a required piece of resident education.  During training, residents will be expected to become skilled in bedside clinical ultrasound for the procedural assistance and for the rapid triage of the critically ill or undifferentiated patient.
It is expected that residents should be proficient with the technical aspects of obtaining quality images in adults and children, understand the indications and limitations of study and be skilled in the administrative responsibilities of this technology. Ultrasound imaging equipment is also available to assist with ongoing basic science and clinical research.  Residents are encouraged to participate in this research.