Fellowship in Medical Education
The rigorous fellowship in Medical Education within the Department of Emergency Medicine here at the University of Virginia is designed to provide the fellow with insights and experiences across the spectrum of medical education.
With a commitment of at least one year, the fellow will work clinically as a faculty member in our emergency department while studying and developing their own education and administrative styles. By the end of the training, we expect fellows to have a well rounded portfolio of skills and experiences.
The successful applicant will have completed an emergency medicine residency and will be ABEM board-certified/eligible. For interested fellows, the option to pursue an advanced degree in the Department of Public Health (M.S. or MPH) or the Curry School of Education (M.Ed) is available.
Curriculum
Medical education environment: Fellows will understand the factors guiding medical education. Topics include: curriculum design, GME (residency) vs UME (student) priorities and funding, faculty development and education theory. Ideally, with an understanding of the medical education infrastructure, fellows will be poised to pursue education leadership positions after graduation.
Program administration: Fellows will actively participate in the administration of the emergency medicine residency and the required and elective medical student clerkships. Didactic training will be assigned to improve the fellow's skills, including areas of: evaluation, bias, and struggling learners.
Teaching environments: Fellows will study the theory underpinning adult education while practicing and improving their own skills in areas including: small group discussion, formal lectures, bedside teaching, deliberate practice and simulation.
Education initiatives: What are future directions in medical education? What are global needs within medical education? What is the evidence between the 'new and exciting' versus the 'tried and true?'
Research: The research curriculum will be tailored to the fellow's interest. At a minimum, fellows will be expected to be able to critically review education literature, understand the role for qualitative research and understand the principles of data management. Fellows will also be expected to practice manuscript submission and review.
Professional development: What leadership skills are necessary in order to pursue education leadership positions after graduation? How can a faculty member meet requirements for promotion and tenure while still having the career focus they desire?
Colleagues
The Department of Emergency Medicine has a core group of skilled medical educators with whom fellows will interact. Our faculty members are actively engaged across the spectrum of faculty development, residency leadership, clinical medical student clinical rotations, clinical medical student electives and pre-clinical medical student education.
The training environment can only be described as 'energetic.' The residency recruits residents who will be actively engaged in the program. Combined with our relatively small faculty group, our goal is a collegial work environment that fosters learner growth.
With our relatively small number of faculty in our resident run emergency department, most faculty members are always looking for assistance from an enthusiastic fellow that may share a niche interest. Fellows are encouraged to participate in activities that will help with skill development, even if that activity isn't narrowly within the confines of medical education (community events, operations, international experience, etc).
The UVA Department of Emergency Medicine currently has active fellowships within multiple disciplines across EM. Ideally, this creates a sense of community among fellows.
Community of Emergency Medicine Medical Educators
Fellows will be encouraged to become active participants in the specialty organizations within EM. Growing a network and finding others with similar interests will only help to foster the career path the fellow chooses.
Clinical Environment
As a tertiary care center, the UVA ED cares for patients across the illness spectrum. While trying to be a resource for those in need from our immediate community, we also strive to be able to provide care for those patients with the most complicated underlying medical conditions.
Fellowship Administration
William Woods, MD, and James Moak, MD, are the current fellowship directors. Dr. Woods is the current Vice Chair for Academic Affairs and immediate past residency program director. Dr. Moak is the current Clerkship Director of our required medical student rotation; he has extensive experience in pre-clinical medical student and emergency ultrasound education.
Contact Information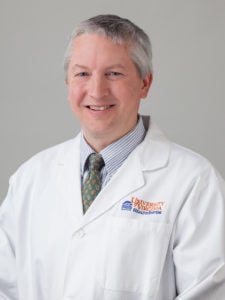 William Woods, M.D.
Director, Medical Education Fellowship
E-mail: waw9h@virginia.edu

James Moak, M.D.
Assistant Director, Medical Education Fellowship
E-mail: james.moak@virginia.edu