Charlottesville and The University of Virginia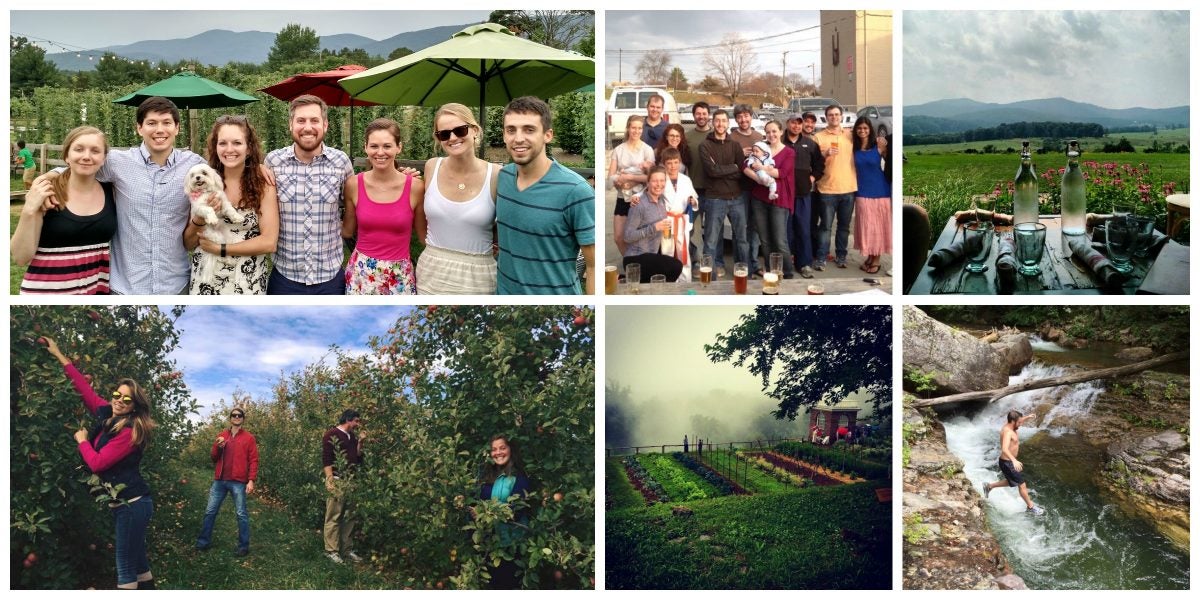 Charlottesville was settled in the eighteenth century on a hill overlooking the Rivanna River. It was named in honor of Queen Charlotte, the young wife of George III, and serves as the seat of Albemarle County. The town is nestled between the Appalachian Trail of the Blue Ridge Mountains to the north, and Monticello (home of Thomas Jefferson) to the south. Today, Charlottesville is a small, thriving university town that has kept up with the well-cultivated tastes of its inhabitants. Charlottesville offers a wide range of cultural and recreational activities.
For those who enjoy the outdoors, the nearby Blue Ridge Mountains and rivers provide easy access for hiking, fishing, camping, rafting and even skiing. There are a large number of golf courses available including a first-rate public course and the University of Virginia course, Birdwood, to which residents have access. The town and the University have an impressive number of tennis courts, as well.
For those who wish to travel out of town for a day or two, Washington D.C. is just 2.5 hours away and offers an abundance of museums, exhibits, and other cultural opportunities. Other places to visit include Richmond (1 hour), Williamsburg (3 hours) and Virginia Beach (3.5 hours). Charlottesville airport has connections to many major cities and the Amtrak station has daily rail service.
The University provides opportunities for cultural and intellectual stimulation, as well as sports and recreation. UVa hosts several film series, a University-Community orchestra and the Tuesday Evening Concert series which brings artists such as Pinchas Zuckerman, Joshua Bell and the Guarneri String Quartet to Charlottesville.
Recreational opportunities include the aforementioned golf and tennis facilities as well as a number of gymnasiums and swimming pools. The University has recently opened a massive new aquatic and fitness center. The University of Virginia is also a national powerhouse in several sports including football, men and women's basketball, soccer, and lacrosse. Season tickets for football at a reduced rate are available to housestaff.
A collection of student shops, bookstores, and night spots, the Corner is the center of student life at The University of Virginia. Downtown Charlottesville is the legal and financial hub of the community. A brick pedestrian mall extends for several blocks along Main Street through the heart of the historic downtown district.
In the years since The University of Virginia was founded in 1819, hundreds of thousands of students, faculty members and guests have met on the Grounds of the University of Virginia to exchange ideas, enlarge their understanding or simply deepen their appreciation of the beautiful buildings and gardens that Thomas Jefferson designed for The University of Virginia. In creating the academic village, Thomas Jefferson devised a symbol of his demanding conception of education. Check out a short history of UVA.
Charlottesville is one of the most unique cities that I have ever been to. It is a small city, meaning you have the advantage of quick travel times with little traffic across town. This is really helpful during a busy residency. When I am off, I want to get full use of my time outside of the hospital, and I don't want this to be time sitting in my car! At the same time, Charlottesville has many things that give it a "big city" feel, such as the University and the numerous local restaurants, breweries, and wineries. Plus the mountain views are beautiful!

– Matt Eisenstat