Harald Sontheimer, Ph.D.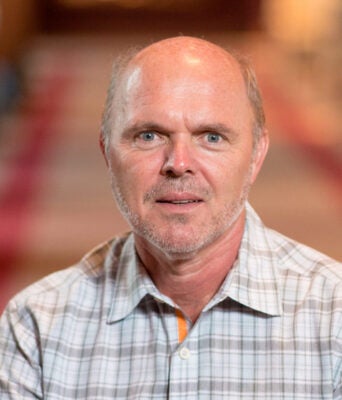 Professor and Chair
Ph.D., 1989, University of Heidelberg
Email: Sontheimer@virginia.edu
About
Dr. Sontheimer joined UVA in 2021 as Professor and Chair of Neuroscience. A native of Germany, Dr. Sontheimer obtained a Masters degree in evolutionary comparative Neuroscience (1986), where he worked on the development of occulomotor reflexes. In 1989, he obtained a doctorate in Biophysics and Cellular & Molecular Neuroscience from the University of Heidelberg studying biophysical changes that accompany the development of oligodendrocytes, the principle myelinating cells of the nervous system. He moved to the United States, where he later became a citizen, for post-doctoral studies at Yale University. His independent research career began at Yale in 1991 on the role of glia in acquired epilepsy and continued at the University of Alabama Birmingham from 1994-2015 and Virginia Tech from 2015-2021, with a broad focus on the role of glial support cells in health and disease. His laboratory has made major discoveries that led to two clinical trials using novel compounds to treat malignant gliomas. His laboratory recently discovered that aberrant glutamate release from brain tumors is responsible for tumor associated epilepsy and a clinical trial is underway to address this condition.
In 2005 Dr. Sontheimer founded TransMolecular Inc., a biotechnology startup company devoted to the development of novel treatments for brain cancer. Following successful phase I and II clinical trials, the company was acquired by Morphotec Pharmaceuticals in 2011.
Dr. Sontheimer founded the Center for Glial Biology in Medicine at the University of Alabama Birmingham in 2006, the first center in the world to focus on the study of glial cells in health and diseases.
From 2005 to 2015, Dr. Sontheimer directed the Civitan International Research Center, a philanthropically supported center devoted to the study and treatment of children with developmental disabilities, ranging from Down's syndrome to Autism. In this capacity, Dr. Sontheimer was tasked with explaining complex scientific processes to a lay audience.
Recognizing the need to further educate the public about neurological disorders using language that is accessible to an educated public, Dr. Sontheimer recently wrote a textbook entitled "Diseases of the Nervous system", (www.elsevier.com/books/diseases-of-the-nervous-system/sontheimer/978-0-12-800244-5),
an award winning text book (https://proseawards.com/winners/2016-award-winners/) used by many graduate and undergraduate programs around the country.
In 2015, Dr. Sontheimer founded the School of Neuroscience at Virginia Tech the nation's first School of Neuroscience, which serves as the primary home for Neuroscience research and education at VT that traines Minors, Majors, Masters and Doctoral students. Within 5 years the School grew to one of the largest Neuroscience programs in the country now serving over 800 students.
Dr. Sontheimer is a dedicated and enthusiastic researcher and educator who has trained countless undergraduates and over 50 graduate students and post-doctoral fellows. He has published over 180 peer-reviewed publications. He is a sought-after speaker and regularly participates in national and international conferences. He serves on numerous advisory boards for national and international agencies including the German Max Plank Society, the MIT Press, National Institute of Health, Citizens United for Epilepsy and American Brain Tumor Association and Dana Foundation.