People
Ukpong Eyo, Ph.D.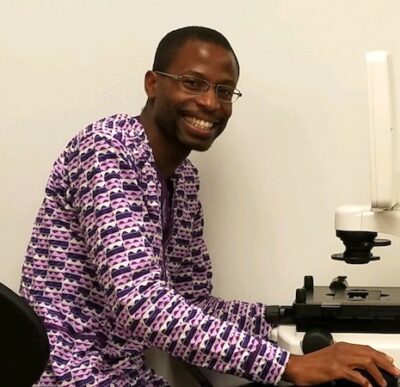 Principal Investigator
Eyo (pronounced "A"-"Yo") was born in Nigeria and grew up in several different countries. He immigrated to the US in 2003 to pursue undergraduate studies at Northwest Missouri State University. He then went on to graduate school at the University of Iowa where he developed a keen interest in real-time imaging of microglia during development under the mentorship of Dr. Michael Dailey. During his time in the Dailey Lab, Eyo reported remarkable migratory capacities for neonatal microglia and elucidated purinergic mechanisms in microglial demise under simulated ischemic conditions. Following his Ph.D studies, Eyo joined the lab of Dr. Long-Jun Wu, first at Rutgers University in New Jersey, then at Mayo Clinic in Minnesota to study microglial-neuronal communications. His postdoctoral research in the Wu Lab uncovered novel physical interaction phenomena between microglia and neurons. These were shown to be governed by glutamate-dependent NMDA receptor signaling that subsequently elicited purine release to activate microglial P2Y12 receptors. Moreover, he showed that this communication axis was beneficial following experimentally-induced seizures. In August 2018, Eyo started his independent lab in the Department of Neuroscience and the Center for Brain Immunology and Glia (BIG) to continue his research on microglia with a focus on the developing brain. Away from the lab, Eyo enjoys time with his blessed family including his wife, sons, and daughter.
Kaitlin Love, M.D.
Faculty Member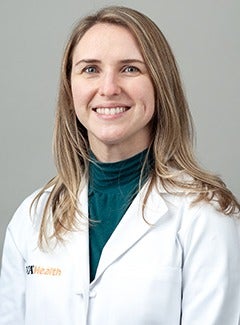 Kaitlin (Katie; she/her) is a Florida native and received her bachelors of science in Neuroscience and Behavioral Biology from Emory University before completing medical school at Florida State University College of Medicine. She completed Internal Medicine residency and Endocrinology fellowship training at University of Virginia. She is currently an Assistant Professor of Medicine in the Endocrinology and Metabolism Division. Her research focuses on adjuvant treatments, including glucagon-like peptide 1 agonists and exercise, for microvascular insulin resistance in type 1 diabetes. She is particularly interested in defining mechanisms and treatment for endothelial cell dysfunction in type 1 diabetes. She enjoys spending time with her family (son, husband, and cat), baking, running, hiking, and gardening."
Kaushik Sharma, Ph.D.
Postdoctoral Research Fellow

Kaushik obtained his Bachelors and Masters degrees from the University of Pune, India and then completed his doctoral training at the National Brain Research Centre, India. His doctoral research work was focused on understanding the mechanisms of memory formation in the hippocampus, focusing on long-term potentiation recordings (Sharma et al., 2014; Maharana et al., 2013; Maharana et al., 2010; Pandey et al., 2015) . He did his first postdoctoral training with Dr Marie-Eve Tremblay at Université Laval, Quebec, Canada, where his work was focused on elucidating the effects of diet on neuron – microglia interactions in chronic stress paradigms (Tian et al., 2017; Hui et al., 2020). His current postdoctoral research in the MicroglEyo Lab is to study the involvement of microglia-specific purinergic receptors in seizures and understand the governing mechanisms (Sharma et al., 2020). He is fond of reading, instrumental music, nature walks, and anything that is creative.
Email: ks3ga@virginia.edu
Kanchan Bisht, Ph.D.
Postdoctoral Research Fellow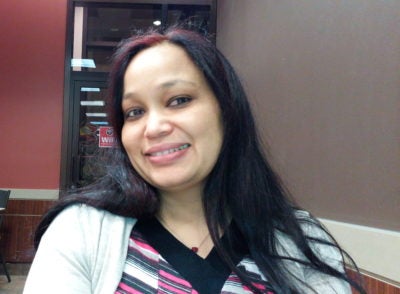 Kanchan got her neuroscience research training in the labs at the National Brain Research Center (NBRC), India, as well as Eidgenössische Technische Hochschule (ETH) Zürich, Switzerland. As a doctoral student in Dr Marie-Eve Tremblay's lab at the Université Laval, Quebec, Canada, she described a novel microglia phenotype, the dark microglia, associated with pathological states, stress, and aging (Bisht et al, 2016a; Bisht et al., 2016b). Her postdoctoral research the MicroglEyo Lab is focused on elucidating the intricacies of microglia-vasculature interaction in the context of both brain physiology and pathology (Bisht et. al., 2020). Outside of the laboratory, she enjoys spending time with her son, travelling, cooking, and reading.
Email: kb2xn@virginia.edu
Akhabue Kenneth Okojie, Ph.D.
Postdoctoral Research Fellow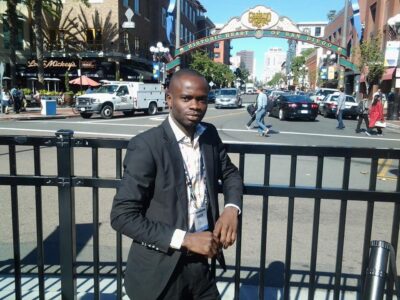 Kenneth was born in Southern part of Nigeria and obtained his Bachelors and Masters degrees in Physiology from Ambrose Alli University and University of Benin, respectively. His Ph.D degree was also in Physiology from the University of Nigeria, Nsukka. His doctoral research was under the supervision of Prof. E. Iyare which was focused on elucidating the effects of in utero exposure to Plasmodium berghei on the offspring (Okojie et al., 2017; Okojie et al., 2019). His postdoctoral research in the MicroglEyo Lab is focused on studying microglia in development and microglial maturation. Outside the lab, Kenneth enjoys spending time with my family, traveling, soccer, exercising and reading.
Email: gsg4pb@virginia.edu
Dennis Lentferink, Ph.D.
Postdoctoral Research Fellow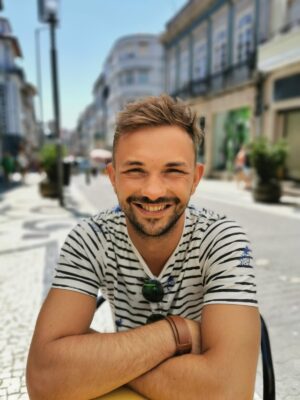 Dennis is originally from the Netherlands, where he obtained first a bachelor's and then a master's degree in molecular neuroscience at the University of Groningen. At this same institute, under the supervision of Dr. Wia Baron, he then performed a doctoral research project investigating intrinsic differences between oligodendrocyte progenitor cells of the grey and white matter, and how these differences might affect their remyelination capacity (Lentferink et al. 2018; Werkman, Lentferink, and Baron 2020). In the MicroglEyo lab he is studying the interaction of microglia with the vasculature and oligodendrocyte progenitor cells in physiological and pathological conditions. Next to glia, Dennis enjoys hiking, pub quizzing, (video)games, dinosaurs, and watching soccer games with a cold beer.
Email: dcv7yt@virginia.edu
Tré Mills, Ph.D.
Postdoctoral Research Fellow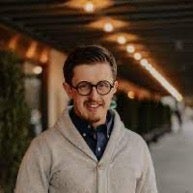 Tré Mills is originally from Virginia and completed his bachelor's degree in Biology at Virginia Tech. He then spent a year in Suzhou, Jiangsu, China studying Chinese at Xi'an Jiaotong Liverpool University and conducted research in the lab of Dr. Zhu Li at Suzhou University. Following that, he returned to Virginia Tech and completed his doctoral training under the supervision of Dr. Harald Sontheimer. His thesis work utilized the in vivo two-photon imaging 2Phatal single-cell ablation method to determine if the focal ablation of an astrocyte is sufficient to induce breaches in blood-brain barrier integrity. This approach led to the discovery of a novel plasticity response whereby surrounding astrocyte infiltrate vascular vacancies left by previous astrocytes. The rest of his work was aimed at elucidating mechanisms underlying this process and if replacement endfeet exert any physiological control over the vasculature. He further determined that this response occurs following reperfusion of post-focal photothrombotic stroke (Mills et al., Bioarxiv). Tré joined the Eyo lab in June 2021 as a T32 fellow in the UVA Cardiovascular Research Center where his work will focus on the role astrocyte-microglia interactions in the regulation of cerebrovascular development and physiology.
Email: gne7xr@virginia.edu
Bria Friestad
Laboratory Technician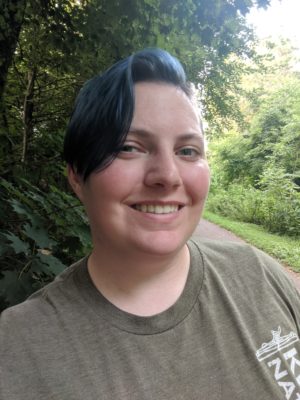 Bria is a University of Virginia graduate and a Virginia native. Growing up along the eastern shore in Norfolk, VA instilled an interest in biology and the environment which she nurtured through her education. She earned her Bachelor's degree in 2016, double majoring in Biology and English. During her undergrad she focused on genetics and ecology, studying evolution and polyploid complexes in the Galloway Lab with (now) Dr Brittany Sutherland. She also spent time exploring English and American classic literature, as well as more modern genres of writing/reading. She hopes to proceed to a PhD program in Biology while cultivating her skills as an author and editor. In her free time, she likes to read, write, go on nature walks, practice photography and travel with her family.
Email: baf9gb@virginia.edu
Joseph Uweru, B.Sc., M.Sc.
Graduate Student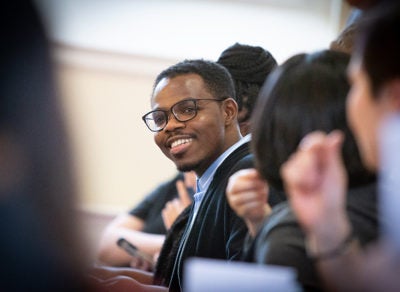 Joseph (Joe) was born and raised in Nigeria where he obtained his Bachelor's and Master's degrees in Physiology from the Ahmadu Bello University, Zaria and the University of Lagos, Lagos, respectively. His doctoral research in the MicroglEyo Lab seeks to elucidate the role of microglial P2Y12 receptor in neurodevelopment and neurodevelopmental pathologies with a focus on microglial-neuronal interactions (Uweru et al., 2019; Badimon et al, 2020). Outside the lab, he enjoys listening to music, reading, exercising/strolling etc.
Email: oju4s@virginia.edu
Synphane Gibbs , B.S.
Graduate Student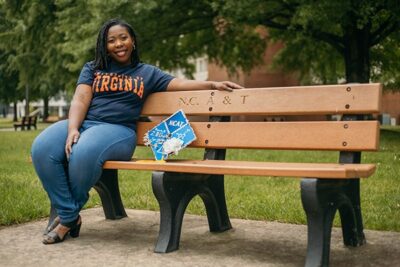 Synphane is a Pharmacology student from Charlotte, North Carolina. She is a graduate of North Carolina A&T State University where she got her Bachelor's in Biology with a minor in Chemistry in 2020. Her research interest involve seeking the role of microglia in neurodevelopmental pathologies. When she is not in lab she likes to roller skate, read, and actively be involved in organizations at UVA.
Email: slg8ux@virginia.edu
Jordan Benderoth
Undergraduate Student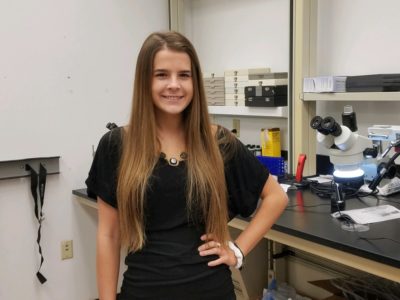 Jordan is a senior Neuroscience Major at UVA where she is also an Echols' Scholar. She is working with Dr. Bisht on her project interrogating microglial-vascular interactions. She is aspiring to pursue a career as a medical doctor. She lives in Virginia Beach and can do a back-flip
Email: jdb8sx@virginia.edu
Lara Jabbour
Undergraduate Student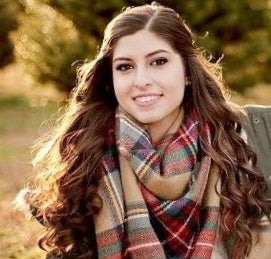 Lara is a pre-medical senior and Neuroscience Major from Fredericksburg, VA. She is working as an undergraduate research assistant to Dr. Bisht (video). Alongside involvement in research, Lara enjoys traveling, ice skating, and finding opportunities to care for individuals in need.
Email: lmj8bj@virginia.edu
Zainab Calcuttawala
Undergraduate Student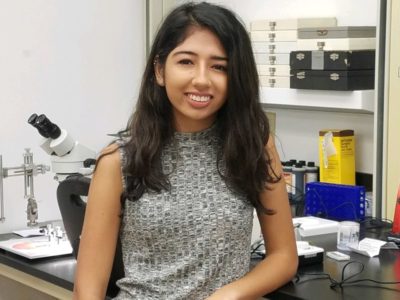 Zainab is a senior student from Herndon, VA. She is majoring in biology and minoring in psychology. In the MicroglEyo Lab, she works as an undergraduate research assistant for Dr. Bisht. She loves traveling to new places and exploring a variety of fields in science.
Email: zyc4vu@virginia.edu
Brij Patel
Undergraduate Student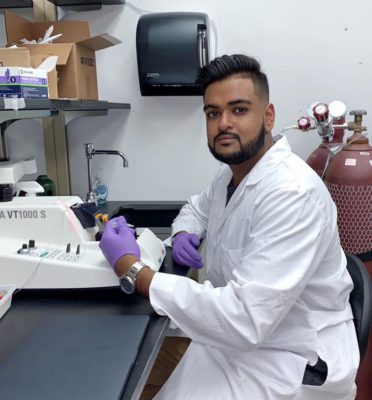 Brij is a third-year student from Roanoke, VA. He plans on majoring in neuroscience and is currently working with Dr. Sharma in his project investigating microglial roles in chemoconvulsive seizures. He loves playing tennis and learning about the different aspects of science.
Email: bbp5dv@virginia.edu
Saipranusha Amancherla
Undergraduate Student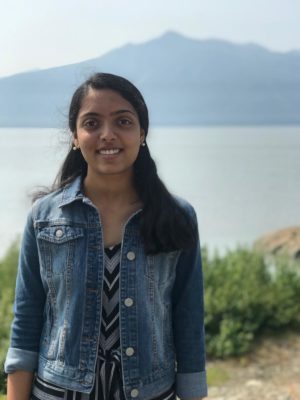 Saipranusha is a second-year student from Aldie, VA. She plans on majoring in cognitive science and minoring in statistics. She is an undergraduate research assistant with Dr. Bisht. She loves to travel and explore new cultures, dance, and expand her knowledge by exploring different areas of science.
Email: sa2hms@virginia.edu