Charlottesville
About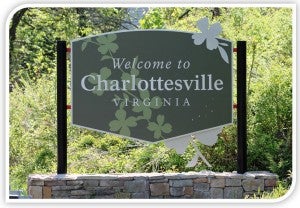 According to Charlottesville.org: "The City of Charlottesville is nestled at the foothills of the Blue  Ridge  Mountains  in  western  Central  Virginia. Home to a  population  of over  40,000 residents  with  a  metropolitan population over 200,000. The City has  earned  a reputation as being  one  of  the  most  livable  places  in  the country. In 2004 the City was given the distinction  by  Cities  Ranked  and  Rated  as  the  Best  Place  to  Live  in  America,  and Charlottesville  has  consistently  been  listed  among  Money and Fortune  Magazines'  Best Places to Live and Best Places to Retire.
A city deep in historic value, the  area  has  raised  three Presidents and is the home of the University of Virginia founded by Thomas  Jefferson  in 1825. With a  growing  enrollment  of nearly  20,000,  the  University  is   consistently  listed  as  one  of   the   top   five  public universities  in  the  country.   In  2007,  the  area's  emphasis   on  historic  preservation alongside  modern  development  has   earned  the  recognition  by  the  National  Trust for Historic Preservation as a Dozen Distinctive Destination.
There is also a thriving art, music and theater community that keeps the creative spirit alive in Charlottesville. A  recently  opened 4,000 seat Charlottesville Pavilion amphitheater draws big  named  acts i nto the downtown area and hosts a weekly Friday After Five concert in the  spring  through  the  fall,  a  local  favorite  to  kick  off  the  weekend. The downtown pedestrian mall is one of the most successful of its kind in the country and boasts over 150 shops  and  award-winning  restaurants.   A  magnet  for  art,  music,  dining, shopping and entertainment, the mall is now home to a newly renovated Paramount Theater, one of few community-supported  restorations of  historic  theaters  in  the  country.   The  1,200 seat theater  has  hosted  nationally-known entertainers. The 16,000 seat John Paul Jones Arena (JPJ) opened  in  2006  and  has  already  hosted  national caliber events such as The Dave Matthews Band, Rod Stewart,  Billy Joel and  Cirque du Soleil. JPJ was recently voted as the Best New Entertainment Venue in the Country.
Tourism plays an important role in the City's economy, much of it based on its rich historical legacy. Two million travelers visit the area each year to see the area's historic sites and the spectacular scenery of Central Virginia. Monticello, the home of Thomas Jefferson, sits on a nearby  mountain  overlooking  the city and offers tours and special events and ceremonies. Ash Lawn-Highland, home  of  James  Monroe,  features  beautiful  gardens  and  furnishings reflecting  the  Federal  style  is  just a mile down the road from  Monticello. Montpelier, the home of James and Dolly Madison,  recently reopened  to the public for  tours, tastings, and horseracing."