Resident Curriculum
As a PGY-1, rotations change on a monthly basis with six months of the year devoted to orthopaedic surgery. These are divided into two months each of adult reconstruction and oncology, spine surgery, and orthopaedic trauma.
As an intern on an orthopaedics service, duties consist of peri-operative management of the surgical patient and obtaining a basic understanding of the day to day activities within the University of Virginia Medical Center. However, in addition to managing floor patients there is a large emphasis placed on surgical exposure that is further augmented by daily didactic sessions.
As a PGY-2 through PGY-5 your time is spent solely on orthopaedic services with continued development of operative skills and increased contribution to daily didactic sessions. Service responsibilities progress in a graduated fashion with the expectation that you will eventually lead the service and help educate more junior residents.
During your PGY-3 and PGY-4 year you will spend a total of 40 weeks in Roanoke, Virginia as part of a local private practice orthopaedics group. During this time you will learn to function more independently as a consultant for acute and chronic orthopaedic conditions in addition to gaining extensive operative experience. Fully-furnished and conveniently-located housing is provided by the department to residents while in Roanoke.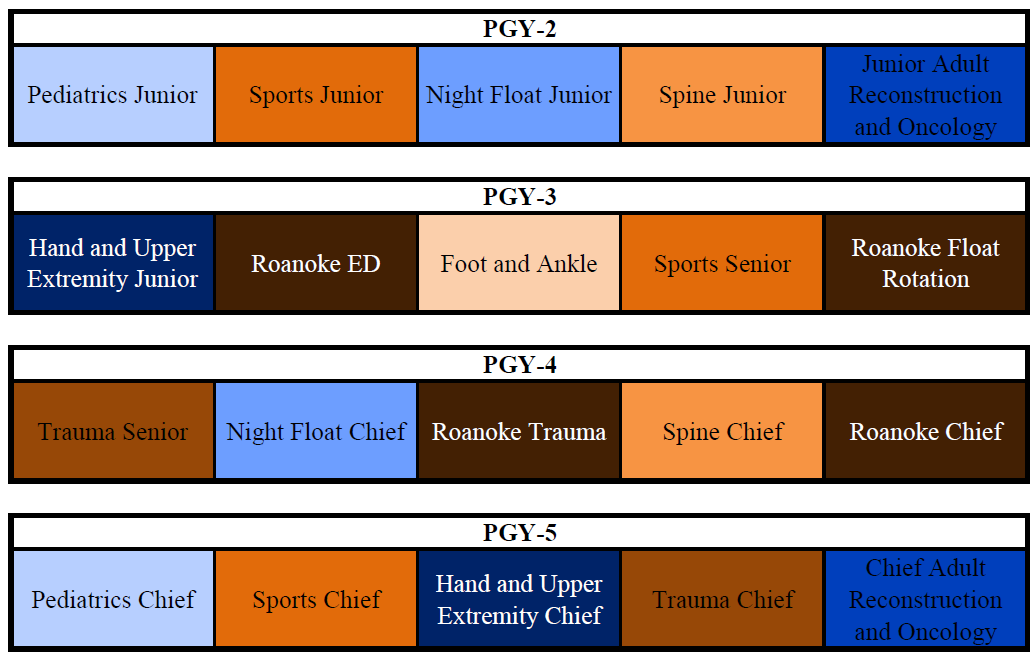 DIDACTICS
The formal  educational program  includes structured orthopaedic teaching conferences in fracture management, subspecialty core conferences, grand rounds, indications conference, morbidity and mortality quality assurance conferences, small group service-specific conferences, and basic science and anatomy conferences, all of which provide a comprehensive curriculum of  fundamental orthopaedics. Involvement with research is required and encouraged for all orthopaedic residents.  Residents are given dedicated time for research in both the five-and  six-year programs, through which they gain invaluable  experience in all facets of research; from proposal preparation and experimental design to podium presentations and manuscript submission. Residents are required to produce one peer-reviewed publication prior to graduation.
Monday – Fracture Conference (6:15 – 7:15AM – University Hospital, Moss Auditorium)
Tuesday – Indications / Core Curriculum (6:15 – 7:15AM – University Hospital, OR Classroom)
Wednesday – Grand Rounds, QA Conference, Pathology (7 – 9AM – UVA Ortho Conference Room, Fontaine)
Thursday – Service Specific (6:30 – 7:15AM – location variable)
Friday – Anatomy, Basic Science (6:30 – 7:15AM – University Hospital)
Journal Club
Monthly (usually Thursday night at 6:30 PM)
Hosted by an attending
5 – 8 articles chosen by chief resident and the hosting attending
Additional Program Benefits
Book Allowance:  AAOS Comprehensive Review
Subsidized Loupes
Yearly travel allowance for conferences
Additional allowance for state or national presentations at AAOS/ORS,EOA, NAS or NMA.
Coverage of local athletic teams
Numerous opportunities to achieve academically:
Publications
Clinical and Basic Science Manuscripts
Book chapters
National Presentations