Our Residency
University of Virginia Orthopaedic Residency Program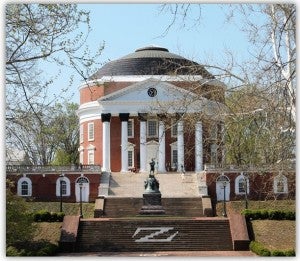 We feel that our residency program is among the best in the country thanks to excellent, well-rounded operative training that is balanced in subspecialties, a rigorous academic curriculum that ensures a firm knowledge base, our college town that is a great place to live, and an opportunity to become a well-published leader in your future specialty.
Our Orthopaedic residency program also provides comprehensive training in the care of pediatric orthopaedic patients with acquired, congenital, and traumatic conditions involving the spine and extremities at the UVA Children's hospital including exposure to sports, foot & ankle, and congenital/pediatric hand conditions.
Historical Perspective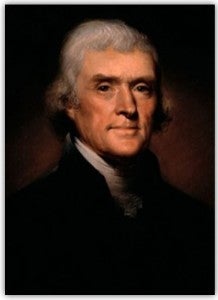 The founder of the University and third President had his own experience with an orthopaedic malady. Around September 18, 1786, Jefferson—who was right-handed and a fervid writer—dislocated his right wrist in a fall while attempting to jump a fence in Paris, France. History tells us that two surgeons set his bones, but not well, and he suffered wrist pain for the rest of his life. The exact nature of the injury—TFCC tear, perilunate dislocation or perhaps even a nondisplaced distal radius fracture—is not known; but what is known is that the injury caused him considerable pain. In his later years he wrote in a letter that a "stiff wrist, the consequence of an earlier dislocation, makes writing both slow and painful." Ever the Renaissance man, he acquired two small dumbells and used them to strengthen and exercise the wrist, a form of "early mobilization" which would become one of the four AO principles formulated two-hundred years later. Given the significant impact of this injury on a man who is estimated to have written nearly 20,000 letters in his lifetime, it may come as no surprise that later in life Mr. Jefferson said, "The doctor of the future will give no medicine, but will interest his patient in the care of the human frame."
Becoming a Surgeon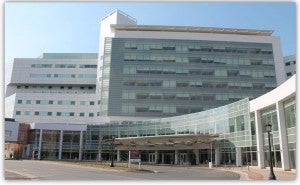 The University of UVA HospitalVirginia Medical Center is a 646 bed level 1 trauma center located in the heart of Charlottesville, VA. The leading tertiary care hospital in central Virginia, the University Hospital draws from a broad geographical region with a diverse patient population.
Orthopaedic residents at U.Va. manage a high volume of patients and are exposed to a wide variety of injuries and conditions. Rotating through 5 ten-week service blocks per year, residents receive ample training in all Orthopaedic disciplines. Service teams of junior residents paired with upper level residents and fellows optimize the teaching and learning environment. Clinical responsibilities and operative opportunities advance based on experience and ability.
During call, interns on Orthopaedics generally shadow upper level residents to learn basic skills and gain experience. Starting PGY-2 year, residents take primary E.R. and trauma room call treating minor Orthopaedic injuries, evaluating major injuries for operative intervention, and assisting the faculty and upper-level resident in the operating room. A well-tuned night-float system has eliminated overnight call during the week. The Orthopaedic chief runs the trauma room and provides support for the junior residents for challenging consults or situations.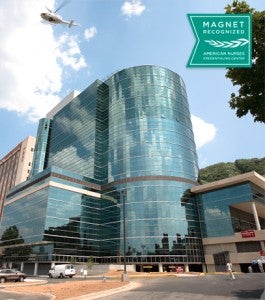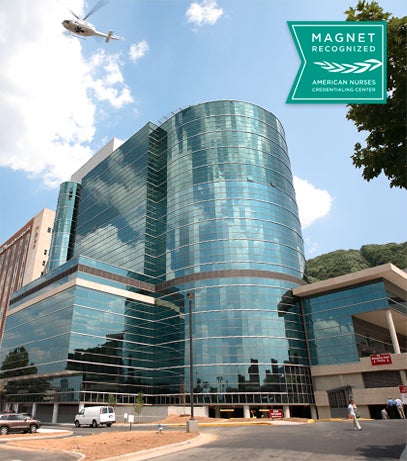 Our experience at the University of Virginia Medical Center is supplemented by time spent at Carilion Roanoke Memorial Hospital in Roanoke, Virginia, located approximately 2 hours southwest of Charlottesville. During our third and fourth years of training we spend a total of 40 weeks (four 10-week blocks spread through PGY-3 & PGY-4) training under the faculty at Carilion. The general consensus is that the Roanoke experience fine-tunes our operative skills, as the daily schedule is heavily favored to operating with minimal clinic requirements. The volume of cases is high which begets more autonomy, in essence providing the reps needed to master a procedure. In addition to the high volume of cases, the Roanoke rotations allow us to seek out cases in an area of interest so as to gain more experience and observe different techniques. As many PGY-3s and most PGY-4s have a firm idea of their future subspecialty, the freedom to seek out and master certain cases is an invaluable opportunity afforded during the time away.
Academic Rigor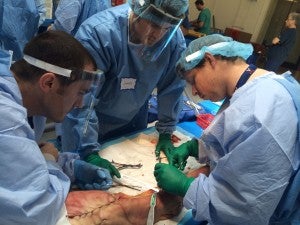 Simply possessing the skills to perform a procedure are not sufficient to be a well-rounded surgeon. Equally important is forming a foundation of knowledge to understand pathology and know when and when not to operate. At UVA we accomplish this in part through daily conferences, which take place at the start of each day. The lecture series is a demanding one, requiring daily reading and preparation. We feel that this format—as opposed to covering multiple topics in a single day—is more conducive to learning as preparation for a daily lecture is a more achievable goal in the setting of a busy operating schedule.
Daily conferences follow a systematic curriculum to establish a solid foundation of knowledge, while weekly service-specific conferences and monthly journal clubs cover current topics and techniques. An emphasis on academics affords residents the opportunity to pursue a wide range of basic science and clinical research endeavors as well.
Research & National Reputation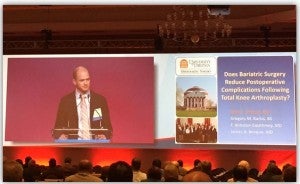 As an academic university, both clinical and basic science research are heavily regarded in our program. Every professor has an area of focus, thus finding a quality project to begin or to take part in is easily accomplished by expressing interest in a particular area. Resident Research Day is held during graduation week to showcase and share current research projects. Each resident will present an area of focus. As an incentive to publish and be a leader in evidence-based medicine, we are allowed time away from work (with compensation) to travel to meetings in which our research is presented.
High School Coverage
Care of the athlete is a unique aspect of orthopaedic surgery and is something that our Sports Medicine department takes seriously. Interested residents provide coverage for each high school team in the area. The goal of this experience is to pair each resident with a local team in the first year of residency so that he or she may follow this team for five years of resident training. This promotes ownership of the team and helps to develop a relationship with the support staff.
Balance
Balance between life at work and life outside work is important. We value a work hard – play hard mentality. Fortunately Charlottesville and the surrounding Blue Ridge Mountains provide ample opportunity to do this.
Location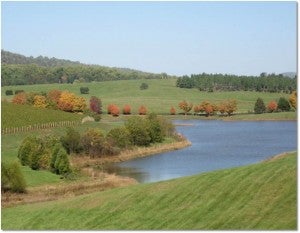 "I am as happy no where else and in no other society, and all my wishes end, where I hope my days will end, at Monticello." – Thomas Jefferson
Charlottesville, Virginia is a wonderful place to explore, raise a family, and enjoy life in general during residency. Thanks in part to it being a college town, Charlottesville maintains a small town feel (population 43,475 not counting student body) but offers many of the same amenities found in more urban environments, minus the traffic. There is excellent live music, from the outdoor scene on the downtown Mall to big names who perform at the John Paul Jones arena. Good places to eat are abundant and many are within walking distance of the hospital for lunch.
The surrounding area is largely rural, thus outdoor activities usually win the day. You can take in views of the surrounding mountains by climbing Old Rag, get lose in the Blue Ridge Mountains within Shenandoah National Park, or tee off at one of Charlottesville's several public golf courses. The climate is a true four-season climate, meaning that activities unique to each season are available each year: winter skiing at Wintergreen and Showshoe, floating the James River with a cooler and fishing rod during the summer, tailgating at fall football games, or running in the annual Charlottesville 10-Miler race in the spring. There are opportunities to continue being the weekend warrior that you are by participating in UVA's intramural athletics against undergrads and graduate students.