Michael J. Gaffey Post-Sophomore Fellowship
The Michael J. Gaffey Medical Student Fellowship in Pathology
This special, one-year-long fellowship offered by the Department of Pathology provides medical students the opportunity to increase their knowledge of Pathology and to understand the role of diagnostic Pathology in patient care. Working closely with the Pathology faculty and housestaff, the fellow will rotate through the diagnostic Pathology clinical services, with particular emphasis on Surgical Pathology and Autopsy Pathology. During these rotations, the fellow will receive training and responsibilities similar to those of a first-year resident. In addition, part of the fellowship may be spent in a research project, under faculty guidance, in disease etiology or diagnosis. Upon completion of this program, the student fellows will have greatly expanded their knowledge of Pathology and gained an understanding of the fundamental role that Pathology serves in patient care.
Open to medical students who have successfully completed their second or third year at a U.S. or Canadian LCME-accredited medical school.
We will offer a stipend of $26,000/year. In addition, the department will pay student fees and health insurance and provide an expense account for conference attendance and textbooks.
Please submit the completed application, curriculum vitae, medical school transcripts and, if available, scores from USMLE, Part 1, to:
Dr. Robin D. LeGallo, M.D.
Program Director, Medical Student Fellowship
Department of Pathology
University of Virginia Health System
P.O. Box 800214
Charlottesville, VA 22908
Phone: 434-243-0821
FAX: 434-982-6130
e-mail: rdl3s@Virginia.EDU
1998-1999 James Boyer – University of Virginia
1999-2000 Bradley B. Manning – University of Virginia
2001-2002 Nancy E. Morefield – University of Virginia
2001-2002 Joanna Steere – University of Virginia
2017-2018 Emily A. Towery – University of Tennessee Health Science Center
2019-2020 Yongsang Park, M.D. – University of Virginia
2021-2022 Landon Hobbs – University of Virginia
Lauren Pelkey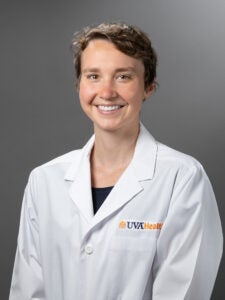 In Memoriam

Michael James Gaffey, M.D. was an Associate Professor of Pathology at the University of Virginia. Dr. Gaffey is best remembered as an enthusiastic and effective teacher of medical students and housestaff. He received a Dean's Teaching Award in 1995 and the Robert Bennett Bean Award as outstanding basic science teacher posthumously in 1998. Dr. Gaffey received his MD, magna cum laude, from the University of Maryland in 1983. He was a member of Alpha Omega Alpha and the recipient of the Milton L. Sacks Memorial Award in Medicine and Hematology.
In 1983-84, Dr. Gaffey was a resident in Internal Medicine at the University of Virginia Health System, then joined the residency program in Pathology, completing combined training in Anatomic and Clinical Pathology from 1984-1988, serving as Chief Resident in Anatomic Pathology in his last year. From 1988-1990, he was a Fellow in Surgical Pathology at the City of Hope National Medical Center. He was certified by the American Board of Pathology in Anatomic and Clinical Pathology in 1988 and in Cytopathology in 1996.
Dr. Gaffey joined the Pathology faculty in 1990 as an Assistant Professor of Pathology and Director of Transplantation Pathology. He was promoted to Associate Professor in 1995. Dr. Gaffey was an active and serious academic pathologist serving numerous professional organizations including the American Society of Clinical Pathologists and the United States and Canadian Academy of Pathology as a speaker and reviewer. He was the author or coauthor or several book chapters and over 65 refereed publications.
Dr. Gaffey enjoyed life with his wife, Lynn and their children, Shannon and Scott. He was an avid scuba diver, bicyclist, and motorcycle rider. He died in a motor vehicle accident on December 20, 1997. The Department of Pathology is proud to honor one of its dedicated teachers by naming the medical student fellowship after Mike.