Department Facilities
Department Facilities
Conference Room
Most of the resident conferences and seminars occur in this room located next to the resident offices. There is a brand new microscope camera, a large selection of journals, and a multi-headed scope. Please refer to the conference schedule to learn more about the resident lectures and seminars.
Resident Offices
First year residents are paired in an office with one or two third year residents. Each resident has his or her own microscope, personal computer, bookshelf, and file cabinet. The offices are located in the same hallway as faculty and support staff, so expert opinions are only a few steps away. The resident offices also have small refrigerators to store food and beverages. Second year residents are located in a spacious office near the clinical laboratories. Fourth year residents are paired or have individual offices.
Resident Library
The resident library is located in one of the multi-headed scope rooms near the resident offices. The library contains a large selection of recently published books for resident use. Fortunately, most of the reference books are too heavy to remove, so our collection remains relatively complete. There is also a smaller reference library in the surgical pathology suite located on the second floor of the hospital. The medical center library provides 24 hour on-line access to a wide selection of pathology journals.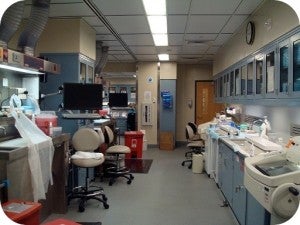 Surgical Pathology Suite
The surgical pathology suite is located directly across from the OR and is equipped with current technology. All of the grossing benches are adjustable, with chairs available for those who prefer to sit. One bench is designated for frozen sections, which is located adjacent to the microtomes and stains. There is also a photography "studio" that is optimized for gross photography. In the back entrance of the surgical pathology suite there are two multi-headed scopes, projection screens, personal workstations, and a kitchenette.
Davis Laboratory
The Davis Laboratory houses flow cytometry and is where trainees sign out bone marrows, flow cytometry and other laboratory-based assays such as hemoglobin electrophoresis.
Core Laboratory
The Core Laboratory is a highly automated environment open 24/7 where over 14 million tests per year are performed in routine chemistry, hematology, urinalysis, and coagulation.  Specialized testing, such as protein and hemoglobin electrophoresis and special coagulation studies, are also performed in this area on a limited schedule.