Clinical Genomics/Molecular Diagnostics
The Clinical Genomics/Molecular Diagnostics rotation at UVA is a constantly evolving and clinically busy rotation.  Services are primarily directed at the diagnosis and management of patients with hematologic and solid organ malignancies, and also include a number of common inherited genetic disorders.  The testing involves various standard molecular technologies such as PCR, capillary electrophoresis as well as state of the art technologies such as next-generation sequencing (NGS) technologies.  The combined laboratories sign out more than 2000 cases per year, including about 400 cases (currently) utilizing NGS.  The rotation also offers opportunities for research and development projects for the residents and fellows.
 Core Laboratory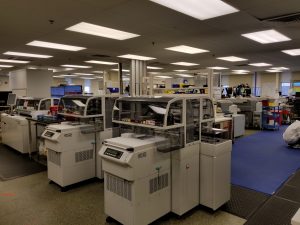 The Core Laboratory is a highly automated environment open 24/7 where over 14 million tests per year are performed in routine chemistry, hematology, urinalysis, and coagulation.  Specialized testing, such as protein and hemoglobin electrophoresis and special coagulation studies, are also performed in this area on a limited schedule. The Toxicology, Flow Cytometry, and Immunology Laboratories are in a different building and the Blood Bank and Transfusion Medicine Service is housed in the hospital, directly across from the OR suite.
Conference Room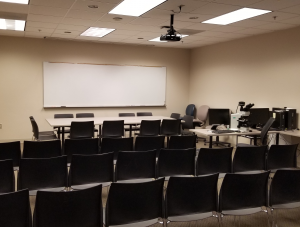 Most of the resident conferences and seminars occur in this room located next to the resident offices. There is a brand new microscope camera, a large selection of journals, and a multi-headed scope. Please refer to the conference schedule to learn more about the resident lectures and seminars.
Resident Offices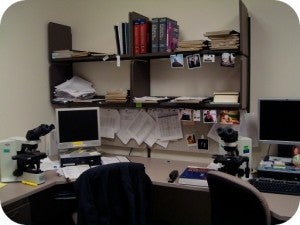 First year residents are paired in an office with one or two third year residents. Each resident has his or her own microscope, personal computer, bookshelf, and file cabinet. The offices are located in the same hallway as faculty and support staff, so expert opinions are only a few steps away. The resident offices also have small refrigerators to store food and beverages. Second year residents are located in a spacious office near the clinical laboratories. Fourth year residents are paired or have individual offices.
Resident Library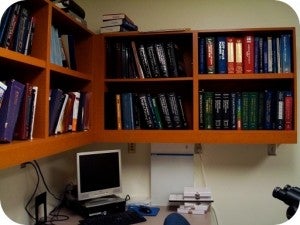 The resident library is located in one of the multi-headed scope rooms near the resident offices. The library contains a large selection of recently published books for resident use. Fortunately, most of the reference books are too heavy to remove, so our collection remains relatively complete. There is also a smaller reference library in the surgical pathology suite located on the second floor of the hospital. The medical center library provides 24 hour on-line access to a wide selection of pathology journals.
Surgical Pathology Suite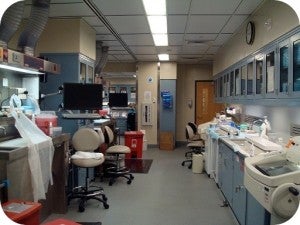 The surgical pathology suite opened less than one year ago and is located directly across from the operating rooms. The suite is equipped with the most recent technology. All of the grossing benches are adjustable, with chairs available for those who prefer to sit. One bench is designated for frozen sections, which is located adjacent to the microtomes and stains. There is also a photography "studio" that is optimized for gross photography. In the back entrance of the surgical pathology suite there are two multi-headed scopes, projection screens, personal workstations, and a kitchenette.