AnnaVi Jones, M.D.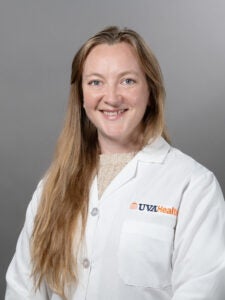 Pronouns: she/her
Hometown: Arvada, CO
Undergraduate: Metropolitan State University of Denver/Integrative Health Care
Medical School: Wright State University Boonshoft School of Medicine
Email: CWH9HB@uvahealth.org
I am a gatherer of hobbies…I love the arts and outdoors, baking, and reading. I enjoy making things and appreciating beauty in the world. I chose UVA because I wanted an academic program with a community feel and I wanted to train somewhere that served rural populations, as I initially chose medicine to work in rural health. My co-residents are my friends and I've found an environment where I can grow personally and professionally in the ways I had hoped. I spend most of my time with my husband and 13-year-old German Shepherd, Chloe. I also have a 14-year-old cat named Jupiter. I love a good old squamous cell!