Andrew Biesemier, M.D.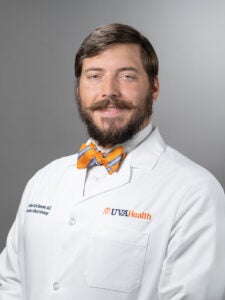 Hometown: Lynchburg, VA
Undergraduate: University of Virginia – B.S. Biology
Medical School: University of Mississippi Medical Center
Email: APB8D@uvahealth.org
Hey Y'all! I'm Andrew Biesemier, I grew up in Lynchburg, Virginia developing an interest in Pathology from my father. I attended UVA for undergrad and then worked for a couple years as a Histotech in Lynchburg and Jackson Mississippi. I attended medical school at the University of Mississippi Medical Center in Jackson. I could not be happier to return to UVA to complete my training, reaffirmed every day spent with my wonderful faculty and co-residents. My interests in pathology include Dermatopathology as well as Hematopathology and Surgical Pathology.
My wife Molly, of Greenville MS and I have our hands full raising three children, John (5) and William (3), and Lainey (4mo) as well as our Cairn Terrier Odin and German Shorthaired Pointer Freya. In my free time I enjoy flyfishing, having fished all over from Alaska to Belize. I love getting out into the boonies for some wilderness camping. You can often find me lifting weights in the resident gym or my garage, pushing for a 500lb squat by the time I complete residency. I also dabble in cookery, homebrewing, mixology, and pickling vegetables.