Manda Gibbs, M.D.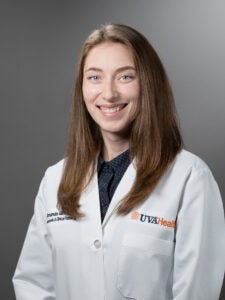 Pronouns: she/her
Hometown: Las Vegas, NV
Undergraduate: Lake Forest College – Neuroscience & Environmental Studies
Medical School: University of Nevada, Reno School of Medicine
Email: FVE3HK@uvahealth.org
I am originally from Las Vegas, NV but have loved life in Charlottesville these past few years. In my free time, I enjoy exploring the local trails and wineries with my partner, Lyndsay, and our dog, Pinot. I'm always up for a round of golf, water skiing, and cheering on my favorite NHL team, the Vegas Golden Knights!
The pathology department at UVA has been exceptional and I am thrilled to be completing my training here! My co-residents are amazing and true team players. The attendings are eager to teach and have been so supportive of me and my career goals. I wouldn't want to be anywhere else 🙂