Emily Gardner, M.D.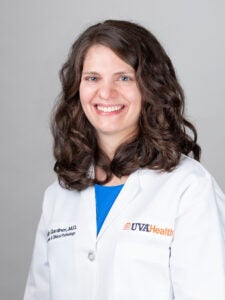 Pronouns: she/her
Hometown: Chicago, IL
Undergraduate: Loyola University – Chicago
Medical School – Wake Forest School of Medicine
Email: THM5EF@uvahealth.org
I grew up in Chicago, and attended Loyola University Chicago where I studied forensic science and chemistry. I then worked as a Pathologists' Assistant for a few years before applying to medical school with the intention of being a pathologist.
I truly believe that UVA Pathology is one of the best residency programs in the country. My favorite thing about the department is the supportive, collegial culture. In my free time, I enjoy hiking, cooking, and spending time with my spouse and our animals.  Any interested pathology applicants are welcome to contact me with questions on the program or pathology residency in general.