Selveras Zayed, M.B.B.Ch.B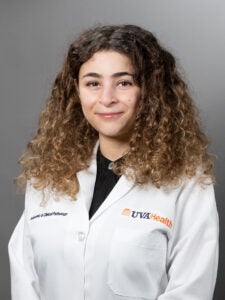 Pronouns: she/her
Hometown: Alexandria (Egypt)
Medical School: RCSI-MUB
Email: VWD2NG@uvahealth.org
Hey there 🙂
My name is Selveras and I am so happy you are reading my bio because it means you are interested in our wonderful program! While I am from Egypt, I spent the bulk of my childhood in Kuwait. I then went to medical school in Bahrain and did a 2-year internship in Malta before coming to UVA.
I am passionate about education and making learning fun and engaging for everyone involved! All of pathology is great, but my favorite specialty is transfusion medicine (cytology and soft tissue are other contenders).
Why did I come to UVA? I am fully convinced that there is something in the water here that makes everyone kindhearted and compassionate. People will go above and beyond to help with any issues, whether they are personal or professional. We also see sooo many cool cases! Our faculty love to teach, and always open to feedback from the residents, they treat us like junior colleagues! I also enjoy working with our gross room staff and medical lab specialists who make me a better pathologist every single day. There are so many people to learn from and I am grateful to every single one of them.
In my free time, I hang out with my husband (an engineer) who moved here with me for residency and is loving life in Charlottesville. We enjoy traveling, watching standup comedy, hosting board game nights, going to botanical gardens, and playing video games. We also hang out with my co-residents outside of work frequently. We went kayaking for the first time recently (at Beaver Creek) and it was so great we are considering making it our whole personality!