Anatomic and Clinical Pathology Curriculum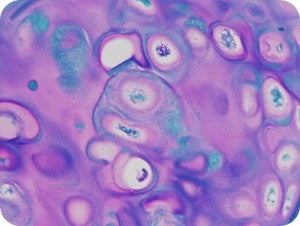 The curriculum at the University of Virginia emphasizes anatomic pathology during the first and third years of training, which allows residents to focus on clinical rotations during their second year. The second year also provides added flexibility for residents to pursue research activities, attend national conferences and solidify the vast amount of knowledge from first year. Fourth year integrates both anatomic and clinical pathology; residents are able to select rotations that will best prepare them for board examinations and clinical practice. This curriculum has proven to be highly successful, with an AP/CP board pass rate of 100% over the past three years.
The AP/CP residency program adheres to the guidelines of the American Board of Pathology and the Accreditation Council for Graduate Medical Education. Residents in three-year AP-only or CP-only programs receive the same basic training in anatomic or clinical pathology as the AP/CP residents, but with greater exposure to basic science or clinical research.
In order to ease the transition into residency, first year residents have one month of "AP Bootcamp" (no sit-ups required). This is followed by shared responsibilities with another first year resident on surgical pathology and autopsy. The paired residents complete the duties of one resident, thus reducing the workload until they become more confident in their abilities. Upper level residents and pathologist's assistants are also assigned supervisory roles during this period to ensure that first year residents receive proper education and support.
In the words of a 2016 PGY-1 resident, "Bootcamp is a unique, low-stress, ease-in month of getting to know your new duties as a pathology resident as well as your co-residents and faculty. It is as much an opportunity to acclimate to your new hospital setting and your new city and home, and to team-build with your fellow PGY-1s. You will walk away from bootcamp with a general understanding of what is expected of you and where you are supposed to be when. You also finish bootcamp with a sense of having completed a refresher rotation in pathology and the camaraderie already developing between you and your colleagues. This greatly facilitates the transition into being on full service and settling into UVA and Charlottesville."
First year residents have two clinical pathology rotations (hematopathology and transfusion medicine).  All first year residents complete 2 weeks of both cytopathology and dermatopathology. Neuropathology is integrated within the autopsy rotation as well as the lecture series. The remainder of the year is divided between surgical pathology and autopsy pathology.
The second year starts with a summer lecture series of introductory topics in laboratory medicine. The PGY4 residents teach by doing the Friday CP call conference and giving 20 minute educational presentations. PGY2's rotate through the core Lab Medicine divisions throughout the year. For more detailed descriptions of the rotations, please refer to clinical rotations.
Combined AP/CP Schedule (1 block = 4 weeks)
First Year Schedule
| | |
| --- | --- |
| Surgical Pathology | 4 Blocks |
| Autopsy Pathology | 4 Blocks |
| Forensic Pathology |  1 +/-Block |
| Cytopathology | 0.5 Block |
| Dermatopathology | 0.5 Block |
| AP Bootcamp | 1 Block |
| Transfusion Medicine | 1 Block |
| Hematopathology | 1 Block |
| | |
Second Year Schedule
| | |
| --- | --- |
| Transfusion Medicine | 2 Blocks |
| Hematopathology | 2 Blocks |
| Microbiology | 1 Blocks |
| Molecular & Cytogenetic Diagnostics | 2 Blocks |
| Immunology | 1 Block |
| Clinical Chemistry | 2 Blocks |
| Surgical Pathology | 1 Block |
| Cytopathology | 1 Block |
| Dermatopathology | 1 Block |
| Elective | 1 Block |
Third Year Schedule
| | |
| --- | --- |
| Surgical Pathology | 4 Blocks |
| Cytopathology | 2 Blocks |
| Neuropathology | 1 Block |
| Autopsy Pathology (Supervisory) | 1 Block |
| Referral Service | 1 Block |
| Renal Pathology | 0.5 Block |
| Elective | 1 Block |
| HLA Lab | 0.5 Block |
| Hematopathology | 1 Block |
| Microbiology | 1 Block |
Fourth Year Schedule
| | |
| --- | --- |
| Clinical Chemistry/ Toxicology/Medical Informatics | 1 Block |
| Hematopathology | 1 Block |
| Consult Service | 2 Blocks |
| Transfusion Medicine | 1 Block |
| Molecular Diagnostics/Cytogenetics | 1 Block |
| Referral Service | 1 Block |
| Electives | 2-3 Blocks |
| Surgical Pathology | 1 Block |
| Gross Room Supervisor | 0.5 Block |
| Cytopathology | 1 Block |
| Forensics (if not completed earlier) | 1 Block |