Residency Program
Welcome to UVA Pathology Residency!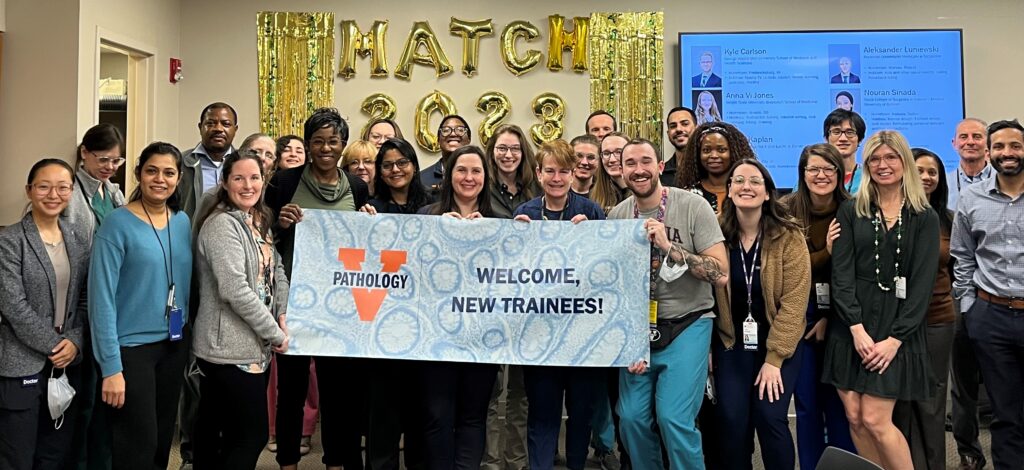 Nestled in the Blue Ridge Mountains is a vibrant academic community whose ambition is to cultivate the brightest up-and-coming pathologists.  Our program is challenging but incredibly rewarding, and we are proud to produce excellent patient-centered pathologists who remain well-balanced people.  As a department, we value diversity, inclusion, and equity and have multiple ongoing efforts in these areas.
The first year of AP/CP training at UVA centers primarily on Anatomic Pathology, with an emphasis on Surgical Pathology, Cytopathology, and Autopsy, with two Clinical Pathology rotations mixed in to provide an introduction to the laboratory medicine portion of your training. In the second year the balance is flipped, with residents rotating predominantly on Clinical Pathology services with several interspersed AP months to ensure that these skills continue to develop.  You can see a sample rotation schedule for the training program here. As the residents progress through their 3rd and 4th years they are given increased responsibility and independence on all of their rotations. With faculty supervision they lead tumor boards, manage challenging consultation cases, and interpret frozen sections. Trainees also use their elective time to cultivate experiences geared towards their own individualized career plans: this may involve concentrating on a specific subspecialty area, rotating through neighboring community practices, generating educational content, or drilling down on research projects. As I tell all our interviewees, our goal is not to craft our residents in our own image, but to help you become the best version of the pathologist you would like to be.  To learn more about our trainees' clinical service experience, including our onboarding process (aka "Boot Camp"), resident call obligations, and our general surgical pathology sign-out model, visit frequently asked questions.  You can also read detailed rotation descriptions here.
The apprentice-style learning that happens on clinical service is supplemented with robust organized educational offerings.  All residents follow a unified didactic curriculum that includes daily 8am conferences with AP lectures and slide sessions occurring on Mondays and Wednesdays and CP talks and interactive case discussions on Tuesdays and Fridays.  Thursdays include a mix of autopsy organ review and supplementary AP and CP topics.  In addition, there are abundant noon sessions such as our departmental Grand Rounds (every Tuesday September-June), AP Journal Club (3rd Thursday), and regular unknown slide sessions. You can read more about the didactic schedule here.
Because of the graduated responsibility our residents receive, we are proud to say that they graduate with the competence and comfort to either enter practice or to excel in fellowships of their choosing.  Many trainees choose to extend their time at UVA by joining one of our excellent fellowship offerings in Cytopathology, Gynecologic and Breast Pathology, Dermatopathology, Hematopathology, Neuropathology, Blood Banking and Transfusion Medicine, Clinical Chemistry, and Lab Genetics and Genomics. From there, they go on to rich and varied careers in academic pathology, community hospitals, private practices, and forensic pathology.
Regardless of your ultimate career goals, you will find UVA to be a rich environment for engaging in translational investigations. The Department provides trainees with research stipends for well-considered projects and is supported by the UVA Biorepository and Tissue Research Facility, whose staff are skilled at antibody validation, tissue microarray construction, and immunohistochemical staining, including multicolor immunohistochemistry. They are building robust digital pathology services with exciting potential for collaboration with our Department. Resident productivity in research is reflected in their presence at national meetings: UVA routinely has a dozen or more resident-driven abstracts admitted to the annual meetings of organizations like the College of American Pathologists (CAP) and the United States and Canadian Academy of Pathologists (USCAP). Moreover, we have an excellent track record for seeing these studies through to publication. Here, you can see a list of recent publications on which residents and fellows served as first authors. And here you can see our resident and fellow USCAP 2022 representation, USCAP 2021 representation, USCAP 2020 representation and CAP 2019 representation.
Our residents are also involved in medical student education throughout their training, actively teaching medical students in the pre-clerkship courses and during their rotations in pathology. We offer enhanced training in this arena through our Education Track, which allows trainees with an interest in academics to augment their educational and leadership skills. Similarly, while all residents have strong exposure to quality improvement throughout their training, those with a special interest in this area may pursue a Quality Track which includes heightened exposure to the quality improvement and assurance activities within our Department. Finally, residents with an interest in Global Health may follow our Global Health Track, which includes rotating in Guatemala with our partner pathologist at the Hospital Regional de Occidente.
UVA Pathology's trainees travel from all over the country to join our program and make Charlottesville, Virginia their new home. Relative to its population, Charlottesville offers a wide range of restaurants, live performances, outdoor activities, and nearby attractions (i.e. wineries, The Atlantic Ocean, Blue Ridge and Appalachian Mountains, Washington DC). It is a great place to branch out and explore as well as raise children. Seasonally speaking, the autumn foliage is stunning, winters are mild, springs are abundant with flowers, and the summers provide ample rain and sunshine for outdoor gardens.
We are so pleased that you are interested in our program and are eager to share more about UVA Pathology with you all despite the travel-related challenges we're all facing due to COVID19.  You can follow us on Twitter at @UVA_Pathology or with the #UVAPath hashtag to see more about who we are and what we do.
Best regards,
Anne Mills, MD
Residency Program Director
The  application cycle will offer 5 residency positions on a competitive basis. Appointments are made through the National Resident Matching Program (NRMP) and applications are only accepted through the Electronic Residency Application Services (ERAS). The application deadline is November 1st of the prior year. Orientation is mid-June for appointments to begin July 1st. Applicants are encouraged to submit their application in September.  Interviews are conducted on 10 selected days between October and January. The interview day will begin around 7:45 a.m. and end by 3:00 p.m.
We review and assess each application on its individual merits.
For more details, please visit our Application Information page.