Residency Program
Director's Welcome
Welcome to our residency program!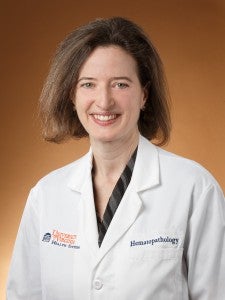 Nestled in the Blue Ridge Mountains is a vibrant academic community whose ambition is to cultivate the brightest up-and-coming pathologists. As the residency program director, I strive to create a program that is challenging but incredibly rewarding. I am a strong advocate for resident wellbeing and continually implement measures to promote work-life balance, as evidenced by my recent updates to the first year curriculum. I am delighted to introduce you to our program, and hope you find our residents and faculty to be an outstanding group.
Our dynamic residency program changes in concert with the field of pathology. The surgical pathology suite is spacious, equipped with customizable grossing benches, two multi-headed scopes, modern photography equipment, several computer workstations, and a small kitchenette that often is filled with home-baked goods.  This inviting environment will assuage the occasional late nights and after hours frozen sections.
Incoming residents are provided with a personal desk in an office with two or three other residents. The resident offices are located in the same hallway as the faculty, which results in a very collegial atmosphere. It is routine to hear laughter and witty banter arising from down the hall. Since the entire anatomic pathology department is on the same floor, residents are able to gain an appreciation for "behind the scenes" pathology (i.e. you will know who embedded your tissue and prepared your special stains).
Second year residents focus on Lab Medicine and rotate through Hematopathology, Clinic Chemistry, Microbiology, Blood Banking and Transfusion Medicine, Molecular/Genomic Pathology, Cytogentics, Coagulation and Informatics.  Although the topics are wide spread, the division is cohesive and culminates in the weekly Lab Medicine Call conference.  This educational and lively Friday morning session  consistently has high faculty participation, allowing residents to learn from the experts as call situations are discussed.
As the residents progress through their 3rd and 4th years they are given increased responsibility and independence. Throughout residency trainees teach medical students in the preclerkship courses and during their rotations in pathology.  Research is encouraged regardless of what eventual career a trainee desires; this allows a trainee to become proficient in a particular topic and to learn to critically read the literature.  By graduation the faculty proudly matriculate competent and confident Pathologists.
This past year, our residents traveled from all over the country to join our program.  From around the country to native Virginians,  they are all making Charlottesville,Virginia their new home. Relative to its population, Charlottesville offers a wide range of restaurants, live performances, outdoor activities, and nearby attractions (i.e. wineries, The Atlantic Ocean, Appalachian Mountains, Washington DC). It is a great place to branch out and explore as well as raise children. Seasonally speaking, the autumn foliage is stunning, winters are quite mild, springs are abundant with flowers, and the summers provide ample rain and sunshine for outdoor gardens.
Our residency program is truly a gem. Despite its medium-size our department is a motivating force lead by internationally recognized faculty. At the most recent United States and Canadian Academy of Pathology (USCAP) annual meeting 13 of our trainee submissions were accepted. This over-representation is just one example of our drive to excel. We are proud of our accomplishments and strive to be a leader in the ever-changing field of pathology. I hope that you consider joining our team!
Best regards,
How to Apply
The  application cycle will offer 5 residency positions on a competitive basis. Appointments are made through the National Resident Matching Program (NRMP) and applications are only accepted through the Electronic Residency Application Services (ERAS). The application deadline is November 1st of the prior year . Orientation is mid-June for appointments to begin July 1st. Applicants are encouraged to submit their application in September.  Interviews are conducted on 9 selected days between November and January. The interview day will begin around 7:45 a.m. and end by 3:00 p.m.
We review and assess each application on its individual merits.
We look forward to reviewing your application and thank you for your interest in our program.
We prefer applicants who:
have a demonstrated interest in pathology
have excellent clinical skills
have passed the USMLE tests on first attempt
have graduated from medical school within the last 3 years
Applicants from a foreign medical school must be eligible for ECFMG sponsorship prior to matriculation. We sponsor J1 visas.
Completed ERAS Application
Medical school transcript
Minimum of 3 Letters of Recommendation from faculty who have knowledge of your abilities and interest in pathology
Personal statement
Photo
Medical Student Performance Evaluation (formerly Dean's Letter)
Once you receive your invitation to interview through ERAS:
We offer lodging on the evening before the interview at Courtyard Charlottesville, 1201 West Main Street, Charlottesville, Virginia 22903 USA, within walking distance of the hospital. Interview dates fill up fast.  Please respond to your invitation letter to interview as quickly as you can through ERAS/email to get your first choice. Also be sure to let us know in your response if there is a particular specialty or faculty member you are interested in meeting on interview day and we will do our best to accommodate your requests. You will also be invited to dinner the evening before your interview by some of the Pathology residents. This is optional, but is a fun way to get to know the residents and learn about our program first hand.
The current salary for a PGY-1 for the 2018 year is approximately $55,400. Please see the UVA GME website for more information on Stipends & Benefits.
To understand the requirements for clinical appointment and employment at the University of Virginia Health System, it is extremely important for you to review the Requirements and Benefits of Appointment as part of the application process. It contains specific information related to appointments, contracts, stipends, and benefits. You may view this information on UVA's Graduate Medical Education.
We are very proud of the area in which our residency program is located. Charlottesville has been rated by Money magazine and Reader's Digest as one of the top ten cities in the country. To learn more about Charlottesville and view some photos of our area, visit the City of Charlottesville.
Our Commitment to Diversity
UVA Department of Pathology stands with ethics, integrity, and academic excellence, as a cornerstone of University culture. The University promotes an inclusive and welcoming environment that embraces the full spectrum of human attributes, perspectives, and disciplines. When people of different backgrounds come together, they exchange ideas, question assumptions (including their own), and broaden the horizons for us all. A University of Virginia community rich in diversity affords every member equal respect and provides a forum for understanding our differences as well as our commonalities.
For more information on diversity at the University of Virginia, please visit the Vice President & Chief Officer For Diversity & Equity.