Podcasts – Panopto
Helpful information on accessing and viewing "podcasts"
We use "podcast" as an umbrella term for both lecture capture and pre-recorded lectures. We record and make available most of the lectures and discussions a few hours after the session has concluded using Panopto. The video content in Panopto is often linked from the course websites and can be viewed on a personal computer or on a mobile device – click here .
Additionally, faculty will pre-record short lectures and distribute them before a class session – sometimes as a stand-alone video file.
Many of our students prefer to download and view video content using video players. In order to accomplish this goal, we recommend installing VLC Player. It is a free and open source video player that supports most common video formats and allows you to playback the videos at accelerated speeds – 1.5X, 2x, etc. To ensure that you are using a legitimate player (without embedded malware) install it directly from the VLC Player website – http://www.videolan.org/vlc.
Using the Panopto Discussion Feature
A great way to ask questions on asynchronous material is using the Discussion feature.  While you are watching the session, click on "Discussion" on the left, and it will open up a box for you to ask questions or for clarification, tied to the time in the presentation that you start typing.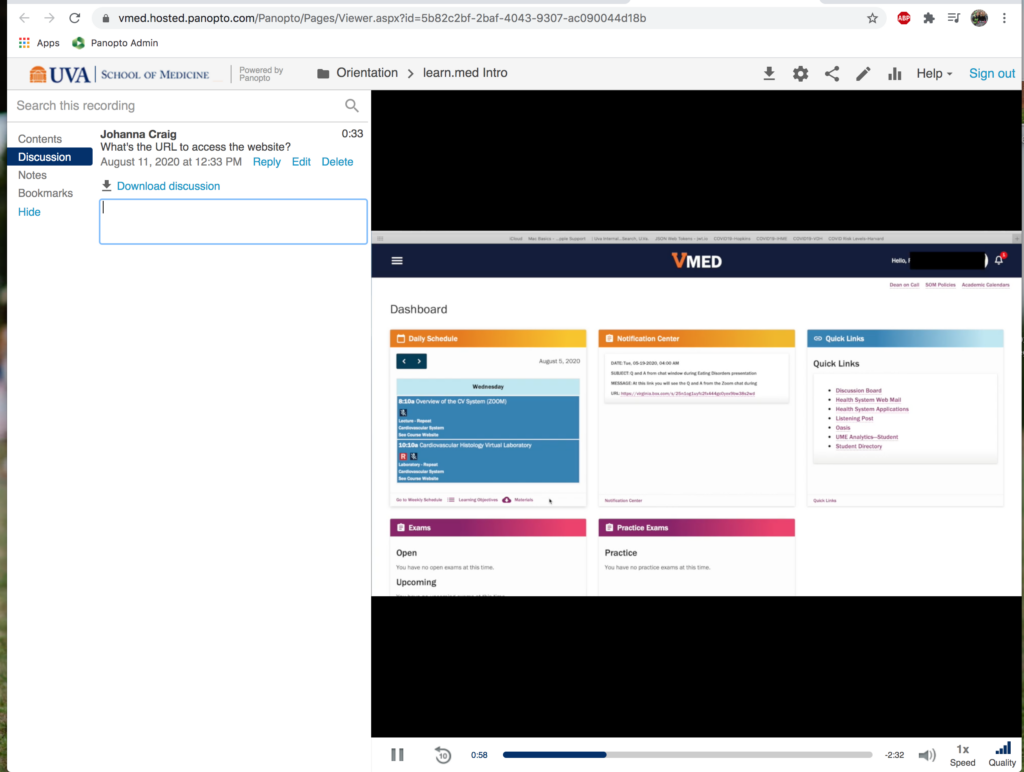 Email mededweb@virginia.edu with support questions related to podcasts.