Classroom A/V Systems
We do support most of the classrooms, labs, skill centers, and conference rooms in the Medical Education Building, MR4, MR5, MR6, Pinn Hall, and some in McKim Hall. During daytime hours, call 434-214-0069 to reach the designated on-call staff member.
Typically, you will find a Crestron control panel with multiple input sources, a dual-boot (Windows or OS X) Mac Mini, WiFi display capability, and a sound system when needed.
Using the Microphones in the Learning Studio and Auditorium
Learning Studio – "Push" to talk, light turns green, continue to hold the Talk button while speaking, release when complete
Auditorium – Press "Talk", light turns red, release the button. Press the "Talk" button when done speaking. The microphone will turn itself off after 5 seconds on inactivity.
A short "How-to" video on using the microphones in these rooms is here
WiFi Displays
WiFi displays work well for simple presentations; but, are less effective for video containing high resolution imagery. When the "Wireless Presentation" input source is selected on the control panel, the display should provide instructions similar to those below to install and use the AirMedia software. Mac OSX users may need to download an additional component called "SoundFlower" to transmit audio.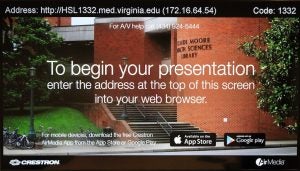 A short "How-to" video for downloading the software and using the WiFi displays in the Learning Studio and Auditorium is here