Virtual Private Network (VPN)
Two different VPN devices that School of Medicine students may need
Academic – Most School of Medicine students will need this.
Health System – A few School of Medicine students who are accessing clinical data and systems from non-clinical networks will need this.
Academic VPN
Access to some academic resources is limited to being on Grounds. This includes virtual slides, Health Sciences Library subscriptions and other fair use materials. When off-grounds, you can use either UvaAnywhere or UvaAnywhere-Lite to create the VPN connection necessary to access these resources. Both of these only work off grounds.
Which do you need? The Lite version requires no installation, but only works for things that run in a web browser like Safari, Edge, or Chrome. The UVaAnywhere program works for all applications, but requires installation. If your application is browser-based like Virtual Slides or many library subscriptions, then UvaAnywhere-Lite is all you need.
Here's a more complete explanation of the difference between these two products:
For additional assistance, please contact the ITS Help Desk:
4help@virginia.edu
434-924-4357
http://its.virginia.edu/helpdesk/
Live Chat

Health System VPN
In order to use the Health System VPN, you'll need to request access by filling out a form (login with your health system password) and acknowledging the user agreement.
Click on "Request" in the top menu bar

and then fill out the form, making sure to select "VPN" for System and Role: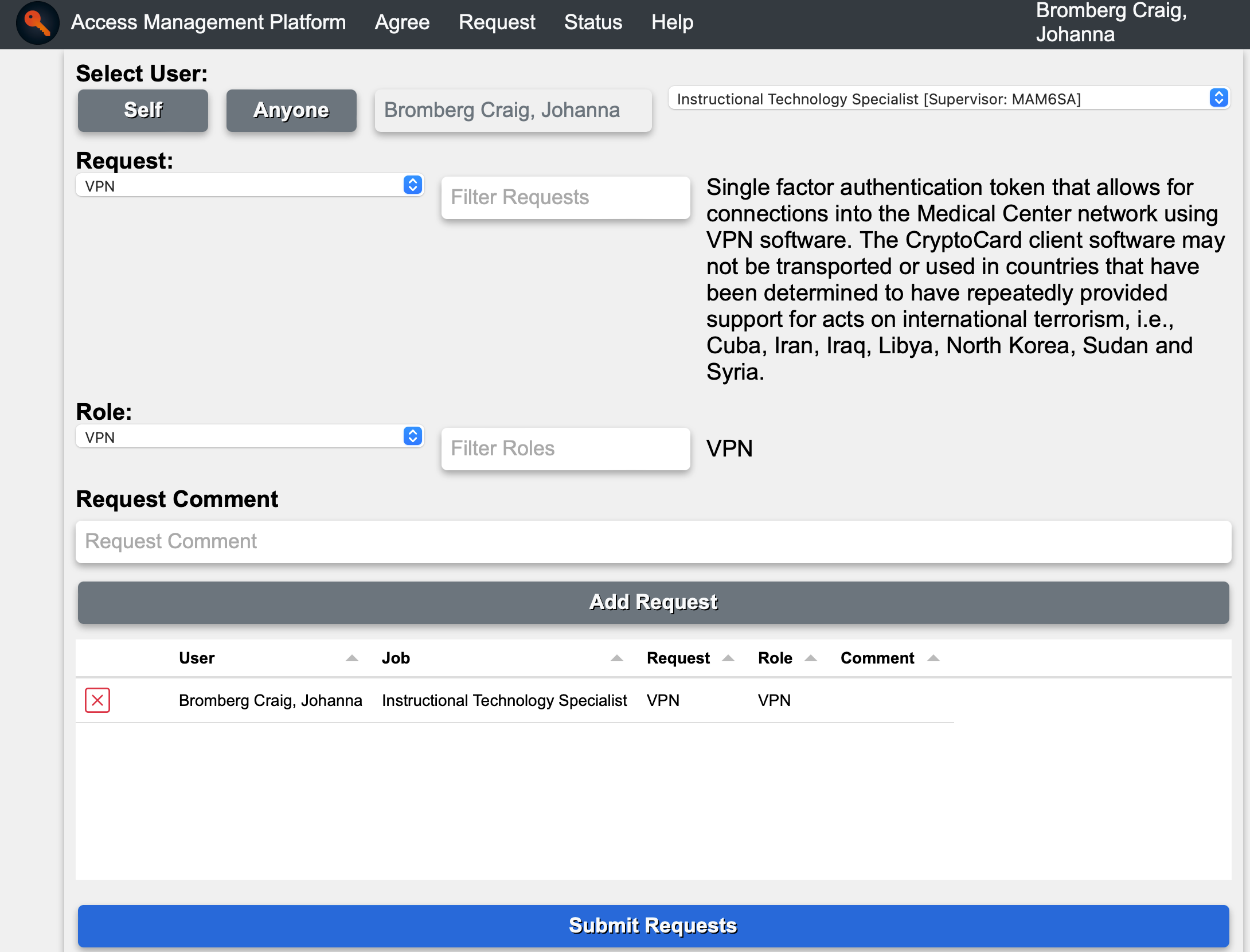 Click on "Add Request and then "Submit Request." Once you submit for VPN access, you'll need to go back and fill out the user agreement. Go to the top menu:

And click "Agree" to agree to any user agreements required for your request. It may take up to 24-48 hours for your access to be approved.
Once you've been authorized for a VPN, in most cases, what you really want is information on accessing Epic from a personal device. Read up on the details if you really and truly need a full VPN.