Hand & Upper Extremity Fellowship
Overview
The goal of the University of Virginia Orthopaedic Hand and Upper Extremity Fellowship is to optimally prepare surgeons-in-training to render contemporary, compassionate and fiscally-responsible care for all pathologies afflicting the hand, wrist, elbow and shoulder, while inspiring the fellow to give back to the specialty through engagement in scientific inquiry and practice as a life-long learner and teacher. Training emphasizes traumatic and acquired conditions of the hand, wrist, forearm, elbow, arm, and shoulder including peripheral nerve disorders, microsurgical training in collaboration with Plastic Surgery, brachial plexus surgery in collaboration with Neurosurgery, sports related injuries of the upper extremity, with college team coverage, arthroscopy of the hand, wrist, and elbow, joint replacement of the hand, wrist, elbow, and shoulder, and congenital hand surgery.
Upon completion, participants will be competent to treat congenital and acquired disorders from the brachial plexus to the fingertips in any practice setting. Fellowship goals include: 1) development of clinical expertise in the diagnosis and management of disorders involving the upper extremity, 2) refinement of clinical skills in such a way that new problems can be addressed based upon pathophysiologic and patient-oriented information allowing an appropriate course of action to be initiated, 3) attainment of surgical expertise in traumatic, congenital and acquired disorders of the upper extremity, 4) a thorough understanding of anatomy and physiology of the upper extremity and 5) experience in research investigations including clinical review and clinical outcomes.
The fellow will work primarily with all four Orthopaedic Hand & Upper Extremity faculty (Drs. Chhabra, Dacus, Freilich, and Deal) on a rotating basis. The fellow will also work with our 2 Plastic Surgery faculty (Drs. DeGeorge and Morgan) for relevant experience in wound care, free tissue transfer, and microsurgery. The fellow will also gain experience in complex brachial plexus surgery with Dr. Chhabra and Dr. Elias (Neurosurgery). The Orthopaedic Hand and Upper Extremity fellow will work with the Plastic Surgery accredited hand fellow and share Hand Call and didactic and teaching responsibilities. The 2 fellows will work with all 6 Orthopaedic and Plastic Surgery faculty during the course of their training. The collaboration between the Orthopaedic and Plastic Surgery Hand Divisions creates a unique opportunity for multi-specialty education and training of the Orthopaedic Hand and Upper Extremity Fellow and The Plastic Surgery Hand Fellow.
The University of Virginia Hand Center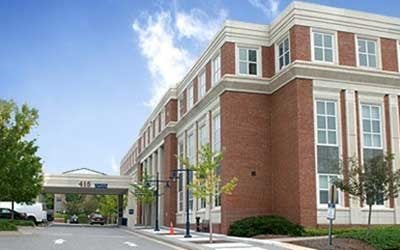 The University of Virginia Hand Center is a comprehensive multifaceted medical facility dedicated to the care of the hand and upper extremity. Located in Charlottesville, Virginia, the UVA Hand Center is a unique collaboration between the Departments of Orthopedic and Plastic Surgery. We have a skilled team of clinical assistants, nurses, physician assistants, and surgeons who are specialized in caring for disorders of the hand and upper extremity and who will provide a team approach to patient care. Our center is equipped with an onsite radiology suite which is staffed with radiologists who specialize in musculoskeletal imaging, diagnostic studies, and interventional procedures. Our center also works in collaboration with HealthSouth Therapy Services who provide a certified hand and upper extremity therapist in every clinic to customize patient rehabilitation. Our team approach is unique and provides patients with access to professionally-trained specialists in multiple areas of healthcare all at one location.
Fellowship Information
The Hand & Upper Extremity Fellowship Fellowship at the University of Virginia offers a robust educational program with limitless opportunities through in-depth clinical experience and thorough curriculum.
Current and Past Fellows
View a full display of all Current and Past Hand & Upper Extremity Fellows.