Class of 2025
Evelyn Bodenschatz, MD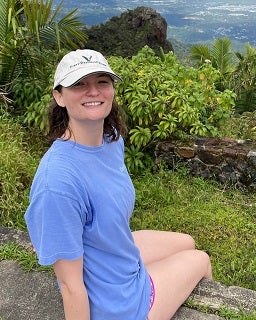 Pronouns (she/her).
I was born and raised in Austin, Texas and stayed local to receive my bachelor's degree at the University of Texas at Austin, where I majored in Psychology. After a brief time working as a medical assistant at Planned Parenthood, I attended Dell Medical School at the University of Texas at Austin for my medical degree. My interests in medicine include primary care for the underserved, reproductive health care, and adolescent medicine.
In my free time, I love hiking and being outside as well as cooking your favorite vegetarian meal.
Echo Buffalo-Ellison, MD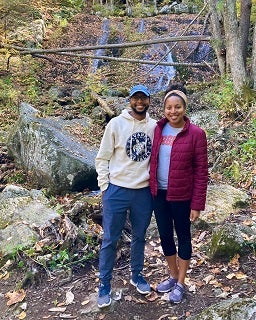 Hi UVA Family Medicine! My name is Echo Phoenix Buffalo. I'm a native of rural Manning, SC and Sumter, SC, where I grew up with my dad and three of my eight siblings. I graduated from the College of Charleston in 2017 with my BA in Psychology and the Medical University of South Carolina College of Medicine with my MD in 2022. Between college and medical school, I participated in a year-long postbaccalaureate pipeline program at MUSC and worked as a Medical Scribe at a family medicine clinic in Sumter. In medical school, I've been fortunate to have had an array of local and national leadership and community engagement experiences that have cultivated my interest in medical education, underserved care, health equity and anti-racism in medicine, and increasing diversity in medicine through recruitment and pipeline initiatives.
In my spare time, I enjoy reading, playing my Nintendo Switch, listening to podcasts, clearing my head with long walks, planning, and spending time with my husband Marcus (a current UVA IM resident), family, and friends. I am truly honored to be a part of the UVA Family Medicine family, and
I look forward to working with everyone!
Pronouns: she/her/hers
Anthony Fisher, MD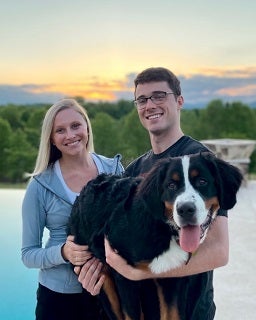 My name is Anthony Fisher, and I am from Aldie, Virginia. I went to Virginia Tech for both undergraduate school and medical school (Yes, I have been called 'Benedict Arnold' by many of my undergraduate friends!).
I love playing or watching any and all sports, spending time with my wife Liza and our Bernese Mountain dog Chester and playing board games (my favorite is Settlers of Catan). My main interests in family medicine are rural health, point of care ultrasound and sports medicine.
Megan Foster, MD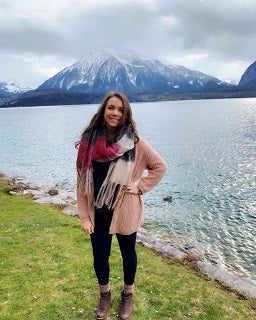 Hey everyone! I'm Megan (pronouns: she/her/hers). I was born in Marion, NC which is a small rural town near Asheville, NC. I went up the mountain a bit for undergrad at Appalachian State University in Boone, NC. I then made my way to UNC Chapel Hill for medical school. Go Tar Heels! My interests in medicine include primary care, preventative health, procedures, ultrasound, rural health, community outreach, and teaching. I am especially passionate about caring for the underserved and underprivileged.
Some things I love doing include anything outdoors, especially on the water and in the mountains. I enjoy cooking and baking new things, working out, and playing tennis. I also really love coffee and always enjoy finding all of the quaint, local coffee shops I can. I love meeting new people, trying new hobbies/ foods, and going on adventures to new places!
Elizabeth Kazarian, MD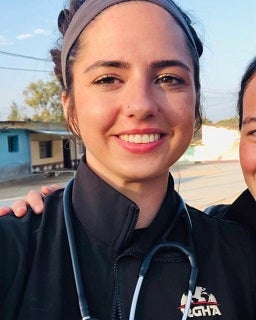 Hi! My name is Liz (pronouns: she/her). I was born in Stockholm, Sweden, and moved to the US when I was 8 years old to McLean, Virginia. I have always lived in Virginia (the best state!) and have also become a naturalized American citizen. I attended Virginia Commonwealth University for both my bachelor's in science (biology) as well as medical school! My interests in medicine include patient centered care, holistic care, integrative medicine, and I am very excited about learning outpatient procedures since I love working with my hands.
Outside of medicine you can find me traveling all over the world and spending quality time with my friends and family.
Collin Leibold, MD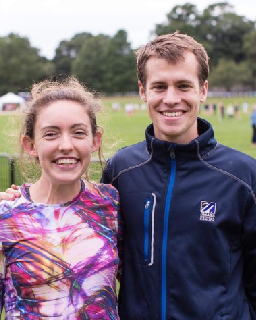 My name is Collin Leibold (he/him). I was born in Washington, DC and grew up mostly in Falls Church, VA adjacent to the original west cornerstone of DC. I stayed close to home for undergrad at Georgetown University, where I studied biology of global health and theology and ran cross country and track. I moved west to study epidemiology at Stanford University, where I met my wife Aisling on the cross country team. I then attended UMass Chan Medical School, where I nurtured my budding interest in primary care, sports medicine, and behavioral health.
My wife and I look forward to joining the vibrant Charlottesville running community!
Kara MacIntyre, MD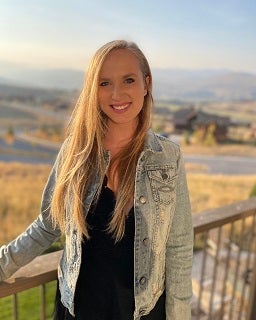 Hi all! My name is Kara MacIntyre (she/her), and I am originally from Knoxville, TN. I grew up water skiing on the Tennessee River, and I have spent much of my life competing in the sport. Skiing brought me to the University of Alabama. It was here where I was first exposed to the profound impact of quality primary care, and I have since become very interested in helping to improve the social determinants of health. In medical school, I had the opportunity to be a part of the Homeless Consult Service leadership team, and I'm really excited to continue working with this service.
I'm what's called a "double hoo," having attended UVA for medical school and now staying here for residency! My husband, now a triple hoo, and I are so excited to be staying in Charlottesville. It is such a beautiful and happy city that we love to explore, namely through hiking (Old Rag is our favorite) and getting to all of the scenic wineries in the area. When we're not on an adventure, I love a good peloton ride, lying in the sun, and spending time with family and friends.
Shufei Tao, MD