Director's Welcome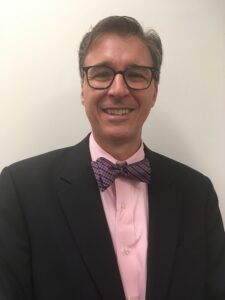 Welcome to the University of Virginia Department of Family Medicine Residency Program!
I am John Gazewood, and have been the Residency Program Director since January, 2007.  I have been a family doc since 1987, when I graduated from Vanderbilt and went to Missouri for my residency. After residency, I practiced full spectrum family medicine for 5 years in a small town in East Tennessee. I caught the "teaching bug" and went back to Missouri where I completed a geriatric and faculty development fellowship. I joined the faculty at UVA in 1997, and along with my wife have raised 4 children in "C'ville." http://www.visitcharlottesville.org/
In my spare time I love to go fishing, hiking, listening to music, running, meditating, and watching movies!
---
---
We remain in a challenging medical environment in the US – rising costs, health disparities, rising numbers of uninsured individuals, and epidemics of substance use and gun violence. And yet, I am hopeful for the future. Family Medicine is the cure that our health system needs – we are the specialty that provides comprehensive care to families and communities, and when we do that well, the lives of our families and communities are measurably improved. Our program strives to train Family Physicians who will help heal our nation, one patient at a time.
Why look at our program? I think our program is among the best in the country, and a great place to train to be a family doctor. Our first department chair, B. Lewis Barnett, built a robust training program, with faculty and residents respected throughout our hospital, making an "opposed" program a "collaborative" one, where our residents have great relationships with peers and faculty on other services. "Dr. B" also shared a spirit of compassion with patients, residents and colleagues, and we work hard to continue that legacy of caring. Our nationally recognized refugee care programs, Leadership in Global Health Track, innovative behavioral health program, as well as our innovative curricula in resident wellness, health equity and information mastery set us apart.
What we treasure most about our department is the spirit of collegiality, shared purpose and joy we bring to our mission of service – we really enjoy working with each other! We have a dynamic, talented and diverse faculty, outstanding residents and staff, excellent clinical programs, with a surprisingly diverse patient base and we live in a wonderful community surrounded by natural beauty. We are constantly striving to improve the care we provide our patients, the training we provide our residents, and how we work together and care for each other.
We welcome you to share in our mission to:
Create a nurturing and inclusive environment to train future leaders in Family Medicine.