Director's Welcome
Director's Welcome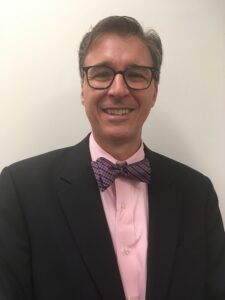 Welcome to the University of Virginia Department of Family Medicine Residency Program!
First – let me tell you a little bit about myself – I am John Gazewood, and have been the Residency Program Director since January 2007. I have been in practice since 1990, when I finished residency and practiced full spectrum family medicine for 5 years in a small town in East Tennessee. I caught the "teaching bug" and went back to where I did my residency – in Missouri – where I completed a geriatric and faculty development fellowship. I joined the faculty at UVA in 1997, and along with my wife have raised four children in "C'ville." I enjoy fishing, hiking, listening to music, eating (always eating!), running and watching movies.
Now – let me tell you about our residency! We are excited about our program – we recently celebrated our 50th anniversary! We had a wonderful weekend sharing stories from faculty, graduates and staff that spanned all 5 decades of our program – from the first program director to current residents. The themes in these stories say a lot about the shared experiences of residents in our program – the commitment to excellence in patient care and education; the immersion in evidence-based medicine and the sharing in service to vulnerable members of our community. And most importantly – we take care of each other – our department is a caring, supportive place to work, learn and grow.
I think our program is among the best in the country, and a great place to train to be a family doctor. Our first department chair, B. Lewis Barnett, built a robust training program, with faculty and residents respected throughout our hospital, making an "opposed" program a "collaborative" one, where our residents have great relationships with peers and faculty on other services. "Dr. B" also shared a spirit of compassion with patients, residents and colleagues, and we work hard to continue that legacy of caring. Our nationally recognized refugee care programs, Leadership in Global Health Track, innovative behavioral health program, as well as our innovative curricula in resident wellness, health equity and information mastery set us apart. We are excited to be planning Areas of Concentration in HIV Medicine and in Gender-Affirming Medicine.
What we treasure most about our department is the spirit of collegiality, shared purpose and joy we bring to our mission of service – we really enjoy working with each other! We have a dynamic and talented faculty with diverse interests, outstanding residents and staff, excellent clinical programs, with a surprisingly diverse patient base and we live in a wonderful community surrounded by natural beauty. We are constantly striving to improve the care we provide our patients, the training we provide our residents, and how we work together and care for each other.
Charlottesville is a wonderful place to live, but like every community in the US, we struggle with the legacy and ongoing impact of systemic racism and white supremacy. It has been just a bit over 5 years now since the white supremacist "Unite the Right" riot took place in Charlottesville. Many people were injured and one counter-protestor, Heather Heyer, was killed. Like others in Charlottesville and around our country, I was stunned by this open display of racism and hatred. Looking back now, I know that I should not have been surprised by this. Racism is a feature of our country – one that we have not yet put behind us. We learned that not being prejudiced was not enough, but that we have to work to become anti-racists. That work continues.
What have we done in our department and what is happening in our community? We developed a longitudinal health equity curriculum that uses place-based learning to teach about the local systems of racial oppression and how they continue to affect the health of community members. We started a Diversity and Inclusion Committee in our department to help foster a more inclusive environment. We have totally changed our applicant review and interview process. In our practice we are applying a health equity lens to clinic policies, such as our late-arrival policy and no-show policy. In our community, Charlottesville and Albemarle counties have implemented anti-racism policies in the public-school systems and governments and there is continuing dialogue about racism in our community and work towards addressing policies, laws and practices that perpetuate racial disparities. Moreover, we got rid of those statues of Lee and Jackson that motivated the "Unite the Right" planners.
We are by no means where we need to be – we know we fall short, and are trying to find ways to move ahead. We could use your help!
Thank you for your interest in our program – I look forward to meeting you this interview season!
Sincerely,
John D. Gazewood, MD, MSPH, FAAFP
Harrison Medical Teaching Associate Professor of Family Medicine
Residency Program Director
Vice Chair
(Pronouns: he, him, his)
---
---
Antiracism
Our Response to the Events of 8/11 and 8/12/17
What does the "Unite the Right" rally that happened in 2017 say about Charlottesville?
While it's true that Charlottesville shares a history of racism with many cities in the United States, the "Unite the Right" rally was organized by white supremacists and neo-Nazis in response to a decision by the Charlottesville City Council to move away from this legacy of racism by removing two statues of Confederate generals…