Class of 2024
Micah Brickhill-Atkinson, MD - Chief Resident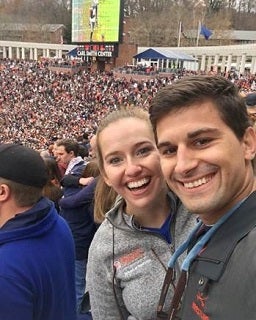 My name is Micah Brickhill-Atkinson, and I am from Buckingham, Virginia (about an hour outside of Charlottesville). I went to UVA for undergrad where I ran the 800m on the Women's Track and Field team, and I stayed at UVA for medical school! I love running, spending time with family, and adventuring with my husband Andrew who is also a Virginian and former UVA wrestler. You can always find us cheering on the Hoos- catch some pure joy from a Football victory over Tech in the picture! My main interests in family medicine are rural health and sports medicine.
Priscilla Caldwell, MD - Chief Resident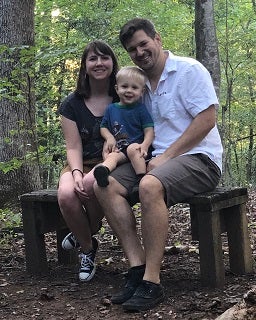 Hello! My name is Priscilla Caldwell (pronouns: she/her). I was raised in Memphis, TN but spent nearly as long in NYC where I attended Barnard College and taught elementary school in the Bronx. An interest in dyslexia led me to medicine (long story), and I eventually returned to Memphis for medical school at the University of Tennessee. There, I became active in the LGBTQIA+ association, designed and delivered sex-ed workshops to high school students, and discovered an interest in palliative care which I plan to pursue after residency. My other interests in medicine include anti-racist medical education, addiction medicine, and behavioral health in the primary care setting. Here in Charlottesville, I love to spend time outdoors with my partner and our son. Our favorite place to go (so far) is Ivy Creek.
Bryan Cochran, MD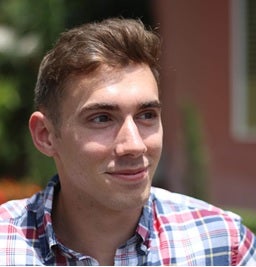 Hey, my name is Bryan (pronouns: he/him). I'm from a small town in Southwest Virginia called Wytheville. I went to UVA for undergrad and then Eastern Virginia Medical School for…you guessed it… medical school. My medical interests include LGBTQ+ and Latinx healthcare, clinic based procedures, and ultrasound.
In my free time, I enjoy being outside experiencing all the wonderful restaurants, breweries, and wineries Charlottesville has to offer (especially during the fall), and if I'm not feeling adventurous you can find me watching The Real Housewives of Potomac on my couch.
Matthew Hagerman, MD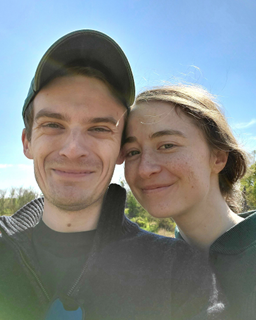 Hello! I'm Matt Hagerman (he/him/his). I was born in Hagerstown, MD, which is entirely a coincidence. After I finished my undergraduate degree at the University of Central Florida, I spent several years as both a laboratory chemist and chemistry teacher. I earned my medical degree from the University of Virginia, and my interests within Family Medicine include behavioral health, addiction medicine, and sports medicine/procedures.
Outside the hospital (and occasionally inside it) I enjoy singing, acting, tap dancing, and supporting the local theatrical arts. Additionally, I pluck the banjo, spend time with my dogs, and argue with my fiancee Anna about who is better at cribbage (it's me).
Terrell Smith, MD, MPH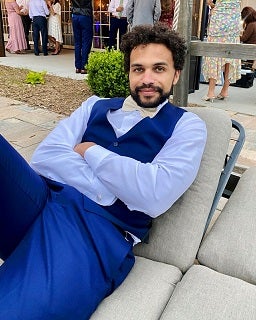 Hey, I'm Terrell! I grew up in Hershey, PA. I went to undergraduate school at Penn State University. I finished med school at University of Virginia. My interests in medicine are culture centered care, sports medicine, and rural medicine. Fun things you like to do are watching virtually ALL sports, hiking, snowboarding, spending time with family/friends, watching movies, and cooking
Michael Springer, MD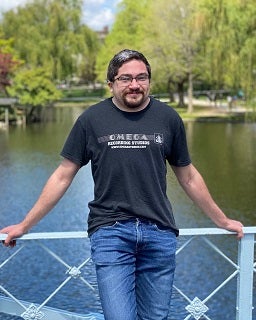 Hey everyone! My name is Michael Springer and I was originally born in Hawaii but spent most of my childhood growing up in Potomac Maryland. I received my BS and Certificate of Sign Language from University of Pittsburgh and graduated from Cooper Medical School with Rowan University in New Jersey, where I served as the president of the Disability Awareness Association at Cooper.
My interests in Family Medicine are rural medicine and disability advocacy. In my free time I enjoy exploring the outdoors and rock climbing, you can also find me playing Dungeons and Dragons and all sorts of other tabletop games.
Hannah Thacker, MD - Chief Resident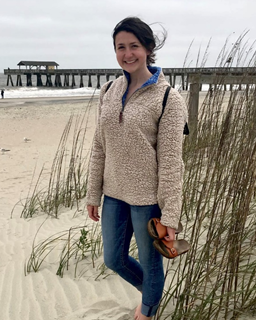 Hi! I'm Hannah (pronouns: she/her/hers). I am from Pikeville, KY, a small-ish town in eastern Kentucky, and went to the University of Pikeville there for undergrad. I then moved to Lexington, KY, for medical school at the University of Kentucky.
Some of my interests in family medicine include women's health and providing accessible healthcare to underserved populations, though I love a little of everything medicine has to offer. In my spare time, I love to spend time with friends and family (including my pets, of course), hike, read, run, and get much too invested in tv shows.
Mansi Trivedi, MD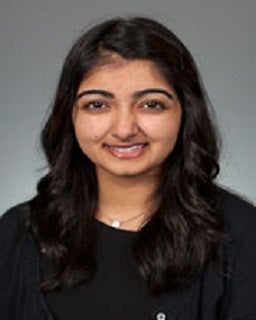 Mansi received her BA/BS from East Carolina University and then went on to receive her MD from the Brody School of Medicine. She is currently enrolled in a 12 hour credit semester Ethnic and Rural Health Disparities Certificate Program as a part of her MPH.
The program focuses on informing, educating, and empowering public health researchers to address ethnic and rural health disparity issues. As well as preparing graduates to develop culturally competent projects, plans, and policies that are designed for specific ethnic and rural communities in the United States and global communities.
Mansi speaks Gujarati, Hindu and Spanish. She enjoys practicing yoga in the morning at sunrise, gardening and visiting plant nurseries, being outside as much as possible, spending quality time with her large family, including watching Indian movies, Sustainability is very important to her and she compost and makes her own beauty products, cleaning products, etc, she is currently learning American Sign Language (ASL).
Gregory Turissini, DO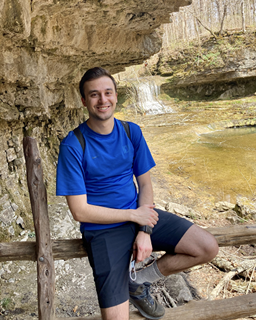 Greg received his BA from Amherst College, his MA from Duke and then went on to Ohio University Heritage College of Osteopathic Medicine for medical school. While there he received the Osteopathic Family Medicine Student Award (2020): awarded to medical students with a strong interest in family medicine and the ACOFP. He also served as vice president of the Ohio University Heritage College of Osteopathic Medicine's ACOFP student chapter. As a contributing member of the ACOFP's national student resolutions committee, Greg addressed family medicine policy needs by co-authoring two resolutions: one on naloxone availability and accessibility and the second on more affordable housing for medical students on away rotations. Greg is an avid distance runner, weekend traveler, and collector of minerals & coins.