Application
APPLICATIONS FOR THE 2022-23 FELLOWSHIP PROGRAM SHOULD BE COMPLETED THROUGH ERAS.
The University of Virginia Sports Medicine Fellowship is an ACGME accredited program offering one fellowship position annually for the duration of the one year program. The fellowship year runs from July 1-June 30.
Fellowship Eligibility
The fellowship is available to all applicants who have successfully completed an accredited US residency training program in one of the following specialties:
Family Medicine
Internal Medicine
Emergency Medicine
Physical Medicine and Rehabilitation
The applicant must be board certified or board eligible in their respective field.
A complete ERAS application must include: ERAS application form, CV, personal statement, photo, MSPE report, USMLE scores and 3 letters of reference.
The fellow will ultimately be selected through the National Residency Match Program (NRMP). Input of the match list is agreed upon between the fellowship director and the associate fellowship director with significant input from core faculty. Applicants must register for the Match Program located at  http://www.nrmp.org/
Application Deadline:
All application materials should be submitted to ERAS between July 1, 2022 to October 1, 2022. Interviews will be held September through November.
What a typical interview day looks like: 
8:00a – 8:15a: Welcome, opening comments.
8:15a – 8:35a: Interview #1
8:35a – 8:55a: Interview #2
5 min break
9a – 9:20a: Interview #3
9:20a – 9:40a: Interview #4
5 min break
9:45a – 10:05a: Interview #5
10:05a – until finished: A video tour, Q&A with Dr. Statuta and fellow, followed by a less formal Q&A with the fellow only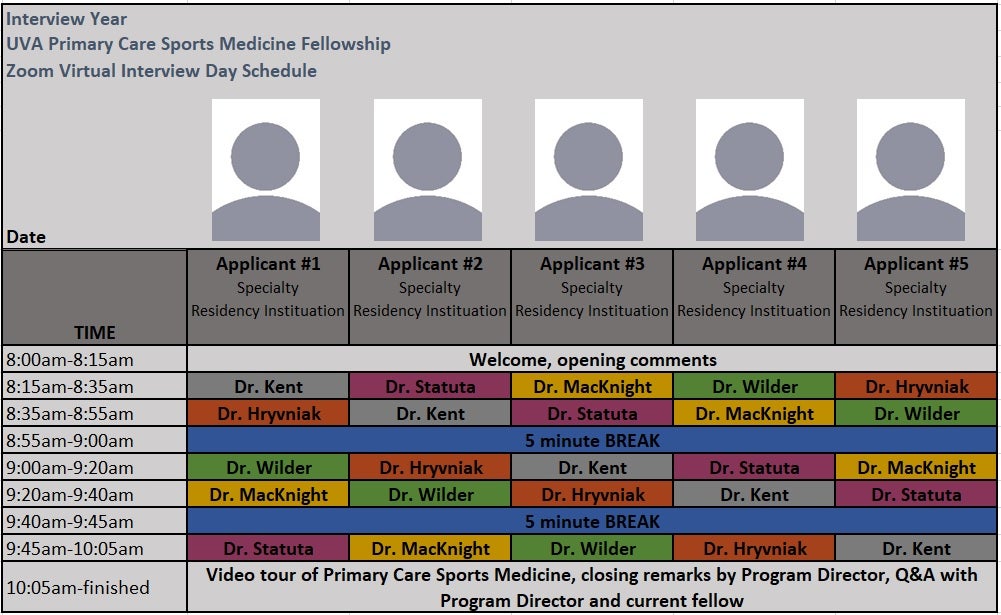 For more information contact:
Sarah Cowan
Coordinator
University of Virginia
Box 800729
Charlottesville, VA 22908
Phone 434.243.6638
Fed Ex address:
UVA Family Medicine
1215 Lee Street
Box 800729
Charlottesville, VA 22908 fax: (434) 243-4800
Information for applicants
The Graduate Medical Education office website is a source of information for anyone considering a fellowship at the University of Virginia. On the website you will find information on benefits, housing and life in Charlottesville.