Where We Work
Where We Work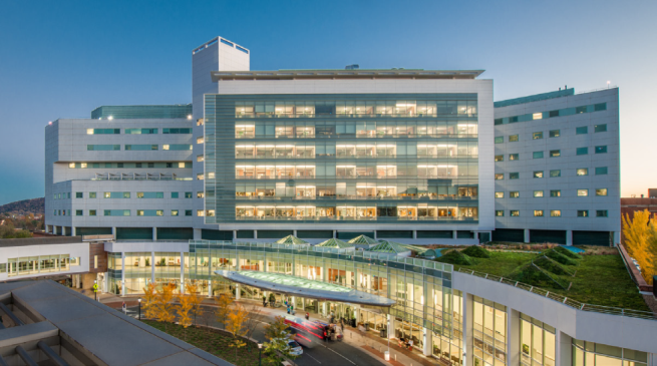 The department's five practices offer our residents exposure to diverse patient populations and settings. Our practices all share the same EMR, Epic and use tele-conferencing technology to connect with each other for education and quality improvement work.
In 2011, we transformed our practices into true patient-centered medical homes. Along the way we have participated in the "I3" learning collaborative with over 20 residencies in the mid-Atlantic states, worked closely with consultants from Dartmouth Clinical Microsystems, and have learned a lot about how to practice and teach residents in the Patient Centered Medical Home model of care.
We work together in multidisciplinary teams to provide our patients with the highest quality of care we can achieve.  Our care teams include physicians, nurse practitioners, psychiatrists, psychologists, panel managers, RN care coordinators, social workers, pharmacists, pharmacy technicians, RN's, LPN's, MA's and front desk staff.
FAMILY MEDICINE AT THE PCC

Walk through our waiting room, and you will understand why we like to say that "The World Comes to Family Medicine." Sit for a while, in addition to English and Spanish, you might hear an older couple conversing in Nepali, while kids chatter in Arabic and Swahili in our play area.
Many of our applicants are surprised by our culturally diverse patient population, which includes over 2000 patients resettled in Charlottesville as refugees by the International Rescue Committee.  Our International Family Medicine Clinic, integrated within this practice, provides residents the opportunity to care for refugees.
Our cultural diversity is matched by our socio-economic diversity -about 40% of our patients have no insurance or have Medicaid, 20% have Medicare, and the remainder are privately insured. Our residents learn to work with patients from a variety of educational, cultural and financial backgrounds, enabling them to care for a variety of patient populations on graduation.
In our PCC practice, our residents, faculty and dedicated staff see close to 30,000 patients a year. Our practice is divided into 3 teams, which include nurse practitioners, nurses and medical assistants, front desk staff, physicians and therapists, that work closely together caring for patients and for each other.  The PCC is located immediately adjacent to the University hospital and a great coffee cart.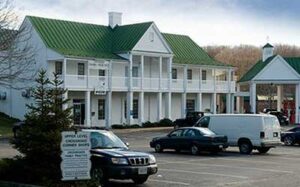 Our Crossroads practice is home to 5 faculty, and is located in North Garden, a small rural community about 11 miles south of Charlottesville on US Rte 29. The Crossroads practice was a part of the original "Transformed" demonstration project, which was a precursor to the Patient-Centered Medical Home – Dr. Lockman, the medical director, has long been interested in practice innovation. After completing intern year, one resident per class completes their final two years of continuity practice here, giving them exposure to a larger number of Spanish speaking patients and rural patients, in a smaller practice setting.  And almost all of the graduates from Crossroads are in rural practices, from Virginia to Georgia to Idaho! And the pizza is terrific!
CROZET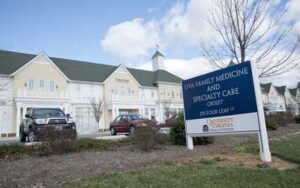 UVA Family Medicine at Crozet is our newest satellite practice.  It is located in Crozet, Virginia, a charming community about 12 miles west of Charlottesville.  It is unique among our satellite clinics in being a freestanding multispecialty practice, offering patients in Western Albemarle, Nelson, and Augusta counties easy access to family doctors, psychiatrists, pediatricians, gastroenterologists, pediatric urologists, and endocrinologists.  Doctors here provide care to rural and suburban patients of all ages and backgrounds, including many children and retirees.  The work of the office staff here has been lauded by the health system as an example of team-based quality improvement work, and their personal touch is evident in their recent patient satisfaction rating of 99%.  Three of our faculty work in this growing practice, and residents are welcome to complete an elective rotation here.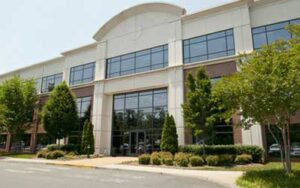 UVA Primary and Specialty Care and Integrative Medicine Pantops is a clinic that strives to combine excellent primary care with evidence based complimentary therapies that have been proven to be both safe and effective. The therapies offered in our clinic include acupuncture, massage therapy, and yoga therapy and we also integrate patient coaching in nutrition, health, and diabetes. Our clinic is multidisciplinary and includes family medicine, internal medicine, nephrology, and physical medicine and rehabilitation. In addition, we have collaborated with UVA's cancer center to create UVA's first cancer survivorship clinic, where we address the unique needs of cancer survivors.
All of our programs required inpatient rotations are completed at UVA, a 600 bed quaternary care hospital offering a full range of primary and specialty care. Our residents get to work with great residents and faculty in other disciplines. The Family Medicine Inpatient Service admits adults, children, moms and babies from our department practices.  The Battle Building is a new, state-of-the-art outpatient center housing all pediatric outpatient services. Our residents also have access to the resources of the Claude Moore health Sciences library We prepare our residents for medical emergencies and inpatients procedures through the medical school's  simulation center.