Ashlee Hurff, MD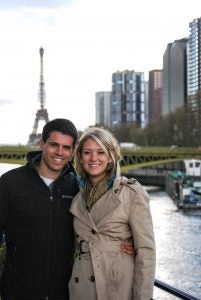 Hi! My name is Ashlee. I was raised in Dublin, Ohio, a suburb of Columbus and the home of THE Ohio State University (Go Bucks!). I actually really hated OSU growing up (the scarlet, the grey, the re-scheduling of weddings because the game was on), so I left the state entirely and went to college at Washington University in St. Louis​. We had a pretty terrible football team, but a great swim team that my now-husband swam for (so I may be biased).
I took two years off after college to work for the electronic medical record Epic in Madison, Wisconsin. There, I was a project manager for the inpatient pharmacy application and had the opportunity to work with hospitals in Baltimore, New York City, San Francisco, and Shreveport (Louisiana). Madison was a great place to live, and the home team's colors were the same as in Columbus, so it worked out well.
After Epic, I went to medical school at Vanderbilt University in Nashville, Tennessee.  My husband was already there, one year ahead of me — it was great to finally be together after two years of long distance! Vanderbilt gave me a phenomenal medical education, but is not a medical school known for its emphasis on primary care (it is one of the last medical schools to not even have a Family Medicine department). There, I fought for opportunities in primary care and realized that Family Medicine was the field that could best shape me into a well-balanced physician for my patients and their communities. My husband and I navigated couples matching together and found that UVA was a great fit for both of our programs (Neurology for him), interests, and personalities. We've been thrilled with our choice and are looking forward to continuing to grow here!
I plan on working with an urban underserved population upon graduation and to expand on my passion for public health to serve my patients on both an individual and community level.  Eventually, I'd like to return to serve the Navajo reservation, where I've completed 3 rotations. Feel free to contact me with any questions that you might have about our training with underserved patients, public health at UVA, couples matching, the best craft beer/wineries in the area, or anything else at ah8vy@hscmail.mcc.virginia.edu!