Jacqueline Britz, MD, MSPH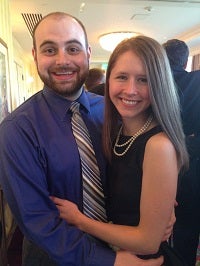 Hello!  My name is Jackie. I started my residency at UVA Family Medicine after graduating medical school from the VCU School of Medicine in Richmond, VA. I am originally from West Hartford, Connecticut.
I am a graduate of James Madison University (go Dukes!), where I majored in Cultural Anthropology and became a member of Phi Beta Kappa in 2010. After college I worked in health policy at public health non-profit organizations in Washington, D.C. In 2012, I received a Rotary Ambassadorial Scholarship to travel to London, England, where I completed my Masters of Science in Public Health (MSPH) at the London School of Hygiene and Tropical Medicine. While living in the UK, I researched access to primary care for vulnerable populations in England. I was delighted to start medical school at VCU in 2013 and am fortunate to be a member of the Gold Humanism Honors Society.
I am very passionate about working with underserved populations locally and overseas. I have worked in urban settings such as with homeless individuals in Paris, France, as well as in rural communities of Guatemala, Nicaragua, Peru, as well as South Africa, where I completed research on HIV/AIDS prevention and treatment.
One of the core reasons that I was excited about joining UVA's Family Medicine Residency is the global health track, which provides opportunities to pursue work overseas, as well as the International Family Medicine Clinic that allows the opportunity to work with refugees.
I live in Charlottesville with my significant other, Aaron, and my adorable and mischievous pup, Dora. In my free time I love being outdoors (running, hiking, biking, and kayaking). I am a big foodie and self-described pastry and green tea enthusiast. I enjoy trying new restaurants as well as trying the many breweries and vineyards in Charlottesville. When I have a day free, I love to make a trip to visit family in Northern Virginia, including playing with my cute niece and nephew.
Feel free to contact me if you have any questions about the program!
Family Medicine Interests:
Caring for underserved populations
Global health; refugee & immigrant health
LGBTQ health
Health policy & healthcare innovation
Public health & epidemiology
Emergency preparedness
Maternal & child health
Mental health