Sara Dusing, MD
Hi, I'm Sara!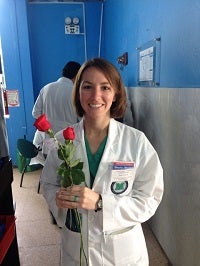 I'm coming to UVA Family Medicine from a small town two hours north of Charlottesville called Martinsburg, WV. I grew up on an orchard there with a younger sister and plenty of pets to keep me company. I attended college at West Virginia University before moving to southern WV to attend medical school at Marshall University School of Medicine. I never grow tired of singing "Country Roads," because it reminds me of my home state and the wild and wonderful Mountaineers! I am fortunate to be married to my high school sweetheart, Trevor, who has been by my side for all of life's adventures.
I began medical school with an interest in Family Medicine, and luckily for me, I gained great mentors to support me on that journey. Family Medicine offers a way to work with all different ages of people and to work with all different types of pathologies. It also allows me to work within the community. In medical school, I worked for Marshall Medical Outreach with a team of volunteers to provide free healthcare to the homeless. It was through this outlet that I was able to see how involved Family Medicine could really be, and I loved it! I also have an interest in Global Health, so I have taken time to travel to Tanzania and Ecuador to learn about their healthcare systems. These experiences have broadened my whole perspective on life. I will be continuing my interests by working with the underserved and refugee populations here in Charlottesville.
I am thrilled to be working at UVA Family Medicine! This is a strong program with a good crew of people that I am proud to be a part of. In addition to UVA, Charlottesville seems to have something to offer for everyone. In my spare time, I will be kayaking on the Rivanna River or gardening vegetables in my back yard with my husband and dog, Dingo. There are also many great restaurants, wineries, breweries, orchards, and mountains that we plan on visiting. We are excited to call Virginia our new home.
Please contact me if you have any questions about the UVA Family Medicine residency or Charlottesville!