Residency Curriculum
Residency Curriculum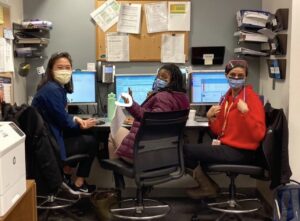 Introduction
The Family Medicine Residency program at the University of Virginia is designed to prepare the medical school graduate for the delivery of comprehensive health care to patients of all ages in a variety of settings. Our residency has a strong base in medicine and pediatrics but also provides excellent training in behavioral health, sports medicine, maternity care and women's health. Our residents learn the dermatologic, musculoskeletal and women's health procedures essential to the practice of Family Medicine.
Diverse elective opportunities are available and each resident is encouraged to develop areas of special interest.
The underlying goal of the curriculum is to ensure that the graduate will be an outstanding family physician.
Our first-year residents spend much of their year rotating through different services in our hospital. They see patients 1 to 2 sessions a week in our practice, and "come home" for Family Medicine Inpatient rotation, Family Medicine Outpatient rotation and a weekly intern lunch.
After two weeks of orientation, which begins in mid June, a typical schedule for Year 1 follows: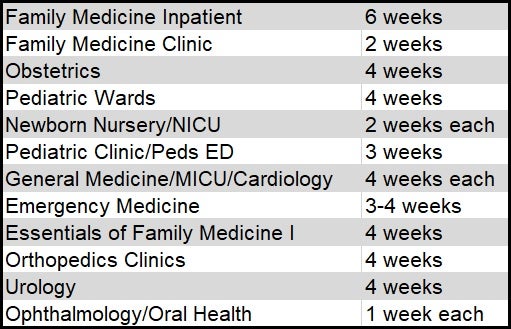 During the second year there is an increasing focus on ambulatory care, with residents spending 2 to 3 sessions a week in the Family Medicine Center. Our residents also serve as supervisory residents on our own inpatient service, as well as on the Acute Cardiology Service and in the Pediatric ED.
A typical schedule for Year 2 follows: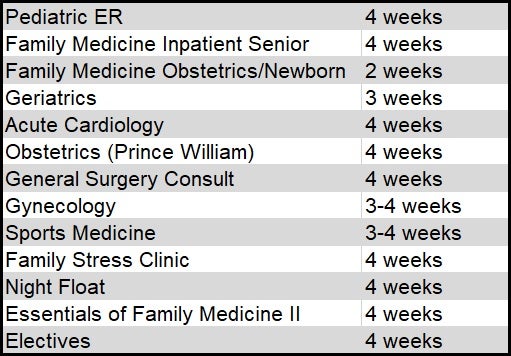 Our third year curriculum is almost entirely focused on ambulatory care, with residents able to pick from a number of electives to hone their skills and knowledge in areas of their choice. Third-year residents spend 4 to 5 sessions a week in the practice, and play more of a leadership role on their clinic teams. Each resident "runs" our labor and delivery, post-partum and newborn nursery service, while playing an important teaching role during their 6 week Family Medicine OB inpatient rotation. All of our residents also see patients at one our department's rural satellite practices, located in Nellysford, Virginia.
A typical schedule for Year 3 follows: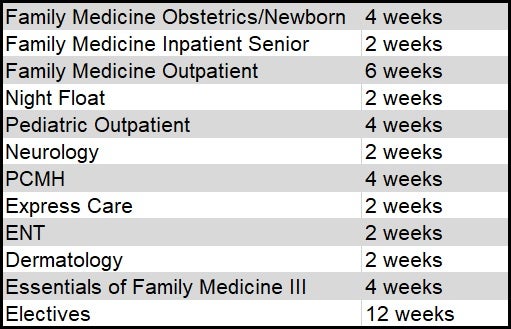 Essentials of Family Medicine (EFM)
What are the Essentials of Family Medicine I, II & III?
Our three-month "Essentials of Family Medicine" series is an ambitious and innovative curriculum for teaching important core knowledge and skills for a wide variety of key areas important to developing physicians. Each year, each residency class spends a month together participating in a combination of seminars, workshops, and self study exercises directed specifically at their level of training, to enhance clinical skills as well as to introduce and build on topics such as:
Procedures training
Well child, adolescent, and adult care
Concepts of prevention and screening
Chronic disease care
Health Equity
Practice management and leadership
Quality improvement
Information Mastery
Teaching
Self-reflection and self-care
Optimizing the physician/patient relationship
Sports medicine
Professionalism
During Essentials Month, our PGY2s take a tour through Jefferson School African American Heritage Center as a part of our Health Equity Curriculum. Our Health Equity Curriculum, developed by Dr. Kristina Johnson, is a fairly new addition to our program and very well received by our residents!
---
Global Health Leadership Track
Residents have opportunities for international research and clinical electives in cooperation with the UVA Center for Global Health. Our most active clinical elective sites are Guatemala, Tanzania and Uganda. Residents with an interest in Global Health Research may partner with an internal medicine faculty member at a number of different sites, including sites in Brazil, Ghana, China, Philippines, South Africa, Mexico, Tanzania, and Guatemala, or work with Dr. Hauck on a project related to refugee health.
During the elective, residents learn about diseases relevant to the local population, experience a different healthcare system, and discover a new culture in a safe, appropriately supervised environment. Residents contribute to the academic learning environment at partner sites by attending and leading teaching conferences; upon their return, they are expected to give a presentation about their experience to the UVA Department of Family Medicine.
Our Global Health Curriculum is a competitive specialized training track. A joint effort between the departments of medicine and family medicine, it is designed to improve our residents' preparations for global health experiences. Residents apply for positions during the intern year. Global Health certificate courses with intensive training in tropical medicine and global health issues are offered by some of our Internal Medicine Department's renowned Infectious Disease faculty members. In addition to in-depth exposure to international medicine and the study of tropical disease, residents also have the opportunity to work in a Travelers ID clinic, in addition to caring for patients in our International Family Medicine Clinic.
Our Tuesday afternoon conferences form the backbone of our didactic curriculum. Our residents are actively engaged, helping to plan the curriculum, select speakers, and do some teaching themselves. We build our conference calendar around a repeating 18 month cycle that covers core content areas in Family Medicine.
---
A conference afternoon might look something like this:
12:30-1:30       Grand Rounds (Disability) – Dr. Drew Yeannakis
1:30-1:40         Break
1:40-2:30         International Rounds (Doulas) – Dr. Megan Bloom
2:30-2:45         Mindfulness – Dr. John Gazewood
2:45-3:30         Monthly Case (Family Medicine Faculty)
3:30-4:00        Peer Teaching
4:00-4:10         Break
4:10-5:00         Lecture (OB Series) – Dr. Steve Heim
---
Conference always begins over lunch with Grand Rounds.  The speakers range from General Surgery attendings to our own residents presenting their scholarly work.  The rest of the afternoon varies and includes informative lectures, case presentations, journal club, procedure workshops, and behavioral health training.  Tuesday conference gives our residents a chance to not only learn, but to practice their own teaching skills as well.
A few highlights include Behavioral Rounds and Information Mastery journal club. Behavioral Rounds are often facilitated by our own experts- Drs. Claudia Allen and Joseph Tan. Behavioral Rounds consist of didactic sessions that educate the residents on various issues in behavioral medicine, such as common psychological problems that patients may experience. Information Mastery is UVA Family Medicine's approach to medical evidence.  Led by our academic fellows and our renowned faculty, each week a resident chooses a potentially meaningful journal article and we systematically analyze whether or not the study should change our medical practice.  In this way our residents learn how and when new research should be assimilated into practice- a vital skill the real world!
Group learning and support is also fostered during the rest of the week. We have a weekly intern lunch, on Fridays, where we have a chance to feed our first-year residents and be sure they are all surviving the challenges of internship. On Thursdays we alternate a board review conference and "Practice Inquiry," which is a facilitated support group where upper level residents explore issues in professionalism, the physician-patient relationship and personal growth that are raised during residency.
Our conference is dynamic. Our conference calendar is dynamic, and changes to meet the needs of our residents. Along with the Essentials of Family Medicine months, our didactic curriculum is a well-rounded, challenging and enjoyable complement to our excellent clinical teaching. It challenges our residents to grow in a supportive environment and come together as the UVA Family Medicine team!