Rotations
The UVA Primary Care Sports Medicine fellowship program functions within the Department of Family Medicine, UVA Health System in Charlottesville, Virginia. All clinical rotations and experiences will take place at clinic sites and within departments that are part of the UVA Health System.
UVA Family Medicine
Fellows will receive core didactic lectures by different faculty covering the various aspects of the sports medicine curriculum. The curricular aspects will be supervised by Dr. Siobhan Statuta and Dr. Jeremy Kent.
---
UVA Family Medicine Sports Medicine Clinic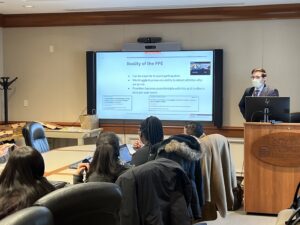 One half-day a week will be spent in the Family Medicine Clinic providing continuity care to family medicine patients as part of the ACGME requirements to practice in the vein of residency certification. (*In the case of other residency tracks such as PM&R, the half-day continuity session will be spent within that particular home department). There exists additional opportunity to spend more time within Family Medicine seeing patients with only musculoskeletal concerns/ MSK ultrasound needs. The fellow is expected to provide didactic sessions (formal and informal) to the residency program and a minimum of one department grand rounds on a sports medicine topic.
---
UVA Orthopedic Sports Medicine Clinic
General orthopedics, as well as specialty clinics in foot, hand, and spine surgery clinics will be two half days per week. The fellow has the option to participate in weekly anatomy and musculoskeletal radiology conferences. The overall supervision will be by Dr. David Diduch.
---
UVA Athletic Training Room
Dr. John MacKnight will supervise two to three half days in the training room for the UVA Division I athletes.  Here, primary care medicine will be practiced as well as acute care for emergencies that arise. There will be time to work with different certified athletic trainers, each assigned to the individual 28 sports teams. Through this experience, the fellow has the opportunity to witness and fully understand the specialized and critical role any ATC serves in sports medicine, all the while coordinating athlete care. Ethan Saliba, ATC, PhD, will play an integral supervisory role.
---
UVA Runner's Clinic
The UVA Runner's Clinic is housed as part of the Physical Medicine & Rehabilitation department and serves to evaluate chronic as well as more acute injuries in runners as well as various other community active individuals. Patient examination here often includes gait evaluation and orthotic use/design.  Fellows will obtain training in obtaining compartment pressure measurements and observe EMG/NCV studies. This clinic is supervised by Dr. Robert Wilder.
---
UVA Outpatient Surgery Center
One half day per week for the first quarter of the year is spent observing/assisting with orthopedic surgical procedures. This experience is imperative to develop a full understanding of injury management, including surgical repair patients undergo in the quest of returning back to some level of sport, providing a more comprehensive understanding of what future patient injuries may entail. Furthermore, this offers a unique perspective of anatomy not commonly observable from basic primary care training. This portion of the training is completed under the supervision of Dr. David Diduch and Dr. Mark Miller.
---
Sideline Athletic Coverage
Athletic coverage will take place at the high school level (Western Albemarle High School or Monticello High School) and the collegiate level (UVA Athletics) throughout the year, depending on the sport season. The fellow will participate in athletic sideline coverage with faculty supervision. Initially, this supervision is under direct supervision and as the year progresses (and fellow skill-sets confirmed), this may shift to more independent coverage with the faculty available by phone. The fellow will actively participate in providing pre-participation physical examinations for several local middle and high schools as well as the UVA Division I athletes.
---
Mass Participation Events
The fellow will participate in several mass participation events each year including the Charlottesville 10-miler,
Half-Marathon and Marathon, and the Women's 4-Miler race. The fellow will furthermore participate in numerous invitational UVA cross-country meets and community races of varying distances. The fellow is required to participate in the planning and coordination of medical coverage of these events including communication with race directors, EMS personnel and the UVA Emergency Department personnel. They will also participate in the after-action meeting to assess the event and make recommendations to improve future event coverage. Supervision by Dr. Robert Wilder, Dr. Dave Hryvniak, Dr. Statuta.
---
Electives
The fellowship program will emphasize physiology and biomechanics; principles of nutrition; pathophysiology of illness and injury; effects of therapeutic, performance enhancing and recreational drugs; psychological aspects of exercise, performance and completion; ethical principles; medico-legal aspects of exercise and sports; and research and medical writing principles. Elective rotations may be done in any of these, or other, related areas. Each fellow is strongly encouraged to "think and dream outside the box" and develop any particular sports-related learning experience that may so desire. These must be approved by Dr. Jeremy Kent and Dr. Siobhan Statuta.