Partners in Discovery
The Partners in Discovery program at UVA, through the collection and distribution of cancer patient biospecimens and clinical and genomics data, supports participation in investigator initiated projects as well as national organizations that aims to advance oncology and translational research.
The national organizations we support are:
the Oncology Research Information Exchange Network (ORIEN), a consortium of 18 cancer centers across the United States;
the Cooperative Human Tissue Network (CHTN), sponsored by the National Cancer Institute;
and the Applied Proteogenomics and Learning Outcomes (APOLLO) program, supported by the federal Cancer Moonshot initiative.

Since 2015, when UVA first started the Partners in Discovery program, we have amassed an enormous amount of clinical data, biospecimens, and molecular data from our patient partners who have consented to and signed the Partners in Discovery for Total Cancer Care protocol.
Clinical data is collected when patients come to UVA for their appointments, diagnoses, treatments, or surgeries. This data allows our researchers to study risks for cancer based on factors such as demographics (population data), locations, and pre-existing conditions, to name a few. Clinical data is also important for tracking survival.
Biospecimens may be collected from patient blood, cheek swabs, saliva, bone marrow aspirates, and when there is leftover tissue from surgeries.
Molecular data consists of genomics (standard-of-care as well as whole exome sequencing for paired tumor and normal from the same patient) and transcriptomics (RNAseq) data.
As of summer 2023, more than 10,000 patients at UVA alone have consented and allowed their clinical data, biospecimens, and molecular data to be collected and made available to researchers. Paired biospecimens have been collected for many of our patient partners, and whole exome and transcriptome data have been obtained from a subset of these patients that are eligible for ORIEN's free sequencing program called Avatar.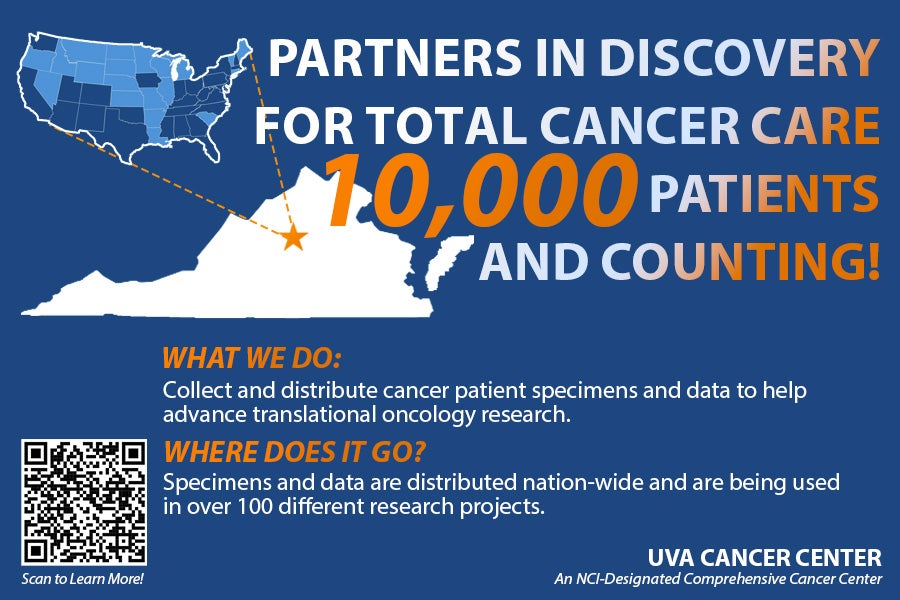 Through our participation in ORIEN, our researchers are also able to access de-identified clinical and genomic data for patients enrolled in the Total Cancer Care protocol at other institutions. Having such a large dataset from so many patients with different cancer types gives our researchers the opportunity to observe and understand cancer at every level, from specific gene mutations to population statistics. For access, please start with a project request form.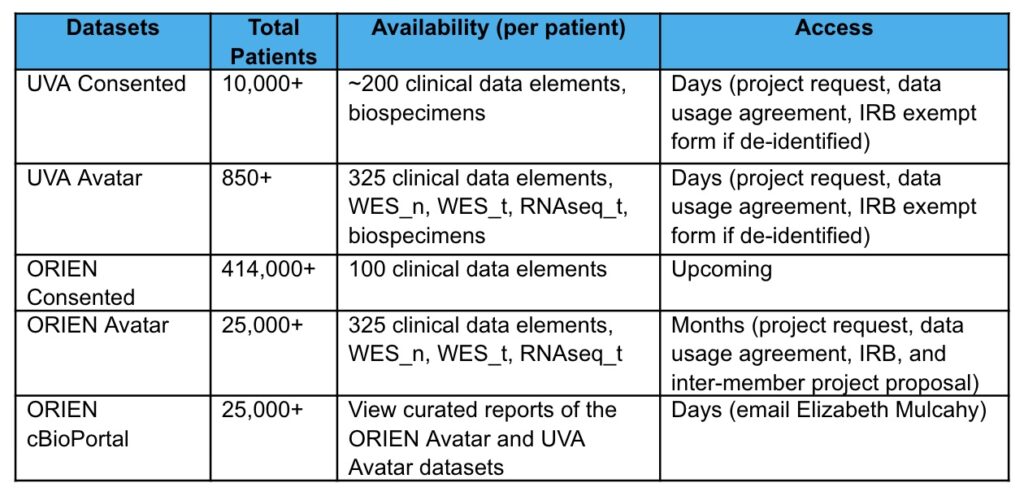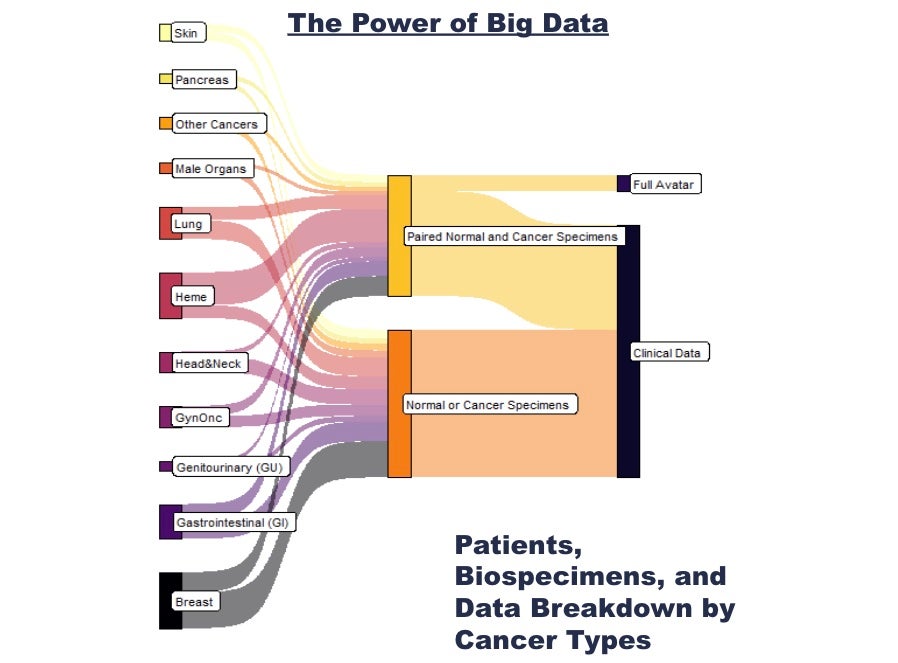 Total Cancer Care Consent and Protocol
At UVA, Partners in Discovery's IRB-approved human research study protocol is called Partners in Discovery for Total Cancer Care (TCC). TCC collects blood and tissue samples, including associated demographic and clinical data (survey data, medical records data, cancer registry data, and other related data), from thousands of patients with cancer or at risk of having cancer. Additionally, the ORIEN Avatar sequencing program collects paired tumor and non-tumor tissue for whole exome sequencing and RNA sequencing. We'll work with you and the IRB to set up your study. Find out how to get patients involved in this research.

Find More Information