Cancer Research
Cancer Research Training Program
Qualification Criteria
Qualified pre-doctoral trainees are chosen from among students who are either entering, or have entered, the University of Virginia graduate program in Biomedical Sciences
View Now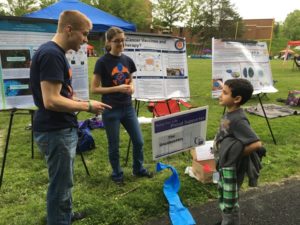 The Predoctoral Cancer Training Program is designed to provide students with a strong foundation in cancer research. Our objective is to supplement the comprehensive educational goals of the doctoral programs in Biomedical Sciences at the University of Virginia with specific cancer-oriented research and training activities.
Students can pursue research in one of the many facets of cancer biology, use modern tools and state of the art techniques, and be exposed to translational research through our Cancer Center and clinical faculty mentors. Our goal through this training program is to provide young basic scientists with an understanding of physical, clinical, and psychosocial issues related to cancer.
For the past 35 years, this program has prepared selected individuals for careers in basis research and teaching relevant to cancer biology. It is supported by NIC training grant T32 CA 009109.
Qualification Criteria
Qualified pre-doctoral trainees are chosen from among students who are either entering, or have entered, the University of Virginia graduate program in Biomedical Sciences
View Now
Course Work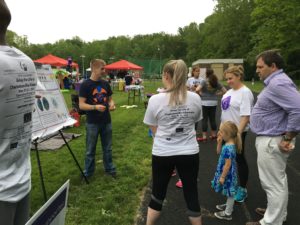 Students in the Cancer Training Program take the Core Course in Integrated Biology (BIMS 6000) during the first semester, and then work with their mentor and graduate advisor to develop an individualized program of study consisting of several 6-week modules.  Required modules include:
 MICR 8040 – Fundamentals in Cancer Biology
 MICR 8044 – Cancer Signaling and Therapeutics
 MICR 8042 – Advanced Topics in Cancer
It is recommended that students also take at least one additional module from the following list:
BIOC 8012 –  Chromatin I
BIOC 8014 –  Chromatin II
PATH 8300 – Tumors and the Immune System
Coincident with formal coursework, students are given the opportunity to develop oral presentation skills by participating in colloquia, journal clubs, and research-in-progress meetings. This training is supplemented with various departmental and cancer research seminar series.
Basics, Research, and Selection Process
The Predoctoral Cancer Training Program is oriented toward providing a strong cancer-related training environment that supplements the basic degree requirements and goals of the degree-granting departments within the University of Virginia.
It is a Ph.D. program that typically requires four to six years of study. Independent research is at the core of the program. During the first two years, students complete formal course requirements and rotate through 2-3 different laboratories. Thesis labs and mentors are chosen after completion of the first year. Once students have selected thesis laboratories, they become members of the associated department. Departments participating in the Cancer Training Program each have their own criteria to assess student progress.
In most cases, students prepare and defend a detailed research proposal during the second year. Successful completion of this process qualifies the student to advance to candidacy for the Ph.D. degree.
First year students are strongly encouraged to arrive in July to begin their first research rotation. This allows the student to become acclimated to the department and program before classes begin in the fall. It also provides them sufficient time to become immersed in a research problem before the demands of course work begin.
Designated faculty monitor the progress of the incoming class throughout their first year. Students meet with their committees several times during the year to discuss course work, rotations, adjustment to graduate school, and any problems that arise. This gives students direct access to faculty members and helps the faculty learn about the student's interests and background.
Students perform 2-3 rotations in laboratories of their choice during their first year in graduate school. These rotations provide an opportunity to become familiar with specific laboratory and research areas while performing small research projects. Students typically choose to begin their rotations during the summer prior to the beginning of courses so that they can become acquainted with research opportunities before classes begin. After completion of their rotations at the end of the first year of study, students then choose a research lab and thesis advisor.
The research programs of faculty participants in the Cancer Training Program are nationally and internationally renowned. They are well-funded from both federal and private sources, providing student research activities with excellent financial and technological support. Laboratories are well-equipped with modern and sophisticated instrumentation to enable advanced experimentation in cancer research.
New applicants to the graduate program in Biomedical Sciences who indicate cancer as their proposed focus of interest.
Second and third year students in all the participating departments who have completed the core curriculum, rotated in 2-3 labs, and have chosen cancer-related research in the lab of a mentor from the list of training faculty.
Medical students who are either part of the Medical Scientist Training Program [MSTP], or have completed the 2-year basic science curriculum and who now wish to obtain a combined M.D./Ph.D. degree in cancer research.
Awards are made on the basis of commitment to cancer-related research, evidence of promise as a productive scientist, and (when applicable) performance in the core curriculum and in research rotations.
All students in the Cancer Training Program will receive a stipend that is competitive with that offered by other institutions. Tuition, fees, health insurance and travel costs to scientific meetings are also covered.
Contact Information
For additional information about the Cancer Training Program, please contact Dr. Amy H. Bouton
Amy H. Bouton, Ph.D.
Director of Molecular Biology of Cancer Training Program
Principal Investigator of Grant NIH NCI T32 CA 009109
Professor of Microbiology, Immunology, and Cancer Biology
University of Virginia, School of Medicine
P.O. Box 800734
Charlottesville, VA 22908
Tel: 434-924-2513
ahb8y@virginia.edu