Biotechnology
About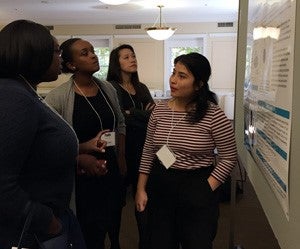 Research in Biotechnology at UVA brings together researchers from all biomedical, engineering, and chemical sciences at UVA to promote state-of-the-art collaborative science.  From this innovative science comes conceptual breakthroughs and new products.In 2000, we established a Biotechnology Training Program (BTP) at UVA with the goal of providing fertile ground for the development of future leaders in science and technology.  It is one of only 19 BTPs nationwide.  Our graduates are scientific leaders at major biotechnology companies, federal agencies, and foundations, and lead independent research labs at universities, or are postdoctoral scientists at institutions nationwide.
The BTP offers many enhancements.  The 2 – 3 month company externship training is transformative.  Some students alter career plans towards academia or industrial research.  Others affirm prior career directions or receive unexpected offers of employment.  All make important contributions, some publish articles, and invariably the collaboration enhances thesis projects.  Venues are worldwide, from Boston to San Francisco to Australia, England, Holland, Finland, Germany, Spain and Sweden.
We also offer company tours – including Merck, Pfizer, BD;  panel discussions with industrial leaders – including BTP alumni; as well as seminars and biannual symposia that gather recognized innovators under the umbrella of a broad scientific theme.
Our outstanding mentors from across the sciences at UVA are award-winning leaders in their fields, with success in nurturing the best from our students.  Many hold patents, and several have started companies.  This is an exciting time for our students to be at the frontlines of science and technology.
Faculty