Global Biothreats
The Global Biothreats Training Program
Apply for Admission
Prospective students should apply for admission through the Biomedical Sciences Graduate Studies.
Apply Now!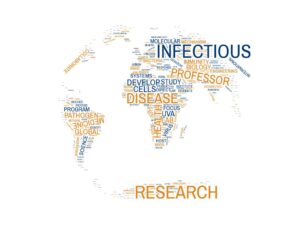 Today more than ever, we live in a global society. Developments in technology have resulted in greater connection between people, cultures, and ideas. While this increased connection has brought about new opportunities, it has also made way for the presence of disease on a global scale. The Centers for Disease Control and Prevention recently noted that "a pathogen can travel from a remote village to major cities on all continents in 36 hours. Whether these diseases originate from animals, reemerge due to inadequate control measures, or are deliberately released, global biothreats must be identified, their pathogenic mechanisms investigated, and new diagnostics and therapies developed. As the COVID-19 pandemic has taught us, adequate responses to global biothreats also requires a broader knowledge and awareness of public policy, outbreak and threat surveillance, economics, national security, and preparedness. The University of Virginia Global Biothreats Training Program is based on the premise that a multidisciplinary approach is required to train the next generation of researchers to understand, and ultimately to treat and prevent, infections with global threat agents.
The goal of the Global Biothreats Training Program is to provide a rich interdisciplinary experience that prepares pre- and postdoctoral trainees for careers in Global Biothreats. Research themes encompass the biology, virulence and host responses to global biothreats, including urgent threat level antibiotic resistant pathogens as defined by the CDC and WHO, pathogens that cause outbreaks and potential pandemics, and biodefense pathogens. The Training Program provides focused coursework, research in progress presentations, seminars, and journal clubs in microbiology and global biothreats. It also offers opportunities to converse and collaborate with experts in policy, social science, engineering, law, and national security through UVA's Global Infectious Disease Institute. Training Program faculty mentors are well-funded from both federal and private sources, providing research activities with excellent financial and technological support. Laboratories are proximal to each other to create an engaged research community, and are well-equipped with cutting-edge instrumentation that is specialized for the laboratory's needs. Specialized core facilities, including animal BSL2 and BSL-3 facilities, enable advanced experimentation. Graduates of the Training Program are now leading research teams in academia, government, public health, and pharma.
Apply for Admission
Prospective students should apply for admission through the Biomedical Sciences Graduate Studies.
Apply Now!
Training Program Basics
The Predoctoral Program is oriented toward providing a strong education and training in interdisciplinary global biothreats research that supplements the degree requirements and goals of the degree-granting departments within the University of Virginia.
Our Ph.D. program typically requires four to six years of study. Independent research is at the core of the program. During the first two years, students complete formal course requirements and rotate through 2-3 different laboratories. Thesis labs and mentors are chosen after completion of their first year. For a list of mentors, check this link. Once students have selected thesis laboratories, they become members of the associated department. Departments participating in the Global Biothreats Training Program each have their own criteria to assess student progress. Trainees are selected in a competitive process after selection of a research mentor, typically after completing the first year of course work. All students in the Training Program receive a stipend that is competitive with that offered by other institutions. Tuition, fees, health insurance and travel costs to scientific meetings are also covered.
Course Work
Students in the Global Biothreats Training Program work with their mentor and graduate advisor to develop an individualized program of study that is tailored to their thesis research.
Required courses:
MICR 8400 – Molecular Principles of Bacteriology & Virology
MICR 8401 – Microbial Pathogenesis
MICR 8402 – Microbial Pathogenesis Proposal Preparation
BIMS 7100 – Research Ethics
MICR 8341 – Biological Threats and Public Health
Coincident with formal coursework, Training Program participants develop formal presentation skills by participating in biweekly Research in Progress presentations, monthly Translational Journal Club, and annual Research Day. Training Program participants continue to expand their knowledge of Global Biothreats by attending biweekly seminars hosted by the Training Program and seminars, workshops, and symposia organized by the Global Infectious Diseases Institute, the Center for Global Health Equity, and other programs aligned with Global Biothreats.
For additional information about the Global Biothreats Training Program, please contact Alison Criss, akc2r@virginia.edu.