A. Rashard Dacus, MD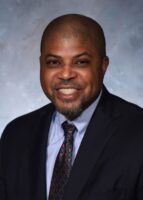 Dr. Dacus joined the department in August of 2007 after completing a fellowship in hand and upper extremity at the University of California, San Diego. His practice has grown rapidly in his time here and his practice continues to encompass joint replacement in the hand and elbow and reverse total shoulder arthroplasty as well as micro vascular surgery of the hand and upper extremity. He is currently working on a research project to study the effect of EMG results on treatment plans/outcomes in patients with carpal and cubital tunnel syndrome. He served as the Residency Program Director from 2011 to 2019, after serving as the Assistant Residency Director from 2009 to 2011.  He served as the co-fellowship director for the Hand and Upper Extremity Division from 2009 to 2014.  In July 2019, he was appointed the Vice Chair for Diversity and Wellness in the UVA Department of Orthopaedic Surgery.  Dr. Dacus has also enjoyed being an Assistant Team Physician for James Madison University Athletics since 2008 and continues in this capacity.  He is dedicated to the Charlottesville community and serves on the Board of Advisors for Big Brother/Big Sisters of Central Virginia and the New Hill Board.  He has participated in the Health Fair at Washington Park by providing physicals since 2009.   He enjoys spending time with his wife and baby daughters and travelling to new places.  He has served as a mentor and guest speaker for the AVID program at Albemarle High School.
Contact
Office Location:
UVA Orthopaedic Center
2280 Ivy Road
Charlottesville, VA 22903
Mailing Address:
Dept. Orthopaedic Surgery
University of Virginia
PO Box 800159
Charlottesville, VA 22908
Clinical Office Phone:
434.924.2663
Administrative Office Phone:
434.243.0234
Office Fax:
434.244.4454
Appointments
Division Head, Orthopaedic Hand and Upper Extremity Service
Professor, Vice Chair for Diversity, Inclusion and Clinician Wellness
Specialty and Subspecialty
Specialty: Orthopedic Surgery
Subspecialty: Hand and Upper Extremity
Education
Education: Tulane University
Residency: Emory University
Certification: Board Certified in Orthopaedic Surgery by the
American Board of Orthopaedic Surgery
Special Expertise
Microvascular surgery
Upper extremity trauma and arthroplasty
Research
Tendon adhesion following repair as the process relates the mobilization protocols and the effect of growth factors on repair patterns.