Mark D. Miller MD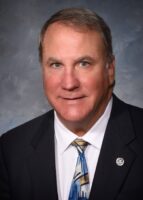 Dr. Mark D. Miller is the S. Ward Casscells Professor of Orthopaedic Surgery and former Division Head of Sports Medicine at the University of Virginia. He is a retired Colonel in the US Air Force. He is a Distinguished Graduate (top 3%) of the US Air Force Academy and the Uniformed Services University of the Health Sciences (USUHS). He served in the Air Force as a Civil Engineer and earned his Professional Engineering (PE) certificate prior to attending medical school. After medical school, Dr. Miller completed his residency in Orthopaedic Surgery at Wilford Hall USAF Medical Center in San Antonio, Texas, and a fellowship in Sports Medicine and Shoulder Surgery at the prestigious University of Pittsburgh. He served as a surgeon and team physician at the Air Force Academy and as Chief of Sports Medicine and Deputy Chairman at Wilford Hall prior to coming to the University of Virginia. He served as Head Team Physician for James Madison University for 15 years.
Dr. Miller has authored over 200 articles and has authored and/or edited 40 textbooks. He has served in numerous leadership positions for the American Orthopaedic Society for Sports Medicine (AOSSM) and currently serves as Vice President on the Board of Directors. Dr. Miller will be the AOSSM President in 2022-2023. He was awarded the AOSSM George Rovere Award for Education, the USUHS Distinguished Service Award, and the Virginia Orthopaedic Society Lifetime Achievement Award.
Mark Miller is a highly sought after speaker and has organized numerous Instructional Course Lectures (ICL), served as a Visiting Professor at multiple prestigious programs, and founded and directed the most successful review course in Orthopaedics, the Miller Review Course, established over 25 years ago. Dr. Miller's research interests include complex knee to include multiple ligament injuries, revision ACL, articular cartilage injuries and meniscal repair and transplantation.
Beyond Orthopaedics
"Dr. Miller is married to Ann Etchison and has four grown children and six grandchildren.  He is an avid golfer and enjoys snow skiing."
Contact
Office Location:
UVA Orthopaedic Center
2280 Ivy Road
Charlottesville, VA 22903
Mailing Address:
Dept. Orthopaedic Surgery
University of Virginia
PO Box 800159
Charlottesville, VA 22908
Clinical Office Phone:
434.924.2663
Administrative Office Phone:
434.243.0245
Office Fax:
434.244.4454
Appointments
S. Ward Casscells Professor of Orthopaedic Surgery, University of Virginia
Team Physician, University of Virginia 2000-2001
Team Physician, James Madison University 2003-2018
Specialty and Subspecialty
Specialty: Orthopedic Surgery
Subspecialty: Sports Medicine
Education
Education: B.S., United States Air Force Academy (1979) – Distinguished Graduate
Post-Baccalaureate, California State University Los Angeles (1981-1983)
M.D., Uniformed Services University School of Medicine (1987)
Residency: Orthopaedic Surgery, Wilford Hall USAF Medical Center
Fellowship: Sports Medicine and Shoulder Surgery, University of Pittsburgh
Special Expertise
Knee
Complex Ligament Reconstruction (including ACL, PCL, Collateral Ligament injuries and Knee Dislocations)
Articular Cartilage Restoration/Repair
Meniscal Repair and Transplantation
Shoulder
Arthroscopic and Open stabilizations for shoulder instability (anterior, posterior, and combined)
Arthroscopic Rotator Cuff repair
Acromioclavicular (Separation) repair/reconstruction
Labral Repair (SLAP, Bankard, Capsulorraphy)
Research
Dr. Miller has an active interest in knee and shoulder research. Most of his research has utilized cadaver studies, including developing/conducting surgical techniques and biomechanics.
Current IRB Studies
The STaR Trial Surgical Timing and Rehabilitation for Multiple Ligament Knee Injuries: A Multi-Center Integrated Clinical Trial
Outcomes After 2-Stage Anterior Cruciate Ligament Reconstruction Using Allograft Bone Dowels
Patient Reported Outcomes and Laxity Following Percutaneous MCL Lengthening During Arthroscopic Partial Medial Meniscectomy
Management of Bony Deficiency in Revision Anterior Cruciate Ligament Reconstruction Using Allograft Bone Dowels vs. Calcium Phosphate Cement: A Randomized Control Trial
Randomized Controlled Trial of Wound Closure Techniques in Orthopaedic Surgery
Awards
USU Alumni Association's Military Medical Service Award
George Rovere Teaching Award (AOSSM)
VOS Career Award
SOMOS Service Award
Air Force Resident Teaching Award
UVA Resident Teaching Award (2)
American Orthopaedic Society for Sports Medicine (AOSSM)
Traveling Fellow/Godfather
Past Education Chairman, AOSSM
Herodicus Award, AOSSM
Trillat Award, International Sports Medicine Society
Best Doctors/Who's Who/Academic Keys
Becker's Top 70 Knee Surgeons in America 2011
Best Doctors of Virginia and Washington DC 2011, Virginia Living
Top 19 National Sports Medicine Doctors
Top 50 National Knee Surgeons
Certification and Licensure
Board Certified in Orthopaedic Surgery (American Board of Orthopaedic Surgery)
Subspecialty Certification in Sports Medicine (American Orthopaedic Society for Sports Medicine)
Licensed to practice in Virginia
Recent Publications
Levy BA, Stuart MJ, MacDonald PB, Marx RG, Stannard JP, LaPrade RF, Engebretsen L, Miller MD, Whelan D, Boyd JL, Fanelli GC. "Comprehensive Case-Based Review of Knee Ligament Injuries." Instr Course Lect. 2019;68:513-514. PMID 32032066
Miller MD. "Editorial Commentary: Caveat Medicus-Beward of Meniscal Repair." Arthroscopy. 2020 Feb;36(2):499-500. doi: 10.1016/j.arthro.2019.11.100. PMID 32014179
Kew ME, Miller MD. "Posterior Cruciate Ligament Reconstruction in the Multiple Ligament Injured Knee." J Knee Surg. 2020 Jan 6. doi: 10.1055/s-0039-3402792. [Epub ahead of print]. PMID 31905416
Moran TE, Awowale JT, Werner BC, Fox MA, Miller MD. "Associated Morbidity After the Percutaneous Release of the Medial Collateral Ligament for Knee Arthroscopy." Arthroscopy. 2019 Nov 29. pii: S0749-8063(19)30835-7. doi: 10.1016/j.arthro.2019.08.051. [Epub ahead of print]. Review. PMID 31791891
Miller MD. "Meniscal Repair: The R-Factor." Clin Sports Med. 2020 Jan;39(1):xiii-xiv. doi: 10.1016/j.csm.2019.10.002. No abstract available. PMID 31767114
Miller MD. "Top Ten." Clin Sports Med. 2019 Oct;38(4):xi. doi: 10.1016/j.csm.2019.06.008. No abstract available. PMID 31472771