Mark D. Miller MD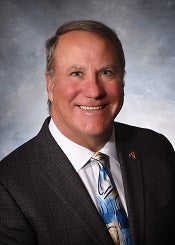 Dr. Miller is a Distinguished Graduate of the United States Air Force Academy and the Uniformed Services University of the Health Sciences. He is a retired Air Force Colonel and an accomplished academic orthopaedic surgeon. He is the S. Ward Casscells Professor of Orthopaedic Surgery at the University of Virginia and served as a team physician at James Madison University for 15 years. He has authored over 200 peer reviewed articles and 35 textbooks, including the best-selling text, Review of Orthopaedics, now in its Seventh Edition; and served for ten years as the Deputy Editor for Sports Medicine for The Journal of Bone and Joint Surgery. He is currently the Board Secretary for the American Orthopaedic Society for Sports Medicine (AOSSM) and is an award winning surgeon-educator.  Dr. Miller, a highly sought after speaker, is an internationally renowned expert in orthopaedic sports medicine. His practice focuses primarily on knee and shoulder arthroscopy and complex reconstructions.
Beyond Orthopaedics
"In my free time, I like to ski, play golf, hike and spend time with my better ¾, Ann Etchison (who is the department social media and "fun" director).  I am also the father of four children, all successful in their own right."
Contact
Office Location:
Sports Medicine Center
at Fontaine
Mailing Address:
Dept Orthopaedic Surgery
Box 800159 HSC
Charlottesville, VA 22908
Office Phone: 434.243.0274
Office Fax: 434.243.0290
Appointments
S. Ward Casscells Professor of Orthopaedic Surgery
Specialty and Subspecialty
Specialty: Orthopedic Surgery
Subspecialty: Sports Medicine
Special Expertise
Knee:
Complex Ligament Reconstruction (including ACL, PCL,
Collateral Ligament injuries and Knee Dislocations)
Articular Cartilage Restoration/Repair
Meniscal Repair and TransplantationShoulder:
Arthroscopic and Open stabilizations for shoulder instability
(anterior, posterior, and combined)
Arthroscopic Rotator Cuff repair
Acromioclavicular (Separation) repair/reconstruction
Labral Repair (SLAP, Bankart, Capsulorraphy)
Education
Education: 1979 United States Air Force Academy
(Distinguished Graduate)1982 Post-Baccalaureate1987 Uniformed Services University School of Medicine
Residency: 1992 Wilford Hall USAF Medical Center
Fellowship: 1993 Sports Medicine and Shoulder Surgery,
University of PittsburghAOA NATA Traveling Fellowship 1995AOSSM Traveling Fellow & Godfather
Awards
USU Alumni Association's Military Medical Service Award
George Rovere Teaching Award (AOSSM)
VOS Career Award
SOMOS Service Award
Air Force Resident Teaching Award
UVA Resident Teaching Award (2)
American Orthopaedic Society for Sports Medicine (AOSSM)
Traveling Fellow/Godfather
Past Education Chairman, AOSSM
Herodicus Award, AOSSM
Trillat Award, International Sports Medicine Society
Best Doctors/Who's Who/Academic Keys
Becker's Top 70 Knee Surgeons in America 2011
Best Doctors of Virginia and Washington DC 2011, Virginia Living
Top 19 National Sports Medicine Doctors
Top 50 National Knee Surgeons
Certification and Licenser
Board Certified in Orthopaedic Surgery by the American Board of Orthopaedic Surgery through 2015 Sports Medicine through 2017, Virginia.
Research Description
Dr. Miller has an active interest in knee and shoulder research. Most of his research has utilized cadaver studies, including developing/comparing surgical techniques and biomechanics. He is currently studying ACL reconstruction techniques and biomechanics in a cadaver model. This study is being done in collaboration with the UVA Musculoskeletal Radiology Division and includes sophisticated CT scan analysis of the specimens. He recently completed a complex study of PCL injuries done in collaboration with surgeons at Portsmouth Naval Hospital and a cadaver study of shoulder surgery techniques done in collaboration with surgeons in Richmond and Pittsburgh. Additional projects on Shoulder Biceps tenodesis are underway with Dr. Brockmeier
Clinical Trials
Hyaluronic Acid studies in the knee and shoulder
Articular Cartilage repair in the knee
Meniscal Repair devices for the knee
ACL reconstruction techniques
Biceps tenodesis versus tenotomy
Patient Stories
"Dr. Miller is the best surgeon I have ever met – I highly recommend him."
"Thank you, Dr. Miller, for fixing my shoulder – it (and you) are awesome!"
"Wow!  Thank you for fixing my shoulder – it dislocated on almost a daily basis before you performed arthroscopic surgery on it two years ago – and hasn't bothered me since!"
"Thanks for getting me back to football in time for this season." 
JMU All Conference Offensive Lineman
In the News
Discovery Channel:
Featured for successful surgery on an USAF pilot forced to eject from F-15.Health Talk Channel 29 News, Charlottesville:
Numerous appearances discussing Surgical Techniques and Advancements.Daily News Record, Harrisonburg, VA:
Articles written concerning work performed with James Madison University athletes.National Orthopaedic and Sports Medicine Magazines for academic achievement.