Keith Bachmann, MD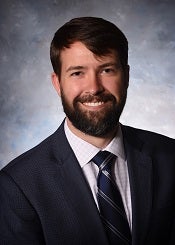 Dr. Bachmann joined the pediatric division of the University of Virginia Department of Orthopaedic Surgery in 2016. A native of Richmond, Virginia, Dr. Bachmann completed his residency training in Orthopaedic Surgery at the Cleveland Clinic. Following residency, he did  an additional year of subspecialty training in Pediatric Orthopaedic Surgery and Pediatric Spine Deformity at Rady Children's Hospital in San Diego, California under the tutelage of renowned pediatric orthopaedic surgeons Drs. Newton, Wenger, Mubarak, and Chambers.
Dr. Bachmann treats all general pediatric orthopaedic conditions a4920nd has a particular interest in spinal deformity, neuromuscular conditions, developmental differences in children, sports injuries, and management of hip conditions in childhood and adolescence. His research interests include the effectiveness of treatment for pediatric spinal deformity and patient reported outcomes in response to treatment.
Beyond Orthopaedics
"Outside of the hospital, Dr. Bachmann enjoys spending time with his wife, Anne, chasing after his toddler son, Will, and going for (very slow) walks with his basset hound, Grady."
Contact
Clinic Location:
Pediatric Orthopaedic Clinic
Battle Building
1204 W. Main Street
Charlottesville, VA 22903
Mailing Address:
Department of Orthopaedic Surgery
PO Box 800159
Charlottesville, VA 22908
Clinical Office Phone:434-924-2301
Office Phone:434-982-4215
Office Fax:
434-244-9478
Appointments
Assistant Professor of Orthopaedic Surgery
Associate Residency Director
Specialty and Subspecialty
Specialty: Orthopaedic Surgery
Subspecialty: Pediatric Orthopaedic SurgeryPediatric Spinal Deformity
Special Expertise
Pediatric spinal deformity management
Hip dysplasia management
Neuromuscular disorders including cerebral palsy
Congenital differences including limb discrepancy and clubfoot
Awards
Resident Leadership Forum, American Orthopaedic Association (2014)
Graduate Level 1 Award, Cleveland Clinic Foundation (2011)
Alpha Omega Alpha, Medical Academic Honor Society (2009)
Eagle Scout (2000)
Education
Education:B.S., University of Virginia (2005)M.D., Virginia Commonwealth University School of Medicine (2010)
Residency:Orthopaedic Surgery, Cleveland Clinic (2015)
Fellowship:Pediatric Orthopaedic Surgery and Scoliosis Surgery, Rady Children's Hospital/University of California San Diego (2016)
Certification and Licensure
Board Eligible in Orthopaedic Surgery, Virginia.
Publications:PubMed link