Keith Bachmann, MD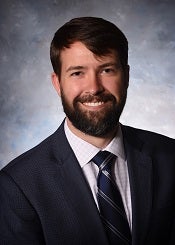 Dr. Keith Bachmann was born in Newark, Ohio but moved to Richmond, Virginia with his family before elementary school. He then attended the University of Virginia as an undergrad where he met his wife Anne. Dr. Bachmann went back to Richmond for medical school at MCV and then moved to Cleveland for his residency at the Cleveland Clinic. He completed his fellowship in pediatric orthopedics and scoliosis surgery at Rady Children's hospital in San Diego. Dr. Bachmann began working at the University of Virginia upon completion of his fellowship in August 2016. His practice includes musculoskeletal surgery for children especially those with spinal deformity.
Locally Dr. Bachmann serves on the UVA children's surgical performance improvement committee. He is active in the Virginia Orthopedic Society moderating panels and serving on committees through the Pediatric Orthopedic Society of North America (POSNA) and the Scoliosis Research Society (SRS). Dr. Bachmann is a member of the Harms Study Group working to further scoliosis care through longitudinal outcomes collection. His research focuses on patient outcomes and working to improve the metrics used to measure these outcomes. He is also interested in the long term effect and need for surgical treatment for spinal disorders.
Beyond Orthopaedics
"Outside of work Dr. Bachmann and his wife like to travel hopefully to destinations with scuba diving. They have three sons, a dog and a cat. Dr. Bachmann tries to stay involved with mountain biking, golf, and scuba diving. He is a fan of University of Virginia collegiate sports, and Cleveland based professional sports teams."
Contact
Clinic Location:
Pediatric Orthopaedic Clinic
Battle Building
1204 W. Main Street
Charlottesville, VA 22903
Mailing Address:
Department of Orthopaedic Surgery
PO Box 800159
Charlottesville, VA 22908
Clinical Office Phone:434-924-2301
Office Phone:434-982-4215
Office Fax:
434-244-9478
Appointments
Associate Professor of Orthopaedic Surgery
Associate Residency Director
Specialty and Subspecialty
Specialty: Orthopaedic Surgery
Subspecialty: Pediatric Orthopaedic SurgeryPediatric Spinal Deformity
Education
Education:B.S., University of Virginia (2005)M.D., Virginia Commonwealth University School of Medicine (2010)
Residency:Orthopaedic Surgery, Cleveland Clinic (2015)
Fellowship:Pediatric Orthopaedic Surgery and Scoliosis Surgery, Rady Children's Hospital/University of California San Diego (2016)
Special Expertise
Pediatric spinal deformity management
Hip dysplasia management
Neuromuscular disorders including cerebral palsy
Congenital differences including limb discrepancy and clubfoot
Awards
Resident Leadership Forum, American Orthopaedic Association (2014)
Graduate Level 1 Award, Cleveland Clinic Foundation (2011)
Alpha Omega Alpha, Medical Academic Honor Society (2009)
Eagle Scout (2000)
Certification and Licensure
Board Eligible in Orthopaedic Surgery, Virginia.
Publications:PubMed link