Seth Yarboro, MD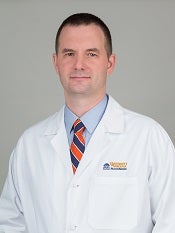 Seth Yarboro is a North Carolina native who has been an orthopedic surgeon at UVA since 2012. He specializes in fracture care of both acute and chronic injuries, as well as pathology involving soft tissue and infection. His approach to surgery utilizes both traditional as well as minimally invasive and computer-assisted surgical techniques.
Dr. Yarboro attended medical school at University of North Carolina at Chapel Hill, where he also completed his orthopedic residency training. Dr. Yarboro then went on to complete orthopedic trauma fellowships at UNC Hospital, an AOTrauma Fellowship in Hannover, Germany, and a fellowship in orthopedic trauma and computer-assisted surgery in Ulm, Germany.
At UVA, Yarboro is an active researcher with a variety of interests, including infection treatment and prevention, ankle syndesmosis injuries, intraoperative advanced imaging, and quality outcomes after surgery. He has contributed to multiple publications and book chapters. He is also involved with the AO Technical Congress (AOTK) in their Computer-assisted and Image-guided Expert Group (CIEG), where technology is used to advance the field of surgery.
Dr. Yarboro currently serves as the patient safety and quality officer for the Department of Orthopaedics. This work involves organizing regular conferences within the department for case review and education, optimizing quality measures and reporting, and representing the department within the institution regarding quality-related policy.
He has specific interest in orthopedic education, working routinely with residents in conferences and surgical training. He also works regularly with the Orthopaedic Trauma Association (OTA), participating in their resident fracture course. Additionally, he has served as program chair for educational meetings ranging from the local to national level.
Dr Yarboro performs surgeries at the UVA Main Hospital, and sees patients at the UVA Orthopaedic clinic in Fontaine Research Park, Office Building 545. He regularly sees new patients through physician referrals and direct patient request.
"As an orthopedic trauma surgeon, I try to understand patient's situation and provide helpful treatment options. Not every patient needs surgery, and we only consider surgery if it will reliably improve the long-term outcome. Whatever treatment path is chosen, we will work together to provide the best possible functional outcome."
Contact
Office Location:
UVA Orthopaedic Center
2280 Ivy Road
Charlottesville, VA 22903
Mailing Address:
Dept. Orthopaedic Surgery
University of Virginia
PO Box 800159
Charlottesville, VA 22908
Clinical Office Phone:
434.924.2663
Administrative Office Phone:
434.243.0234
Office Fax:
434.244.4454
Appointments
Associate Professor
Director of Orthopaedic Quality
Specialty and Subspecialty
Specialty: Orthopaedic Surgery
Subspecialty: Trauma
Education
Education: 2002 Wake Forest University Winston-Salem, NC B.S.
Biology University of North Carolina School of Medicine Chapel Hill, NC, M.D
Residency: 2007 – 2012 University of North Carolina Hospitals Orthopaedic Surgery
Fellowship: University of North Carolina Hospitals
Orthopaedic Trauma Surgery (2013)AO Trauma Fellowship Hannover, Germany (2013)Fellowship Orthopaedic Trauma and Computer Assisted Surgery Ulm, Germany (2013)
State License