Joseph S. Park, MD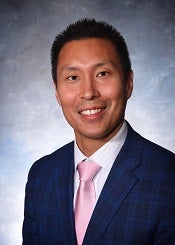 Dr. Joseph Park is an Associate Professor of Orthopaedic Surgery at the University of Virginia, and Associate Fellowship Director. He is the Head of Foot and Ankle Surgery within the Department of Orthopaedic Surgery at UVA, and serves as a Team Physician and Foot and Ankle Consultant for the UVA Athletics Department.
Dr. Park was born in Brooklyn, NY and grew up in the suburbs of Baltimore, MD. He earned his undergraduate degree from the University of Pennsylvania, where he graduated Magna Cum Laude. He then graduated Alpha Omega Alpha from the University of Virginia's School of Medicine. Dr. Park continued his education by completing an Orthopaedic Surgery residency at New York University Langone Orthopaedic Hospital. He then completed his Fellowship in Orthopaedic Foot and Ankle Surgery at Union Memorial Hospital in Baltimore, MD. He returned to the University of Virginia in 2010 to join our Orthopaedic Surgery Faculty.
Through his research collaborations with the Biomedical and Mechanical Engineering Departments at UVA, Dr. Park has helped establish UVA and the Center for Applied Biomechanics as nationally recognized leaders in biomechanical testing of orthopaedic implants. In recognition of his contributions, he was awarded a secondary appointment in Mechanical and Aerospace Engineering in 2019.  Dr. Park was promoted to Associate Professor with Tenure in 2020 and was voted by his peers as one of the Best Doctors in America for 2015-2016 and 2017-2018. He also received the Dean's Award for Clinical Excellence from the University of Virginia in 2015.
Dr. Park is a reviewer for the Journal of Bone and Joint Surgery, Foot and Ankle International, as well as Foot and Ankle Orthopaedics. He is the Associate Foot and Ankle Fellowship Director at UVA, has served as Chairman of the Physician Resource Center Committee for the American Orthopaedic Foot and Ankle Society (AOFAS). Dr. Park is currently the Chairman of the AOFAS Orthopodcast Committee.  In November 2018, he traveled to Xiamen, China where he was selected to represent the AOFAS at the 13th Annual Congress of the Chinese Orthopaedic Association.
Beyond Orthopaedics
"Dr. Park serves on the Boar's Head Member Committee and is an avid UVA Athletics fan. He and his wife, Ann Marie, have three school aged children (and 2 dogs). He is a member of the Boar's Head USTA tennis team and enjoys playing sports and spending time with his family."
Contact
Office Location:
UVA Orthopaedic Center
2280 Ivy Road
Charlottesville, VA 22903
Mailing Address:
Dept. Orthopaedic Surgery
University of Virginia
PO Box 800159
Charlottesville, VA 22908
Clinical Office Phone:
434.924.2663
Administrative Office Phone:
434.243.0067
Office Fax:
434.244.4454
Appointments
Associate Professor of Orthopaedic Surgery, University of Virginia
Associate Professor of Mechanical and Aerospace Engineering, University of Virginia
Division Head, Foot and Ankle Surgery, Department of Orthopaedic Surgery, University of Virginia
Specialty and Subspecialty
Specialty: Orthopaedic Surgery
Subspecialty: Foot and Ankle
Education
Education: B.S., University of Pennsylvania, Magna Cum Laude
M.D., University of Virginia, Alpha Omega Alpha
Residency:  Orthopaedic Surgery, New York University Langone
Fellowship: Foot and Ankle Surgery, Union Memorial Hospital, Baltimore, MD
Special Expertise
Ankle replacement
Sports related injuries to the foot and ankle
Ankle arthroscopy/ligament reconstruction
Adult acquired flatfoot deformity correction
Forefoot deformity correction
Surgical treatment of Achilles tendon dysfunction
Complex Arthrodesis
Operative fixation of lower extremity fractures
Research
Dr. Park's current mechanical testing projects include total ankle arthroplasty, arthrodesis and fracture fixation implants, and robotic gait simulation.
Awards
Best Doctors In America® (2019)
Certification and Licenser
Board Certified in Orthopaedic Surgery, American Board of Orthopaedic Surgeons
Licensed to practice in Virginia
Recent Publications
Fraser JJ, Saliba SA, Hart JM, Park JS, Hertel J. "Effects of Midfoot Joint Mobilization on Ankle-Foot Morphology and Function Following Acute Ankle Sprain. A Crossover Clinical Trial." Musculoskelet Sci Pract. 2020 Apr;46:102130. doi: 10.1016/j.msksp.2020.102130. Epub 2020 Feb 5. PMID 32217275
Hadeed MM, Dempsey IJ, Tyrrell Burrus M, Werner BC, Walker JB, Perumal V, Park JS. "Predictors of Osteochondral Lesions of the Talus in Patients Undergoing Broström-Gould Ankle Ligament Reconstruction." J Foot Ankle Surg. 2020 Jan – Feb;59(1):21-26. doi: 10.1053/j.jfas.2018.05.006. PMID 31882142
Lee W, Tran S, Cooper MT, Park JS, Perumal V. "Clinical Outcomes of Osteochondral Lesions of the Tibial Plafond Following Arthroscopic Microfracture." Foot Ankle Int. 2019 Sep;40(9):1018-1024. doi: 10.1177/1071100719850145. Epub 2019 May 26. PMID 31130008
Tran SK, Carr JB, Hall MJ, Park JS, Cooper MT. "Incidence of Thyroid Disease in Patients With Forefoot Deformity." Foot Ankle Surg. 2019 May 30. pii: S1268-7731(19)30076-1. doi: 10.1016/j.fas.2019.05.014. [Epub ahead of print]. PMID 31186135