Kacy Peek, MD, MS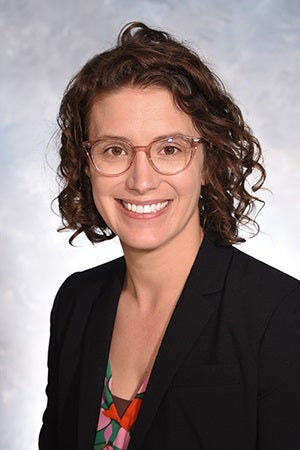 Dr. Kacy Peek is an Assistant Professor of Orthopaedic Surgery at the University of Virginia. Her specialty is Hand and Upper Extremity Surgery, where she focuses on upper extremity trauma, with a particular interest in complex elbow trauma and replantation. She joined the faculty in 2022.
Dr. Peek graduated from the University of Texas at Austin before pursuing her master's in Health and Medical Sciences at the University of California at Berkeley in 2014. She attended medical school at the University of California, San Francisco and completed her Orthopaedic Surgery residency in 2021 at the University of Washington. She completed fellowship training in Hand and Upper Extremity at the University of Colorado in 2022 before joining the faculty at the University of Virginia.
Beyond Orthopaedics
Dr. Peek enjoys cycling, yoga, gardening, and spending time with her two daughters and husband. She is an avid New York Times Crossword solver and always does the NPR Weekend Puzzle with her husband.
Contact
Office Location:
UVA Orthopaedic Center
2280 Ivy Road
Charlottesville, VA 22903
Mailing Address:
Dept. Orthopaedic Surgery
University of Virginia
PO Box 800159
Charlottesville, VA 22908
Clinical Office Phone:
434.924.2663
Administrative Office Phone:
434.243.0067
Office Fax:
434.244.4454
Appointments
Assistant Professor of Orthopedic Surgery, University of Virginia
Specialty and Subspecialty
Specialty: Orthopaedic Surgery
Subspecialty: Hand and Upper Extremity
Education
Primary: B.A., University of Texas at Austin M.S., University of California at Berkeley M.D., University of California, San Francisco
Residency: Orthopaedic Surgery, University of Washington
Fellowship: Hand and Upper Extremity, University of Colorado
Special Expertise
Upper extremity trauma and microsurgery
Research
Dr. Peek's research focuses on social determinants of health and their impact on patient access to care and outcomes.
Current IRB Studies
Multicenter ASSH Resident Surgical Skill Trial
Distal Ulna Fracture Case Review and Distal Ulna Periosteal Blood Supply
Metanalysis of Measurement of Socioeconomic Status in Orthopaedic Surgery Literature
Suture and Needlestick Education
Awards
2021 University of Washington Sigvard T. Hansen Jr, MD "Golden Nail" Chief Resident Teaching Award
2020 AAOS Resident Advocacy Fellowship
2015 AOA Medical Society
2015 UCSF Sadie E. Berkove, MD Fellowship
2015 UCSF Steinhardt Award
2015 UCSF Clinical and Translational Research Pathway to Discovery
Certification and Licensure
Board Eligible in Orthopaedic Surgery (American Board of Orthoaedic Surgery)
Licensed to practice in Virginia
Recent Publications
Peek K, Schmale G, Lindberg A, Ho C, Miller M, Steinman S. "Poor Outcomes of Pediatric Acute Compartment Syndrome in the Setting of Extracorporeal Membrane Oxygenation: A Multicenter Case Series."
J Pediatr Orthop. 2022 Aug 1;42(7):382-386. doi: 10.1097/BPO.0000000000002158. Epub 2022 Apr 15.
PMID: 35420573.
Daley E, Peek K, Samora J, Vuillermin C, Wall L, Steinman S. "Effect of Geography on patient and Parent Reported Quality of Life for Children with Congenital Upper Limb Differences." (Accepted to Journal of Hand Surgery)