Shepard Hurwitz, MD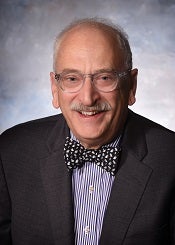 Shep Hurwitz, MD grew up in New Rochelle, NY and went to Columbia College then Columbia University College of Physicians & Surgeons for his BA and MD. He was a college fencer on a team that won two NCAA championships.
Dr. Hurwitz spent two years in Charlottesville after medical school as a general surgery resident (1976-1978) and then Orthopaedic Residency in New York City at the New York Orthopaedic Hospital. He completed one year of adult and pediatric foot/ankle training at the Hospital for Special Surgery in New York City then another year of biomechanics and fracture surgery at New York Hospital/Hospital for Special Surgery. He joined the UVA faculty in 1994 and was the chief of the Foot/Ankle division of the department.
Dr. Hurwitz has been on numerous AAOS and AOA committees as well as committees for the ORS, OTA and AOFAS. He was a member at large of the AOFAS Board of Directors (2005-2007), President of the Eastern Orthopaedic Association (2002-2003) and President of the Southeastern Fracture Symposium (2006-2008). He was on the ABOS Board of Directors (2005-2007) and the Executive Director of the ABOS (2007-2016). He was on the UVA Faculty Senate (2003-2006) and several SOM committees.
Appointments
Professor Emeritus, University of Virginia
Specialty and Subspecialty
Specialty: Orthopaedic Surgery
Subspecialty: Foot & Ankle