Venkat Perumal, MD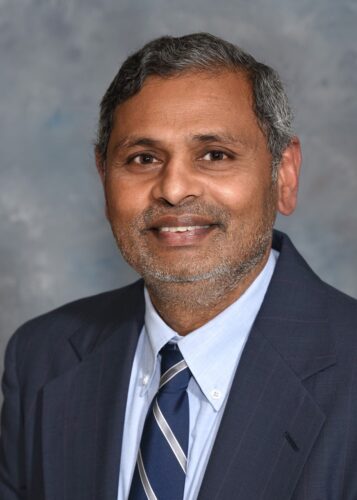 Dr. Venkat Perumal joined the UVA Foot and Ankle Division as an Assistant Professor in the Department of Orthopaedic Surgery in 2013. Dr. Perumal completed his fellowship training in Orthopaedic Foot and Ankle Surgery at the University of Virginia. His practice focuses on foot and ankle reconstruction. His expertise includes sports medicine, foot and ankle trauma, total ankle joint replacement, Charcot foot deformities, foot arthritis and various tendon problems. Dr. Perumal is a member of the American Orthopaedic Foot and Ankle Society (AOFAS).
Beyond Orthopaedics
"I am married to Vanitha and we are blessed with 2 children. I like to play soccer, bike and play chess with my son. We also enjoy camping, hiking and travelling".
Contact:
Office Location:
UVA Orthopaedic Center
2280 Ivy Road
Charlottesville, VA 22903
Mailing Address:
Dept. Orthopaedic Surgery
University of Virginia
PO Box 800159
Charlottesville, VA 22908
Clinical Office Phone:
434.924.2663
Administrative Office Phone:
434.243.0067
Office Fax:
434.244.4454
Appointments
Specialty and Subspecialty
Specialty: Orthopaedic Surgery
Subspecialty: Foot and Ankle
Special Expertise
Total ankle replacement, fore foot and mid foot deformity correction, flat foot reconstruction, treating various tendon pathology and ankle instability.
Fellowship
Orthpaedic Trauma fellowship- University of Louisville, KY
Adult reconstruction fellowship- University of Virginia, Charlottesville, VA
Foot and Ankle fellowship – University of Virginia, Charlottesville, VA
State License
In the News