Mark J. Romness MD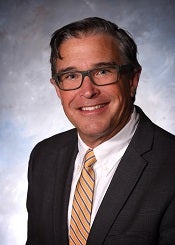 Dr. Mark Romness is Associate Professor of the Department of Orthopedic Surgery with secondary appointment in the Department of Pediatrics.  The dual appointment highlights his commitment to Pediatric Orthopedics and the unique care that children encompass compared to adults. His clinical and academic expertise includes children with special needs such as cerebral palsy and spina bifida which incorporates his other interests of extremity problems such as hip, knee and foot disorders. Rare disorders of childhood such as osteogenesis imperfecta, congenital pseudarthrosis of the tibia and genetics syndromes are additional areas of interest and expertise.
Dr. Romness has served on the Board of Directors for the American Academy for Cerebral Palsy and Developmental Medicine, been President of the Virginia Orthopaedic Society and is a long standing member of Pediatric Orthopaedic Society of North America. Within the Orthopaedic Department, Dr. Romness serves as Division Head of Pediatrics, a member of the Resident Advocacy Committee and Medical Student Clinical Supervisor. He is also Medical Director of the Motion Analysis and Motor Performance Lab which is internationally recognized for clinical evaluations of patients with cerebral palsy.
Dr. Romness grew up in Arlington, Virginia and has been in practice for more than 25 years, joining the University of Virginia in 2004 after practicing at children's hospitals in Connecticut and Fairfax Virginia.  Education was at the College of William and Mary and then Northwestern University for medical school and orthopaedic residency. He spent one year for fellowship in pediatric orthopaedics at the Royal Children's Hospital in Melbourne, Australia. He is married to Christine Romness and they have three grown children.
Beyond Orthopaedics
"I enjoy family, travel and any water activities inmy time outside of work"

Contact
Office Locations:
Fontaine Research Park
and Battle Building
at UVA Children's Hospital
Clinic Location:
Pediatric Orthopaedic Clinic
Battle Building
1204 W. Main Street
Charlottesville, VA 22903
Mailing Address:
P.O. Box 800159
Department of Orthopaedic Surgery
University of Virginia
Charlottesville, VA 22908
Office Phone:
434.982.4215(Battle Building)
434.982.4215(Fontaine Research Park)
Clinic Phone:
434.924-2301
Office Fax:
434.244.9478
Appointments
Associate Professor of Orthopaedic Surgery
Division of Pediatric Orthopaedic Surgery
Secondary Appointment in Pediatrics
Specialty and Subspecialty
Specialty: Pediatric Orthopaedics
Subspecialty: Special Needs Children including Cerebral Palsy and Spina Bifida
Gait Abnormalities
Pediatric Lower Extremity Problems and Trauma
Osteogenesis Imperfecta
Education
Education: B.S. Biology The College of William and Mary
Residency: Orthopaedic Surgery, Northwestern University, Chicago, IL
Pediatric Orthopaedics, Royal Children's Hospital, Melbourne, Australia
Special Expertise
Special Needs Children including Cerebral Palsy and Spina Bifida
Gait Abnormalities
Pediatric Lower Extremity Problems and Trauma
Osteogenesis Imperfecta
Certification and Licenser
Orthopaedic Surgery, Virginia
Research Description
Children with Cerebral Palsy
Gait and functional mobility
Treatment for spasticity and contractures
Bracing
Pediatric foot and ankle problems
Clinical Trials
A Multi-Center Project:  Functional Assessment Research Group (FARG) II- A Cross-sectional and Longitudinal Study of Strength, Body Composition and Outcome Assessments in Ambulatory Children with Cerebral Palsy
Use of Baclofen for Treatment of Spasticity in Children with Cerebral Palsy
In the News
January 2014 – Dr. M. Romness discusses "Helping Children With Cerebral Palsy"….