Francis H. Shen, MD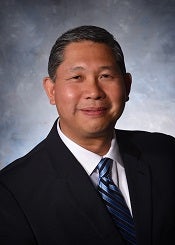 The goal of Dr. Shen's practice to provide care for patients with spinal pathology through a combination of both operative and nonoperative means. When surgery is required Dr. Shen combines both traditional open surgical techniques with cutting-edge minimal invasive techniques individualized to the patient's specific spine pathology. Furthermore, Dr. Shen's laboratory is improving the future of patient care by applying tissue engineering principles to solve clinically relevant problems. He is dedicated to advancing the future of spine surgery by training not only post-doctorate research fellows, but also to training the next generation of clinical spine surgeons as well.
Beyond Orthopaedics
"I try to spend as much time as I can with my daughter. She is the light of my life. For me,  I like to stay active by running and going to work out whenever possible."
Contact
Clinic Location:
Spine Center
415 Ray C. Hunt Drive
Charlottesville, VA 22903
Mailing Address:
Dept Orthopaedic Surgery
Box 800159 HSC
Charlottesville, VA 22908
Office Phone: 434.982.4832
Office Fax: 434.243.0242
Appointments
Warren G. Stamp Endowed Professor of Orthopaedic Surgery
Specialty and Subspecialty
Specialty: Orthopaedic Surgery
Subspecialty: Spinal Surgery
Special Expertise
Surgery of the cervical, thoracic, and lumbosacral spine including anterior and posterior approaches.  Management of degenerative conditions, spinal deformity, trauma, tumors, and infections of the spine.  In addition to traditional open surgery, Dr. Shen also specializes in minimally invasive surgery, image guided spine surgery, and microsurgery.
Education
Education: 1987-1992 Undergraduate, University of Michigan, BS in Biomedical Engineering
1992- 1996 Medical School, University of Virginia
Residency: 1996 – 1997 General Surgery Internship, University of Virginia
1997 – 1998 Orthopaedic Research Fellowship, University of Virginia
1998 – 2001 Orthopaedic Residency, University of Virginia
2001 – 2002 Chief Orthopaedic Resident, University of Virginia
2002 – 2003 Spine Fellowship, Rush University, Chicago, Illinois
2002 – 2003 Pediatric Spinal Deformity Fellowship, Shriners Hospitals for Children, Chicago, IL
Certification and Licenser
Orthopaedic Surgery, Illinois, Virginia.
Awards
2012 US News Top Doctor in Orthopaedic Surgery
2004-2012 OREF Clinician Scientist Award
2011, 2012 OREF Clinical Development Fellowship Grant
2006-2012 Orthopaedic Trauma Association Research Grant
2006 MTF Young Investigator Grant
2007 MTF Career Development award
2004 North American Spine Society Young Investigator Award
2007 American Cancer Center Grant
2007 National Osteoporosis Foundation Award
2007 North American Spine Society Research Award
2007 Cervical Spine Research Society New Investigator Award
2006-2008 AO Foundation International Researcher Grant
2006 OREF Career development award
2004 SRS New Investigator Award
2007-9, 2012 America Top Orthopaedist,
2012 SPINE reviewer of the year
2006, 2007 Outstanding Basic Science paper, Spine Journal
2007 Outstanding Clinical Paper, Spine Journal
2009, 2012 Outstanding Paper, Runner Up, Spine Journal
2009 Scoliosis Research Society Traveling Fellowship
2009 Hibbs Award Best Basic Science award
2008 Young Investigator Award, Spine
2007 Academy of Distinguished Educators
2007 VOS Best Paper Award
2005 US Bone Joint, Decade Young Participant
2004 NASS Fellowship in Minimally Invasive Spine Surgery
2003 Best Clinical Paper DePuy/AcroMed
2003 Cervical Spine Research Society Basic Science Award-3rd place
2002 Charles W. Miller Orthopaedic Teaching Award
2001 Leonard Marmor Surgical Arthritis Foundation Award
Research Description
Research initiative can be divided into either basic science research or clinical research studies.   The Shen Laboratory uses tissue engineering principles to develop techniques for the management of spinal fusions and treatment of intervertebral disc degeneration. Also actively using novel animal models developed in his laboratory for the treatment of isolated metastatic spinal tumors and osteoporosis.
Clinical research focuses on the use of osteoinductive (bone producing) proteins for generating spinal fusions and on developing innovative techniques for complex spinal reconstructions, particularly after large tumor resections and high-energy sacral-pelvic trauma. Involved with applying clinical techniques for the novel uses for minimally invasive spine surgery, image-guided spine surgery, and robotic-assisted spine surgery.
Clinical Trials
NovoSeven (F7SPIN-2180). Role: Principle Investigator. Title: Evaluating the safety of activated recombinant Factor VII in spinal surgery. Goal: This randomized, double-blinded, placebo-controlled, multicenter, dose-escalation study evaluated the safety of activated recombinant Factor VII in spinal surgery.
Stryker Biotech (S01-01US). Role: Principle Investigator . Title: A prospective, randomized, controlled, multicenter, pivotal study of OP-1 putty in uninstrumented posterolateral fusions. Goal: To investigate efficacy and safety of OP-1 putty in uninstrumented posterolateral fusions.
Synthes Spine. Role: Principle Investigator . Title: Demineralized bone matrix as an adjunct to spinal fusion. Goal: Investigates autograft versus DBX putty combined with autograft used as a posterolateral lumbar spinal fusion.