James A. Browne, MD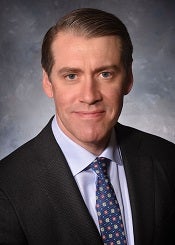 Dr. James Browne is the Alfred R. Shands Professor in the Adult Reconstruction division of Orthopaedic Surgery at the University of Virginia. He serves as the Executive Vice Chair of Clinical Operations and Division Head of Adult Reconstruction. Dr. Browne is also the physician co-lead of the Musculoskeletal Service Line.
He was born and raised in Canada and moved to Virginia to pursue his education at Washington and Lee University where he captained the Men's Swim Team before graduating Summa Cum Laude. He completed medical school at Johns Hopkins University, residency in Orthopaedic surgery at Duke University, and fellowship in Hip and Knee Arthroplasty at the Mayo Clinic where he was honored with the Mark B. Coventry Adult Reconstructive Surgery Fellowship Award.
Dr. Browne's clinical interests and expertise include complex primary and revision hip and knee and he received the UVA Dean's Clinical Excellence Award in 2014. Along with his clinical interests, he is actively involved with research encompassing all aspects of hip and knee replacement, and has published numerous peer-reviewed journal articles and book chapters. Dr. Browne has been invited to speak nationally and internationally on topics related to joint replacement. He was awarded the Knee Society John Insall Award in 2014 for his research examining obesity and outcomes following total knee arthroplasty.
Dr. Browne holds several national leadership roles including Associate Editor of the Journal of Arthroplasty and Member of the Steering Committee of the American Joint Replacement Registry (AJRR).  He has served as the Editor of the AJRR Annual Report for the past two years.  Dr. Browne has also recently taken over as chair of the Miller Review Course.  He is a member of both the Knee Society and Hip Society.

Beyond Orthopaedics
"Dr. Browne and his wife, Amy, have two school-age children and love living in beautiful Charlottesville."
Contact
Office Location:
UVA Orthopaedic Center
2280 Ivy Road
Charlottesville, VA 22903
Mailing Address:
PO Box 800159
University of Virginia
Charlottesville, VA 22908
Clinical Office Phone:
434.924.2663
Administrative Office Phone:
434.243.0218
Office Fax:
434.244.4454
Appointments
Alfred R. Shands Professor of Orthopaedic Surgery, University of Virginia
Executive Vice Chair of Clinical Operations, Orthopaedic Surgery, University of Virginia
Division Head, Adult Reconstruction, Orthopaedic Surgery, University of Virginia
Co-Lead of Musculoskeletal Service Line, University of Virginia
Specialty and Subspecialty
Specialty: Orthopaedic Surgery
Subspecialty: Adult Reconstruction
Education
Education: Washington and Lee University (B.A.)
Johns Hopkins School of Medicine (M.D.)
Residency: Residency in Orthopaedic Surgery, Duke University Medical Center
Fellowship: Fellowship in Adult Reconstructive Surgery (Lower Extremity), Mayo Clinic, Rochester, Minnesota
Special Expertise
Primary and revision total hip and knee replacement
Hip and knee arthritis
Osteolysis
Periprosthetic joint infection
Periprosthetic fractures
Research
Clinical outcomes of hip and knee replacement
Awards
Best Doctors in America® List (2013 through 2020)
Top Doctor Award, Virginia Living (2018)
Vitals Patients' Choice Award (2016)
Vitals Compassionate Doctor Award (2016)
Castle Connolly Top Doctor (2016)
Dean's Award for Clinical Excellence, University of Virginia (2014)
"Generation Next" Emerging Leader Award, Orthopaedics Today (2013)
Award for Service, Arthritis Foundation (2012)
Mark B. Coventry Adult Reconstructive Surgery Fellowship Award, Mayo Clinic (2010)
Chief Resident Research Award, Duke University (2009)
Certification and Licensure
Board Certified in Orthopaedic Surgery, American Board of Orthopaedic Surgeons
Licensed to practice in Virginia
Recent Publications
Roecker Z, Quinlan ND, Browne JA, Werner BC. "Risk of Periprosthetic Infection Following Intra-Articular Corticosteroid Injections After Total Knee Arthroplasty." J Arthroplasty. 2020 Apr;35(4):1090-1094. doi: 10.1016/j.arth.2019.11.017. Epub 2019 Nov 16. PMID 31813813
Finch DJ, Pellegrini VD Jr, Franklin PD, Magder LS, Pelt CE, Martin BI; PEPPER Investigators. "The Effects of Bundled Payment Programs for Hip and Knee Arthroplasty on Patient-Reported Outcomes." J Arthroplasty. 2020 Apr;35(4):918-825.e7. doi: 10.1016/j.arth.2019.11.028. Epub 2019 Nov 26. PMID 32001083
Browne JA. "Proceedings of the 2019 American Association of Hip and Knee Surgeons Annual Meeting." J Arthroplasty. 2020 Mar 3. pii: S0886-5403(20)30153-4. doi: 10.1016/j.arth.2020.02.010. [Epub ahead of print]. No abstract availab.e PMID 32139190
Mohamed NS, Wilkie WA, Remily EA, Nace J, Delanois RE, Browne JA. "Antibiotic Choice: The Synergistic Effect of Single vs Dual Antibiotics." J Arthroplasty. 2020 Mar;35(3S):S19-S23. doi: 10.1016/j.arth.2019.11.002. PMID 32046825
Bolarinwa SA, Aryee JN, Labaran LA, Werner BC, Browne JA. "Does Arthroscopic Repair of Femoroacetabular Impingement Pathology Affect Clinical Outcomes after Ipsilateral Total Hip Arthroplasty?" Hip Pelvis. 2020 Mar;32(1):35-41. doi: 10.5371/hp.2020.32.1.35. Epub 2020 Feb 26. PMID 32158727
Quinlan ND, Chen DQ, Browne JA, Werner BC. "Surgeon Reimbursement Unchanged as Hospital Charges and Reimbursements Increase for Total Joint Arthroplasty." J Arthroplasty. 2020 Mar;35(3):605-612. doi: 10.1016/j.arth.2019.10.015. Epub 2019 Oct 14. PMID 31679974
Dalkin BH, Sampson LR, Novicoff WM, Browne JA. "Zip Codes May Not Be an Adequate Method to Risk Adjust for Socioeconomic Status Following Total Joint Arthroplasty at the Individual Surgeon Level." J Arthroplasty. 2020 Feb;35(2):309-312. doi: 10.1016/j.arth.2019.09.047. Epub 2019 Oct 5. PMID 31668695
Lieberman JR, Browne JA, Bolognesi MP. "Practice Management Strategies Among Current Members of the American Association of Hip and Knee Surgeons." J Arthroplasty. 2020 Jan 31. pii: S0883-5403(20)30103-0. doi: 10.1016/j.arth.2020.01.066. [Epub ahead of print]. PMID 32199760
Labaran LA, Amin R, Bolarinwa SA, Puvanesarajah V, Rao SS, Browne JA, Werner BC. "Revision Joint Arthroplasty and Renal Transplant: A Matched Control Cohort Study." J Arthroplasty. 2020 Jan;35(1):224-228. doi: 10.1016/j.arth.2019.08.045. Epub 2019 Aug 27. PMID 31542264
Callaghan JJ, Mont MA, Krebs VE, Mason JB, Backstein DJ, Browne JA, Taunton MJ, Krueger CA. "Social Media Enhancement: Expanding Our Reach and Engagement With Our Loyal Readership in a Big Way!" J Arthroplasty. 2019 Dec;34(12):2833. doi: 10.1016/j.arth.2019.10.024. No abstract available. PMID 31739974