Stephen F. Brockmeier, MD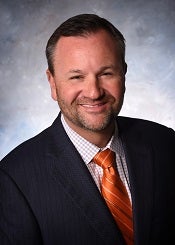 Dr. Brockmeier joined the UVA Department of Orthopaedic Surgery in 2010. He specializes in Sports Medicine and Shoulder Surgery. This includes arthroscopic and reconstructive surgery of the shoulder and knee with a specific focus on sports injuries of the upper extremity. He has advanced experience in arthroscopic shoulder techniques including arthroscopic rotator cuff repair, arthroscopic labral repair and shoulder stabilization, management of shoulder instability including bone grafting procedures, biceps tenodesis, and reconstructive procedures of the shoulder and AC joint.  He also has extensive experience in the management of athletic knee injuries including ACL reconstruction, meniscal repair, and cartilage repair/restoration.
Dr. Brockmeier serves as Team Physician for the University of Virginia as well as for James Madison University. Prior to joining the UVa faculty, Dr. Brockmeier completed medical school and Orthopaedic residency training at Georgetown University followed by a fellowship in sports medicine and shoulder surgery at the Hospital for Special Surgery in New York. He then spent three years in practice in Charlotte, North Carolina, specializing in sports medicine, arthroscopy, and shoulder surgery. While in Charlotte, he served as team physician for the Charlotte Bobcats and was an orthopaedic consultant for a number of high schools and youth baseball organizations. Dr. Brockmeier moved to Charlottesville to pursue an academic career, with a research emphasis on clinical outcomes in the area of arthroscopic and open shoulder procedures.
During his career, Dr. Brockmeier has been actively involved in basic science and clinical research with a focus on outcomes after arthroscopic shoulder surgery and shoulder reconstruction. Current research includes biomechanical and clinical studies evaluating the arthroscopic management of biceps tendon disorders of the shoulder, outcomes after SLAP repair and revision SLAP repair, and anatomic and clinical features of anatomic ACL reconstruction. He is the priniciple investigator currently on clinical trials evaluating scaffold augmentation of rotator cuff repair and stemless total shoulder arthroplasty. In addition, he has authored numerous textbook chapters, review articles, and peer-reviewed studies and has given local, regional, and national talks and presentations in his field of interest.
In 2014, Dr. Brockmeier participated in the prestigious AOSSM/ESKKA Traveling Fellowship.  He was also recently elected to the American Shoulder and Elbow Surgeons.
Beyond Orthopaedics
"Outside of work, I spend as much time as possible with my wife Kristin and our three children, Ben, Jack, and Paige. I enjoy the outdoors, hiking, cycling, golf, tennis, and skiing."
Contact
Clinic Location:
Sports Medicine Clinic
at Fontaine Research Park
515 Ray C. Hunt Drive
Charlottesville, VA 22903
Mailing Address:
Department of Orthopaedic Surgery
PO Box 800159
Charlottesville, VA 22908
Clinical Office Phone: 434.243.7778
Surgical Scheduler: 434.243.5066
Office Phone: 434.243.0067
Office Fax
: 434.243.0290
Appointments
Professor, Department of Orthopaedic Surgery
Fellowship Director, U.Va. Sports Medicine
Fellowship Team Physician, University of Virginia
Team Physician, James Madison University
Specialty and Subspecialty
Specialty: Orthopaedic Surgery

Subspecialty: Sports Medicine and Shoulder Surgery
Special Expertise
Sports Medicine
Arthroscopy
Knee Surgery
Shoulder Surgery
Total Shoulder Replacement
Reverse Total Shoulder Arthroplasty
Education
Education: B.A. (with distinction), University of Virginia (1997)
M.D., Georgetown University School of Medicine (2001)
Residency: Orthopaedic Surgery, Georgetown University (2006)
Fellowship: Sports Medicine and Shoulder Surgery, Hospital for Special Surgery (2007)
Awards
"Top Doctor" – US News, Castle Connelly
American Orthopaedic Association, Emerging Leader
Professional Activities
Deputy Editor, JBJS Sports Medicine HighlightsEditorial Board, Techniques in Shoulder and Elbow Surgery
Editorial Board, Orthopaedic Journal of Sports Medicine
Principle Reviewer, American Journal of Sports Medicine
Reviewer, Journal of Bone and Joint Surgery
Reviewer, Journal of Shoulder and Elbow Surgery
Education Committee, AOSSM
Membership Committee, MASES
Society Membership
American Shoulder and Elbow Society (ASES)
American Academy of Orthopaedic Surgeons (AAOS)
American Orthopaedic Society for Sports Medicine (AOSSM)
Arthroscopy Association of North America (AANA)
Association of Clinical Shoulder and Elbow Surgeons (ACESS)
MidAtlantic Shoulder and Elbow Society (MASES)
Certification and Licensure
Subspecialty Certificated in Sports Medicine (2012)
Board Certified, American Board of Orthopaedic Surgery, (2009), Virginia
Publications: PubMed link