Stephen F. Brockmeier, MD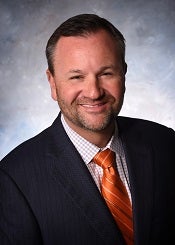 Dr. Brockmeier is a Professor of Orthopaedic Surgery in the Division of Sports Medicine at the University of Virginia. He is Director of the UVA Sports Medicine Fellowship and Team Physician for UVA Athletics, with primary coverage as the Head Team Physician for UVA Football, Men's Soccer, and Men's Lacrosse. A long time Hoo, Dr. Brockmeier completed his undergraduate degree here at UVA in 1997. This was followed by medical school and Orthopaedic Surgery residency at Georgetown University. After residency, Dr. Brockmeier spent a year at the renowned Hospital for Special Surgery in New York where he completed a fellowship in Sports Medicine and Shoulder Reconstructive Surgery.
Prior to coming back to UVA as a faculty member in 2010, Dr. Brockmeier spent three years in practice in Charlotte, NC, where he was the team physician for the NBA Charlotte Bobcats. His current practice at UVA focuses on sports medicine, knee and shoulder arthroscopy and reconstructive surgery, and the care of athletes and active individuals. He subspecializes in knee ligament, meniscus, and cartilage repair surgery, ACL reconstruction, and has become a regional expert in complex shoulder reconstruction, management of shoulder instability, rotator cuff surgery, as well as total shoulder arthroplasty and reverse shoulder arthroplasty.
Dr. Brockmeier's current research focuses on management of shoulder instability in the contact athlete, return to play strategies after ACL reconstruction, biologic options for rotator cuff repair, and cutting edge and novel techniques in shoulder replacement surgery. He received the Deans' Award for Clinical Excellence at UVA, was selected for the prestigious AOSSM Traveling Fellowship to Europe in 2014, and is the current chair of the Education Committee for AOSSM. He was recently appointed as the Editor for the Video Journal of Sports Medicine, a new journal from the AOSSM Medical Publishing Board that launches in 2021.
Dr. Brockmeier is an active member of the American Shoulder and Elbow Society (ASES), is the current President of the Association of Clinical Shoulder and Elbow Surgeons (ACESS) group, and was inducted into the Herodicus Society in 2019. He is an active member of the American Academy of Orthopaedic Surgeons (AAOS), the American Orthopaedic Society for Sports Medicine (AOSSM), the Arthroscopy Association of North America (AANA), and the MidAtlantic Shoulder and Elbow Society (MASES).
Beyond Orthopaedics
"Outside of work, I spend as much time as possible with my wife Kristin and our three children, Ben, Jack, and Paige. I enjoy the outdoors, hiking, cycling, golf, tennis, and skiing."
Contact
Clinic Location:
UVA Orthopaedic Center
2280 Ivy Road
Charlottesville, VA 22903
Mailing Address:
Department of Orthopaedic Surgery
PO Box 800159
Charlottesville, VA 22908
Clinical Office Phone: 434.924.2663
Surgical Scheduler: 434.243.5066
Administrative Office Phone: 434.243.0067
Office Fax
: 434.244.4454
Appointments
Professor of Orthopaedic Surgery, University of Virginia
Director, Sports Medicine Fellowship, University of Virginia
Team Physician, University of Virginia
Team Physician, Western Albemarle High School
Team Physician, Albemarle High School
Specialty and Subspecialty
Specialty: Orthopaedic Surgery

Subspecialty: Sports Medicine and Shoulder Surgery
Education
Education: B.A. (with distinction), University of Virginia (1997)
M.D., Georgetown University School of Medicine (2001)
Residency: Orthopaedic Surgery, Georgetown University (2006)
Fellowship: Sports Medicine and Shoulder Surgery, Hospital for Special Surgery (2007)
Special Expertise
Knee Ligament
Meniscus and Cartilage Repair Surgery
ACL Reconstruction
Complex Shoulder Reconstruction
Management of Shoulder Instability
Rotator Cuff Surgery
Total Shoulder Arthroplasty
Reverse Shoulder Arthroplasty
Research
Management of shoulder instability in the contact athlete
Return to play strategies after ACL reconstruction
Biologic options for rotator cuff repair
Cutting edge and novel techniques in shoulder replacement surgery
Current IRB Studies
Clinical Outcomes after Biceps Tenodesis Surgery
A Prospective, Multi-Center, Randomized Clinical Study of Total Shoulder Arthroplasty Comparing Exactech Guided Personalized Surgery (GPS) vs. Conventional Instrumentation
Shoulder Instability and Brace Use in Collegiate Athletes
Complications Related to Anatomic Reconstruction of the Coracoclavicular and Acromioclavicular Ligaments
Awards
Deans Award for Clinical Excellence (2016)
Best Doctors of America (2015 – Present)
Best Doctor, Castle Connelly (2012 – Present)
Certification and Licensure
Board Certified in Orthopaedic Surgery (American Board of Orthopaedic Surgery)
Subspecialty Certification in Sports Medicine (American Orthopaedic Society for Sports Medicine)
Licensed to practice in Virginia
Recent Publications
Casp AJ, Montgomery SR Jr, Cancienne HM, Brockmeier SF, Werner BC. "Osteoporosis and Implant-Related Complications After Anatomic and Reverse Total Shoulder Arthroplasty." J Am Acad Orthop Surg. 2020 Feb 1;28(3):121-127. doi: 10.5435/JAAOS-D-18-0537. PMID 31977612
Bodkin SG, Rutherford MH, Diduch DR, Brockmeier SF, Hart JM. "How Much Time is Needed Between Serial 'Return to Play' Assessments to Achieve Clinically Important Strength Gains in Patients Recovering From Anterior Cruciate Ligament Reconstruction?" Am J Sports Med. 2020 Jan;48(1):70-77. doi: 10.1177/0363546519886291. Epub 2019 Nov 22. PMID 31756121
MARS Group. "Predictors of Clinical Outcome Following Revision Anterior Cruciate Ligament Reconstruction." J Orthop Res. 2019 Dec 16. doi: 10.1002/jor.24562. [Epub ahead of print]. PMID 31840832
Casp AJ, Sequeira SB, Kew ME, Brockmeier SF, Werner BC. "Red Cell Distribution Width as a Novel Predictor of Mortality and Complications After Primary Shoulder Arthroplasty." J Am Acad Orthop Surg. 2019 Dec 13. doi: 10.5435/JAAOS-D-19-00499. [Epub ahead of print]. PMID 31842062
Casp AJ, Smith JM, Brockmeier SF, Werner BC. "Surgeon Charges and Reimbursements Are Declining Compared with Hospital Payments for Shoulder Arthroplasty." J Shoulder Elbow Surg. 2019 Nov 25. pii: S1058-2746(19)30650-0. doi: 10.1016/j.jse.2019.09.023. [Epub ahead of print]. PMID 31780336
Getschius J, Hertel J, Saliba S, Brockmeier SF, Hart JM. "The Effects of Patellar Tendon Vibration on Quadriceps Strength in Anterior Cruciate Ligament Reconstructed Knees." Phys Ther Sport. 2019 Nov;40:71-77. doi: 10.1016/j.ptsp.2019.08.014. Epub 2019 Sep 4. PMID 31499398