David R. Diduch, MD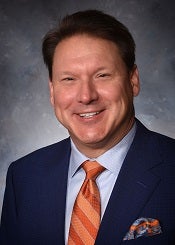 Dr. David Diduch has practiced Orthopaedic Surgery at the University of Virginia since 1995. His practice focuses on sports medicine, including knee and shoulder reconstruction. This includes arthroscopy, ACL reconstructions, meniscus and cartilage surgery, rotator cuff tears and shoulder instability, as well as the various lumps and bumps from sports. He cares for athletes of all ages, from adolescents through older persons who exercise for fitness. A large part of his time is spent caring for the athletes at the University of Virginia where he serves as the Head Orthopaedic Team Physician. As part of Dr. Diduch's practice in an academic institution, he is always teaching. Orthopaedic surgery residents, sports medicine fellows, and medical students shadow him in the office and assist in surgery. Dr. Diduch also serves as the Fellowship Director for Sports Medicine. An academic career also involves research, and numerous clinical trials are always available for interested persons through his office.
Beyond Orthopaedics
"I am married to Lynn and have 3 sons, two of whom are students at UVA with a third in high school. I love to play golf with my boys but they beat me every time. We also enjoy skiing and fly fishing in Montana. We are members of Trinity Presbyterian Church.
Contact
Office Location:
UVA Orthopaedic Center
2280 Ivy Road
Charlottesville, VA 22903
Mailing Address:
Dept. Orthopaedic Surgery
University of Virginia
PO Box 800159
Charlottesville, VA 22908
Clinical Office Phone:
434.924.2663
Administrative Office Phone:
434.243.0245
Office Fax:
434.244.4454
Appointments
Professor, University of Virginia
Head Orthopaedic Team Physician
Director, Sports Medicine Fellowship Program
Medical Director, Orthopaedic Sports Medicine Clinic
Medical Director, UVA Outpatient Surgery Center
Principal Reviewer: American Journal of Sports Medicine
American Orthopaedic Society for Sports Medicine,
National Council of Delegates and numerous committees
Specialty and Subspecialty
Specialty: Orthopaedic Surgery
Subspecialty: Sports Medicine
Education
Primary: 1984 University of North Carolina
1988 Harvard Medical School
1992 Masters of Science, University of Virginia
Residency: 1989-1994 Resident in Orthopaedic Surgery, University of Virginia
Fellowship: 1995 Fellow in Sports Medicine and Reconstructive Surgery of the Knee, Insall Scott Kelly Institute, New York
Awards
2003 – 2013 Best Doctors in America
2011, 2012, 2013 U.S. News Top Doctors
2011-2013, America's Top Doctors, Castle Connolly
2006-07 President, Virginia Orthopaedic Society
Career Development Award, Orthopaedic Research and Education Foundation
Best Paper Award , Virginia Orthopaedic Society (5 Awards)
Ranawat Award, Eastern Orthopaedic Association
Founders Award, Eastern Orthopaedic Association
Elected to the American Orthopaedic Association
Excellence in Teaching Award, UVA School of Medicine
Certification and Licenser
Board Certified in Orthopaedic Surgery, American Board of Orthopaedic Surgery through 2017 and
Subspecialty Certificate in Sports Medicine, American Board of Orthopaedic Surgery through 2018, Virginia.
Clinical Trials
Kinespring implant for medial knee arthritis in young, active patients, multicenter clinical trail
Articular Cartilage repair, including De Novo and other novel treatments for the knee
Injectable lubricants for joints (Hyaluronic Acid) for problems with arthritic shoulders and painful knees
Patella (kneecap) instability surgery outcomes and various options to treat
In The News
Youth Football neck injury study:
www.healthscout.com/news/68/613336/main.html
www.abcnews.go.com/health/healthday/story?id=4510729&page=1
www.reuters.com/article/pressRelease/idUS31365+08-Mar-2008+PRN20080308
www.sportsmed.org/tabs/newsroom/AOSSMPressReleases.aspx
www.medicalnewstoday.com/articles/100011.php
NBC-29 Television news, Nov 2, 2008, reported by Claire O'Brien