Mark F. Abel, MD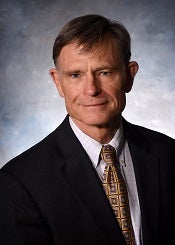 Dr. Mark Abel, Charles Frankel Emeritus Professor of Orthopaedic Surgery, retired from clinical practice on December 31st, 2020 after over 27 years of service. During his tenure, he cultivated a national reputation as a Pediatric Orthopaedic Surgeon with particular expertise in the management of children with spinal deformities and for managing motor disabilities in children with cerebral palsy. Through his research and involvement in national study groups, he was instrumental in improving the treatment of scoliosis through surgery, bracing and casting. His influential work has been published in over 105 peer reviewed articles and 18 textbook book chapters on pediatric orthopaedic topics. He was been listed among Connelly's Best Doctors in America for 15 consecutive years.
Dr. Abel attended Tulane University Medical School then completed an internship in General Surgery at Washington University, St. Louis, followed by Orthopedic Surgical training at the University of California, San Diego including a fellowship in Pediatric Orthopaedic Surgery at the San Diego Rady Children's Hospital.
Dr. Abel served in the Navy at the Portsmouth Naval Hospital and was deployed with the 2nd Marine Division for Operation Desert Storm in 1989. He joined the UVA Health System in 1993 and served in numerous leadership roles including chair of the department of Orthopaedic Surgery between 2002 and 2003 and from August of 2008 through August 2013. He has served on numerous hospital and School of Medicine committees overseeing promotions, hiring, quality and strategy. In retirement, he will continue to assist the department with Faculty Development, a role he has successfully overseen for the past 8 years.
Beyond Orthopaedics

"I have 2 grown sons, Jason and Michael, residing in Montana and Colorado respectively. I always find reason to visit them and enjoy the outdoors; skiing, backpacking, fishing and working on the ranch. Here at home I try to maintain my garden and always have a good book going. Music is another passion of mine. Follow me on Spotify! Of course my spouse, Jean, of 38 years is ever present by my side. Old Rusty, my viszala, is my loyal jogging buddy, but we are both slowing down. Still I can enjoy a bike ride with the best of them."

Contact
Office Locations:
Battle Building at UVA Children's Hospital
1204 W. Main St. Charlottesville, VA
Fontaine Research Park
Clinic Location:
Pediatric Orthopaedic Clinic
Battle Building
1204 W. Main Street
Charlottesville, VA 22903
Mailing Address:
P.O. Box 800159
Department of Orthopaedic Surgery
University of Virginia
Charlottesville, VA 22908
Office Fax:
434.244.9478
Appointments
Charles J. Frankel Professor Emeritus and Vice Chair Department of Orthopaedics, Professor of Pediatrics
Specialty and Subspecialty
Specialty: Orthopaedic Surgery – Board Certified
Subspecialty: Pediatric Orthopaedics & Spinal Surgery
Education
Education: 1976 Graduated Phi Beta Kappa & Magna Cum Laude
University of Connecticut1982 Medical Degree – Tulane University School of Medicine with induction into the Alpha Omega Alpha honors society & Oscar Creech Award for Surgery
Fellowship: 1983 Surgical Internship – Washington University & Barnes Hospital,
St. Louis, MO1983-88 Orthopaedic Surgery Residency – University of California, San Diego
Certification: 1989 Fellowship Training in Pediatric Orthopaedics at San Diego Children's Hospital & UC San Diego
Special Expertise
Management of spinal disorders in children and adolescents
Management of neuromuscular condition especially cerebral palsy occurring in children
Awards
Research Awards from American Academy for Cerebral Palsy & Developmental Medicine:
1996 For Study on: "Relationship of Gait Analysis to Gross Motor Function in Cerebral Palsy"
2000 For Study entitled: "Relationships Among Musculoskeletal Impairment, Function and Perceived Health Status in Spastic CP: A multi-center collaboration"
2000 Original Research Award: Southern Medical Association: "For outstanding clinical research" in Southern Region
2000 Admitted to American Orthopaedic Association: "Membership reflects leadership in orthopaedic surgery through teaching & research"
2004 Awarded Alfred R. Shands, Jr Endowed Chair, at the University of Virginia
2006-2014 Named in "Best Doctors in America" by physician peers 8 onsecutive years
2008 Named Chairman of Orthopaedic Surgery at the University of Virginia
2008-2013 Lillian Pratt Distinguished Chair, Department of Orthopaedic Surgery
2012  Charles J. Frankel Professorship in Orthopaedic Surgery
Served on Board of Directors for American Academy of Cerebral Palsy & Developmental Medicine
Patient Stories
"Dear Mark, I'm not sure but I bet my children get more than their usual dose of attention from their Dr… You have …opened a whole new world for her. [by introducing adaptive skiing]"
"Dear Dr. Abel & staff, Y'all were so supportive and kind to J-M [while she was treated for scoliosis]….J-M has been accepted to the prestigious American Ballet Theatre… Thanks to all of you for your part."
"…Dr. Abel, I think you're a wonderful Doctor. You take time to explain things but you also have a great bedside manner…picking up E and hugging him… your expression of empathy and concern [is unique]!"
"Dear Dr. Abel, Thank you so much for the wonderful care you gave my son…You are a very talented doctor and I am honored to know you…I will always remember and be thankful for the difference you made in J's life."